Charleston's Most Beloved Tour
05 Jul 2018
The family-run Palmetto Carriage Works is the oldest, and safest, carriage tour company in the peninsula

By JOHN TORSIELLO
Photos by JAMES STEFIUK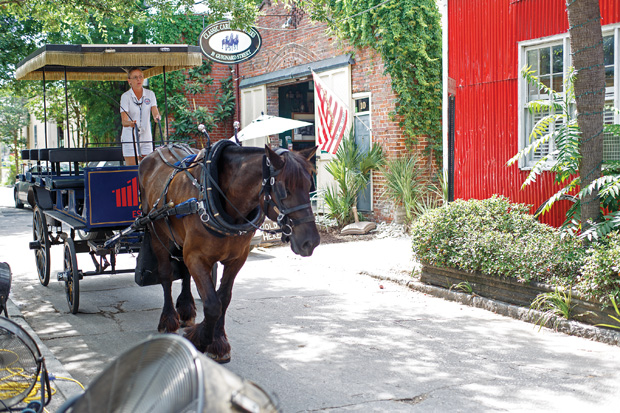 There was no doubt in Tommy Doyle's mind where his career path would lead once he graduated high school. He'd go right back to a place he was introduced to by his father, Tom, Sr., when he was knee high to a horse: Palmetto Carriage Works.
"My dad would take me to work when I was five years old and my memories of those days with the horses and mules, in the barn, and on the tours, eventually helping out, are precious to me," says the younger Doyle, now 48 and General Manager of the oldest carriage tour company in Charleston. Today it takes 200,000 visitors through downtown—to The Battery and back to its "red barn" on Anson Street near the Market Place.
"Some of my friends are crying in their beer about not liking their jobs," continues Doyle, who lives on a farm with his family (wife, Heidi, and sons George and Thomas) on Johns Island. "I can honestly say that I enjoy coming to work every day. I'm not saying there aren't challenges and long hours, but I've never lost my love for the horses and mules and showing people what Charleston is all about."
Palmetto Carriage Works is indeed a family business. The elder Doyle, the founder, owner and man who built the business, continues to serve his son as a constant and valuable advisor. Two sisters, Mary Alice Edwards and Anne Marie Klatt, along with a brother, Ben, Mary Alice's husband Brandon, and Tom, Sr.'s girlfriend, Bunny Westendorf, all work in various capacities at the company. Tommy Doyle took over day-to-day leadership of the company after his father suffered a serious back injury.
There are 40-60 horses and mules in Palmetto Carriage Works' "herd," many of them procured by Tommy on trips to the Amish region of Pennsylvania, where horses and carriages are still a common mode of everyday transportation. Some are kept at the Charleston barn, others on Doyle's 26-acre farm on Johns Island. The carriage horses average around 19 weeks off a year and are cared for by a dedicated staff. The company employs around 100 people, many of them drivers and tour guides that receive special training. Carriages are repaired at a facility in North Charleston.
"Our business model has been to allow people into our downtown barn to see and touch the horses and mules," notes Doyle. "Some may never have been around a horse and it gives a personal touch to the experience. We are told that carriage rides are the number one tourist activity on the Peninsula and we are glad that we have been able to provide excellent service to our clients over they years." Some of those clients have even included a few A-list celebrities, such as actors Jim Carrey, Kevin Costner and baseball player Alex Rodriquez—their photos gracing the general manager's modest office on the second floor of the downtown facility.
Doyle spends a considerable amount of time these days using social media, including the company's website, to educate the public on his company's care of its horses and lengths the company goes to ensure the animals' safety and health.
"It started a few years ago," he shares, with a determined look on his face. "Animal rights activists started going after the carriage tour companies, posting on social media and taking out ads in newspapers attacking us, all of us. Honestly, I find it insulting what they say about us because it isn't true. There is a lot of disinformation and misinformation being spread around. I and several other carriage company owners have banded together to combat the negativity." Attacks on the carriage businesses in Charleston have been so strident recently that Doyle says he had a carriage set on fire, a driver physically assaulted, and others verbally accosted as they have driven through the winding, otherwise charming streets of the city.
But the recent battles with those who perhaps would like to send horses and mules to pasture, shut down a business and put people out of work have not deterred Doyle and his family.
"We continue to enjoy what we do and we keep trying to enhance our customers' experience," he says. "We serve as a vital part of the charm that makes Charleston such a special place to visit and enjoy." 843-723-8145, palmettocarriage.com