Charleston Christmas Special: A Love Story
13 Nov 2015
This classic holiday show is a celebration of singing, dancing and comedy by local performers Brad and Jennifer Moranz
By HELEN MITTERNIGHT » Photos by DAMON R. SMITH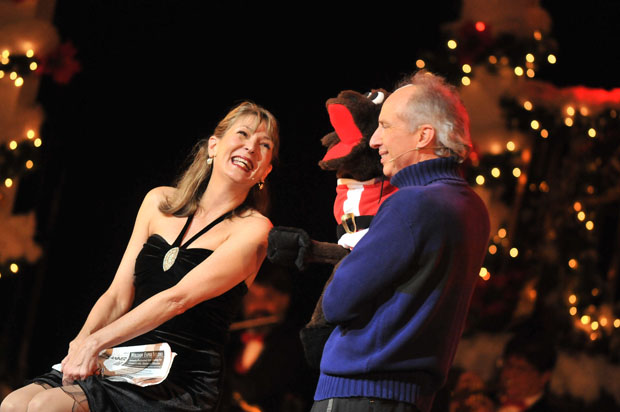 We've all seen the classic movie musical: stage darlings meet and fall in love and decide to run away together and star in their own show. Applause, happily ever after, and fade to black.
Except, the story is true for Mount Pleasant residents Brad and Jennifer Moranz, who met during the national tour of "Singing in the Rain" back in 1986. The couple started the annual Charleston Christmas Special, which celebrates its 20th anniversary at the Charleston Music Hall this year.
The show is the natural outcome for two Broadway babes who fell in love.
Brad Moranz was Groucho in Broadway's "A Day in Hollywood, A Night in the Ukraine," and later played Seymour off-Broadway in "Little Shop of Horrors." He played the Donald O'Connor role in the Broadway company of "Singing in the Rain," and joined the touring company, where he met Jennifer.
Jennifer Moranz was a Radio City Rockette, who then joined the Broadway company of "42nd Street." By 1986, she had joined the touring company of "Singing in the Rain."
"And, we have been together every minute since," Brad says.
When the two were offered roles that would keep them apart, they said bye-bye Broadway and headed to L.A.
"But we were both East Coast people," Brad says, and the two moved to North Carolina to open a dance school and work in local theater. Through word of mouth, they even choreographed for George Lucas' movie "Radioland Murders," as well as several television shows, including Lucas' "The Young Indiana Jones Chronicles."
"By 1995, we looked at one another and said, 'Boy, I really miss performing'," Brad says, and the couple thought a summer or two at the Carolina Opry in Myrtle Beach might be fun, so they dropped off their resumes.
Instead, Carolina Opry owner Calvin Gilmore asked them to help create a new show in Charleston, a 1970s-style variety show, with singing, dancing, and skits. The show would include nationally-ranked performers and would be called the Charleston Christmas Special. The money would be put up by the Family Channel.
"We thought maybe if we just take a year off from our dance school…then we could resume life as normal," Brad recalls. "But then we loved Charleston, we loved the job, we just loved everything about it. So we sold our business and our home in Wilmington and we bought a house here."
Of course, in show business, there is always a complication.
The couple's came when the Family Channel was purchased by Fox and then Disney bought Fox and decided that running a show in Charleston wasn't what they wanted to do, and they closed the show. Suddenly, the Charleston Christmas Special had no backers.
"We didn't want to be anywhere else, so we thought, 'Maybe it's time to try and produce the show ourselves, put your money where your mouth is, put yourself at risk'," Brad says. "It was a very frightening proposition for us. As performers, you never do anything like that."
Twenty years later, the show is so successful that Brad and Jennifer have added a summer show. This year's second show was called, "Get On Your Feet," and the two have the family-friendly recipe down pat.
"It's primarily two hours of singing, dancing and comedy for the whole family," Brad says. "Jenny and I do most of the comedy stuff together. She has transitioned from a dancer to a wonderful comedienne in the style of Lucille Ball or Gracie Allen or Carol Burnett, or a funny mix of all three. I have found myself in the role of straight man to her."
Straight man, yes, but Brad says he and Jennifer are both "goofballs," including during their regular skit in which they play small children in big chairs.
"She is very zany and has a tremendous imagination. I am by nature a little more analytical and organizational. Our dynamic is her imagination, and my trying to figure out where she is going and organize it into something that takes shape. But by the time we get on stage, it always turns into something else in front of the audience."
Onstage mistakes are almost the most fun, he says.
"We constantly crack each other up. When something happens that you didn't expect, when something goes wrong, then you just play that, you just hop on and take a ride," he says.
The audience for this year's show will see Christmas songs and carols from all genres arranged in a variety of styles, from big band to gospel, from country to rock 'n' roll. There might even be some blues, although they won't be the kinds of songs that leave the audience weepy.
"There is every type of music you can imagine," Brad says. "The overriding intent ― and this is really important ― the intent is to be uplifting. Everything we do is to lift the spirits of the people in the theater."
Performing in the show for the first time this year are Malia Davis, who played Evita in the national tour of that show. She'll be joined by Mount Pleasant teen Kindred Moore in a duet of "Let it Go" from the movie "Frozen."
Also performing will be Rodney Archie, the Harlem Gospel Choir's principal soloist; Garrett Graham (former lead singer at the Starlite Theatre in Branson, Missouri); Julie Bell (whose credits include "Phantom of the Opera," "Ragtime," and "Joseph and the Amazing Technicolored Dreamcoat"); Tim McManus (featured singer in Dick Clark's "American Bandstand LIVE" at Lake Tahoe, Nevada); violinist Robbi Kenney; and Charleston's Tiffany Parker (former lead singer on international cruise ships).
In addition to the Moranz comedy, ventriloquist Michael Minor returns with his reindeer puppet Clarence.
To celebrate the show's 20th anniversary, Brad and Jennifer will be donating $1 from each ticket sold for the Dec. 20 show to the Charleston Animal Society.
Although some performers have been in the show before, the Charleston Christmas Special is different each year, with the couple starting as soon as each show is over to brainstorm about fresh things for the next year.
"Literally, every minute, all the time, we are researching and keeping our ears, hearts, and minds open to anything that's possible. That process is continuous. How we come up with something new each time is we listen like crazy to everything that has to do with Christmas," Brad says. "Like this morning, we were driving home from the grocery store and all of a sudden the theme song from Flashdance, 'What A Feeling,' comes on. We started saying, 'Wouldn't it be funny if you had a dream sequence as the little boy in a big chair…'."
Brad says he wants to keep the Charleston Christmas Special going forever.
"We can't even conceive of not doing this. The beauty of this is there's no end to talented people around. As long as we are finding amazingly talented people and putting them on stage and giving them something to do, it's hard to imagine it coming to an end, ever," he says.
Applause, applause. Fade to black…but only until next time.
IF YOU GO:
Tickets are $36 for adults; $33 for seniors (age 62 and up) and military; $19 for students 21 and under; $16 for children 12 and under. Tickets are on sale at etix.com or by calling etix at 800-514-3849. For more information on the show, visit bradandjennifermoranz.com.
Group rates are available; call 843-416-8453. On Kids Free Night Dec. 17, guests can receive one free kid's ticket (age 12 and under) with the purchase of a paid adult/senior ticket.
Purchase a Dinner & Show Ticket for a night out on the town. This ticket is $68 per person and includes one adult/senior ticket to the Charleston Christmas Special and a pre-fixe dinner menu at Vincent Chicco's, located next door to the Charleston Music Hall. Purchase Dinner & Show tickets at etix.com. Dinner reservations required; call Vincent Chicco's at 843-203-3002. (Package available for evening shows and Sunday matinee only; quantities are limited.)