Messengers of Change
13 Nov 2015
The angel art of Slava Roubanov
By JASON A. ZWIKER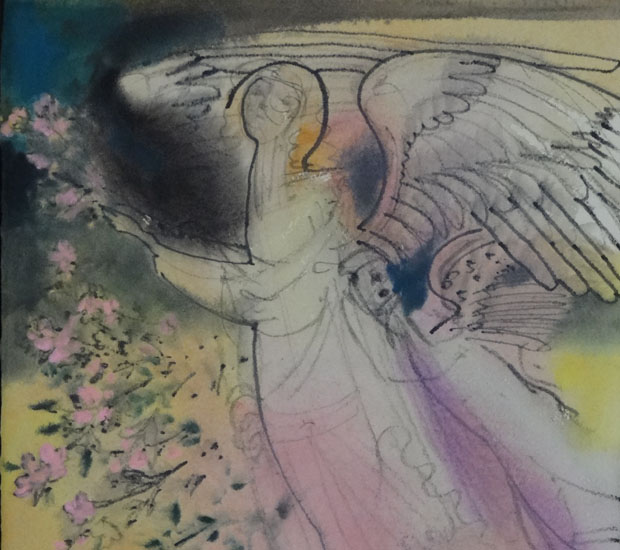 He can't say exactly when they became angels. It happened naturally, over time, as he worked his brush across canvas after canvas, telling the stories his art compelled him to tell. Stories told through the language of color and pattern and shape. Some of the people he painted began to lift toward the sky, wings emerged, and he understood that they were there to deliver messages.
Specifically, they were messengers of change, heralding times when our lives and our world would shift and become something new.
Dramatic change is something Slava Roubanov understands on a very personal level. In many ways, his entire life has been a study in adapting to change. Change in place, change in culture, change in the spirit of the time. Born in 1948, he grew up in the Union of Soviet Socialist Republics during the height of the Cold War. He discovered art and music the way students all around the world do – late at night, at parties, shared by friends. Much of Western art, music, and culture could only be found underground at the time in the USSR. It was not officially available, but artists and students found a way to discover it just the same.
He remembers walking home from a party in Moscow when he was still a young student and first hearing The Beatles playing from an upstairs window. From the mid-1960s to the early '70s, those songs became a kind of soundtrack to his emerging artistic vision.
"In the summertime, at night, from every open window you'd hear 'Girl', 'Yesterday', 'Dizzy Miss Lizzy', and 'Help'," he says. "For Russians, all our history is social upheavals, so we were very compassionate to what we heard was happening in the United States in the 1960s."
Those with a mind to learn what was happening in the rest of the world did so from international broadcasting stations such as Radio Svoboda, which was operated by Radio Free Europe / Radio Liberty, German Wave (Deutsche Welle), and Voice of America. "It sounds crazy, but people were both 100-percent supportive of those in the Kremlin and 100-percent did not believe them," he says. "So we got our information from outside sources."
He graduated from Memory of 1905, Moscow's regional art school, named for a time of political and social unrest that preceded the Russian Revolution by 12 years. He then studied theater and film set design at the Surikov Art Institute of Painting and Sculpture, and went on to a decorated career in set design. It was a balance between the life he wanted for himself as an artist and the career his father wanted for him.
"My father kept trying to remake me into an engineer," he says. "He always said that art is not a profession and that I would die in poverty."
It's a discussion he recalls having with his friend Vladimir Viardo, a renowned Moscow pianist, many times through the years. "He is the same. He could never be happy as an engineer or banker who plays the piano as a hobby. He tells me that he can hear the butterfly's wings. I told him that I can see if a bench in a garden is happy or sad. He passes the test for absolute pitch, I for color."
"I did my best to find a 'normal' way of making a living and became one of the top Russian scenographers at a time when Russian set design was at the center of the world." His work was selected for inclusion in the Moscow Theatrical Union's annual exhibitions of the season's best work six times.
His career took him from Moscow to Siberia, a vast region that he describes as one of the most beautiful places on the planet. "It is a wild, empty, and yet fabulously rich place, filled with every kind of wild berry, fruit, plant, and animal." There, he became Chief of Set Design by the time he was 21 years old. His work was known for its brilliant, bold use of color. On occasion, he even snuck in little jabs at the establishment. For one scene in a play, he persuaded the director to have the actors eat cardboard food on stage; political commentary that went over the heads of the KGB, but the audience understood.
Much later, in the 1990s, he'd make an even more substantial move, immigrating to the United States. "People are the same everywhere," he says. "They love the same way, they take care of their children the same, and everywhere the balance of good and bad is the same."
He continued his work in set design for the theater and further developed his portfolio as a painter and artist in the United States, moving to Charleston in 2003. His paintings can be found at White Gallery (209 N. Main St., Greenville), Mary Praytor Gallery (26 S. Main St., Greenville), and Charleston Artist Collective, Allison Williamson's innovative online gallery.
His paintings are rich in color and nuance, a mesmerizing whirl of pattern and hidden meaning that, for him, speaks of the nature of the world. The angel motif, seen throughout his work, makes his paintings a perfect fit for the holiday season.
"Angels exist," he says. "The concept of them with bodies and wings is human imagination, of course. So in every canvas, I am trying to represent this idea visually, to find the balance between what I know is there but cannot be seen."
slavas-art.com; charlestonartistcollective.org/collections/slava