Charleston Modern Farmhouse
06 Nov 2020
You know the aesthetic by now. Lots of light, lots of whites, and voila -- the modern farmhouse.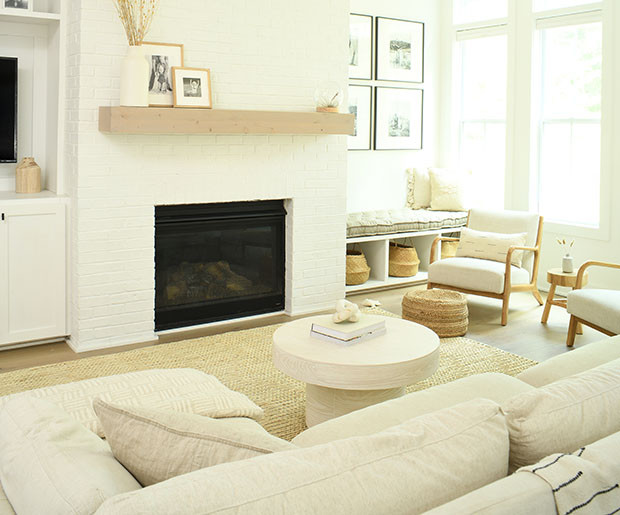 The New York Times coined the phrase in a 2016 article that spotlighted an interior design firm called Jersey Ice Cream Co. The company specialized in home renovations featuring reclaimed wood, shiplap paneling, apron sinks and antique discoveries. Chip and Joanna Gaines, he and she of the Magnolia lifestyle empire, helped popularize the trend, a homey and nostalgic style that remains fashionable. Be it pastoral or refined, overall the design reflects a warm minimalism and Scandinavian interior design.
The template can be found on James Island too, as Shannon and Jake Oleksak have put their own spin on the design. Just check out the Instagram account @charlestonmodernfarmhouse, which depicts the build and the family's day-to-day life within their home. The account has over 4,700 followers.
Though the farmhouse term accurately initially described the project, and still reflects the house, Shannon finds the home and style drifting from the aesthetic. "I don't know if I feel like I would consider it farmhouse now," she says. "I feel like it's evolved from the beginning."
Meet cute
The couple met in Charleston—she was a student, and he was a musician in the local band Honeysmoke. After Shannon graduated, the two moved to New York, where she worked as a photo coordinator at The Knot. They moved back to Charleston in 2008 and were married two years later. Now she works as a Charleston-based wedding and portrait photographer.
Jake works as a superintendent for Huss Construction, an historic renovation firm in Charleston. Though he isn't a contractor, his experience as a carpenter and construction project manager helped immensely. "Jake had a good idea of what we wanted," Shannon remembers. "He drew the layout and gave it to the architect."
Jodi Crosby from Crosby Creations, a Meggett-based residential design firm specializing in custom house and renovation work, helped polish the plans. Crosby is known for its custom home design and drafting services.
The house itself was owner-built, essentially meaning the Oleksaks served as the de facto general contractor. They assumed responsibility for project costs, quality, schedule and hiring of labor. It's not a common choice. For example, only 53,000 owner-built homes were constructed in 2010, according to the Census Bureau. But given Jake's background and Shannon's design exposure, they felt comfortable with the process.
Decisions, decisions
So how did they decide what they wanted? They knew they wanted to stay on James Island. Their first house on the island was a 1970s ranch style home they renovated. The second was more of a "cookie cutter" home they bought and resold.
Now they live off of Fort Johnson Road. The small neighborhood contains about 20 houses, Shannon says, all with different styles and character.
"It was a lot of looking through Instagram," Shannon says. "We wanted it to have a lot of windows. There were several trees on the lot, including a large oak tree on the right, that we had to build around."
The home ended up being 3,100 square feet and consists of five bedrooms and four bathrooms. A guest room is downstairs with the four other bedrooms being upstairs. The kids, 8-year-old Owen and 5-year-old Evie, split a Jack and Jill bathroom.
Shannon and Jake love to entertain. Though the pandemic has crimped their style, "We liked having people over. I'm sure we will again," Shannon says.
To that end, the couple built a vaulted kitchen with a dine-in nook that opens up to the living room. Dormer and transom windows offer additional light.
There was no need for a formal dining area, Shannon says. They just wanted to keep things light and airy. The living room, fireplace included, was also designed to maximize light. "We didn't want a cramped feeling," she says. The walls show off several black and white family photos and charcoal portraits, providing a clean, crisp look.
A wraparound porch offers an additional eating area and another focal point for the family. "We've spent a lot of time outdoors," she says. "The kids love to play outside all the time."
Building together
Right now, the Oleksaks are considering tweaking the landscaping and outdoor area, though it already contains one of Jake's must haves—an outdoor shower area, great for washing off surfboards. This may not be their forever home either.
"We like love coming up with new projects," Shannon says. "We'd like to have a bigger lot."
They'd do it all over again too.
"For the most part, we worked really well together. We'll use the same approach again. We loved doing it ourselves," Shannon says. "When you build yourself, there's tremendous flexibility. Definitely at times we changed our minds about certain things, and that prevented us from going back to a contractor with change orders. It just saved us a lot of time."
Builder Resources
Crosby Creations Custom Home Design – Jodi Crosby
843-514-7354
Doors and lumber: Buck Lumber
Bucklumber.com
Steel stair railing: Coastal Railing
Coastalrailings.com
Charleston Cabinets & Home Solutions
Cchslic.com
843-819-2704
Frameless glass shower enclosures: Wysong Glass of Charleston
Wysongglassofcharlestoninc.com