Here We Come A-Feasting
06 Nov 2020
This is the season for traditions to come to life
Recipes and photos by Kaitlin Gooding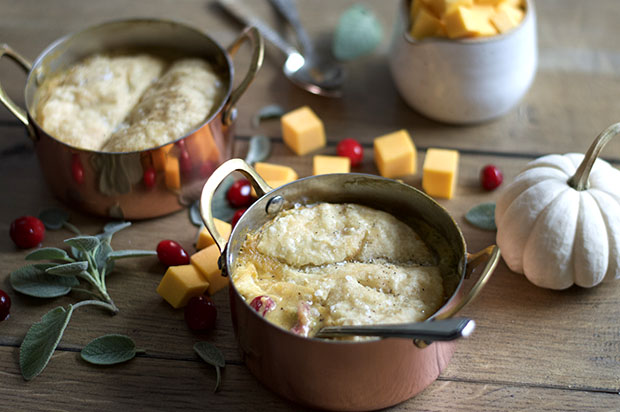 Cooler temperatures are upon us and it's one of the best culinary times of the year. This is the season for traditions to come to life – a time for friends and family to unite to create meals and memories.
When planning your own various feasts, consider these simple and easy to follow recipes that are sure to inspire comfort and joy. The deep red poached pear, served with crème fraiche and pistachio crumbles, is theatrical and the perfect desert to enhance the Christmas spirit at the family table.
Try the luxurious fall chicken pot pie, brimming with the rich flavors of cranberry, butternut squash, and bacon. Just one spoonful will warm you right up on a cold winter day.
Wake the family up with the smells of chai wafting through the air on Christmas morning as you stack waffles and top them with a sprinkle of the deliciously spiced granola. Wow the crowd at Thanksgiving with the sage lyonnaise potatoes – their pan-fried crunch and cooked-down onions evoke the crisp softness of autumn weather. Your celebrations are sure to be remembered.
Fall Chicken Pot Pie
Serves: 6
Ingredients:
3 cooked chicken breast (cubed)

6-7 pieces of cooked bacon (crumbled)

2/3 cup flour

1/4 cup cream

1 sweet onion (diced)

2 cloves garlic (minced)

1 cup frozen peas

frozen puff pastry sheets

1/2 lemon (juice)

4.5 cups chicken stock

1 tbsp salt

1/2 tsp pepper

1 tbsp sage

2 cups butternut squash (cubed)

1/2 cup cranberries

1/4 cup parmesan

1/2 tbsp cinnamon

1/2 tsp nutmeg
Directions:
Preheat the oven to 400 degrees. Thaw your puff pastry per instructions on package.

In a large pot add the butter and onions and cook over medium heat. Let the onions cook down (continuously stirring) for about 4-5 minutes or until they start to brown. Add the butternut squash and let it cook for another five minutes.

Add the minced garlic, cinnamon, nutmeg, and sage to the pot and cook for another minute as you continue to stir. Add in the flour and mix until combined. Pour in the stock and let it simmer, stirring every few minutes until your sauce has thickened and the squash is soft.

Add the chicken, peas, bacon bits, cranberries, cream, lemon juice and salt/pepper to the pot and stir until well mixed.

Once the filling is thick and ready, pour each into their separate cooking ware. You could also make this recipe in one large cooking pot as well. For this recipe I am using mini dutch ovens.

Fill your mini dutch ovens about 3/4 of the way full. Unfold your pastry and cut the pastry to fit over top your cooking ware. Add slits to let the pastry breathe while cooking. Brush the tops of the pastry with melted butter and sprinkle a little salt over top. Add your dishes to a baking sheet and place into the oven for 20-25 minutes.

Remove once the pastry looks golden brown and allow to cool for ten minutes before serving.
Santa's Swig
Serves:1
Ingredients:
2 oz bourbon

2 oz fresh squeezed orange juice

dash of orange bitters

2 oz pomegranate juice

1 tbsp maple syrup

1 sprig of rosemary for garnish

1 tbsp granulated sugar

1 star anise for garnish

bottle of champagne *optional if making multiple
Directions:
Wet your rosemary garnish with water. Sprinkle it with sugar on all sides and set aside to dry for at least 30 minutes.

In a cocktail shaker, add the bourbon, orange juice, pomegranate juice, orange bitters, and maple syrup together with ice.

Shake the ingredients to mix and strain it into a glass.

Top the drink off with a splash of champagne and garnish with a star anise and sugared rosemary.
Chai Waffles
Serves: 2
Ingredients:
1.5 cups flour

2 tbsp melted butter

2 tbsp maple syrup

1 tsp baking powder

1.5 cups milk

2 eggs

1/2 tsp vanilla

maple syrup
Chai Spices
2 tsp cinnamon

1/2 tsp cardamom

1/2 tsp ginger

1/2 tsp cloves

1/4 tsp salt

1/2 tsp nutmeg
Honey-Ginger Butter
1 tsp honey

2 1/4 tsp ginger

4 tbsp butter (room temperature)
Directions:
Begin by making your ginger butter. Add the room temperature butter, honey, and ginger together and mix with a spoon until it creates a whipped like consistency. Set aside until ready to serve.

Preheat the waffle maker. In a medium sized bowl beat the eggs until fluffy and mix in your butter, milk, and vanilla.

In a separate bowl add the flour, baking powder, salt, and spices and blend the ingredients. Combine your dry ingredients to your wet and blend until smooth.

Spray your waffle iron and pour your mixture into it. Let the waffles cook until lightly golden.

Plate your waffles while they're warm, add your honey ginger butter on top. Top off with the spiced granola recipe below to take your waffles to the next level. Drizzle with maple syrup if desired before serving.
Spiced Granola
Ingredients:
2 cups oats

3/4 cup pecans

1/4 cup shaved coconut

1/4 cup pumpkin seeds

1/2 tsp salt

1/4 cup melted coconut oil

1/3 cup maple syrup

2.5 tsp cinnamon

1/2 tsp ginger

1/3 cup almonds
Directions:
Preheat the oven to 325 degrees. Add pecans, oats, coconut, pumpkin seeds, cinnamon, salt, ginger, and almonds into a bowl and mix well. Pour maple syrup and coconut oil over top and fold it together until well mixed.

Place a sheet of parchment paper on a baking sheet and evenly spread the granola mix on top.

Add the baking sheet to the oven and cook for 15- 20 minutes or until golden brown.

Once finished cooking remove from the oven and allow it to cool for 15-20 minutes before jarring to save or trying to eat it all in one sitting.
Holiday Poached Pears
Serves: 5
Ingredients:
5 firm pears (peeled)

3 cups of red wine

1 bay leaf

2 cinnamon sticks

1 star anise

1.5 cups sugar

1/2 lemon (juice)

5 spoonfuls of creme fraiche (1 spoonful per dish)

5 tsp pistachios chopped (1 tsp per dish)
For Garnish:
Directions:
In a large pot add your wine, lemon, sugar, cinnamon sticks, star anise, and bay leaf. Cook at medium heat, stirring until the sugar is melted.

Add the pears to the pot and cover them to cook. Turn the heat down to a simmer.

Cook for 30-35 minutes. If the pears are not completely submerged in the liquid, turn the pears every ten minutes so they are cooked all the way through. Let the pears cool in the liquid.

You can refrigerate until ready to serve or serve right away. Reserve the liquid you cooked it in.

Add a dollop of creme fraiche to your plate you are serving on. Smear the dollop if desired with your spoon. Sprinkle one tsp of pistachio crumbles over the creme fraiche. Add the pear. If it won't stand tall, cut a thin slice from the bottom so it is flat. Add your garnish and a spoonful of the reserved liquid overtop the pair and serve.
Sage Potato Lyonnaise
Serves: 3-4 Appetizer
Ingredients:
2 lbs golden potatoes (peeled)

1 yellow onion (thinly sliced)

8 tbsp butter

15 sage leaves

salt/ pepper

garlic powder

parsley
Directions:
Fill a large pot with salt and water and bring to a boil. Add the potatoes and cook for ten minutes.

Once they have been cooked, drain the potatoes into a colander and let them cool down.

When the potatoes are cool enough to handle, slice them into 1/4-inch-thick slices.

Add 2 tbsp of butter to a large pan and allow it to melt. Add about 1/3 of your potato slices along with five sage leaves. Sprinkle them lightly with ground pepper and garlic powder. Let them cook for about 5-7 minutes, continuously flipping, until lightly crisp and brown. Remove the leaves and potatoes and place them on a plate.

Continue this process 2 more times, until all the potatoes are cooked.

In another pan add your thinly sliced yellow onions and 2 tbsp of butter. Cook the onions down about five minutes on medium to medium-low heat until they are lightly browned.

In your serving dish lightly stack the potatoes, add the sage leaves, and onions on top. Sprinkle with salt and add parsley to garnish.