Holiday Dining
06 Nov 2020
Delicious meals for dine-in and to-go
By Elise DeVoe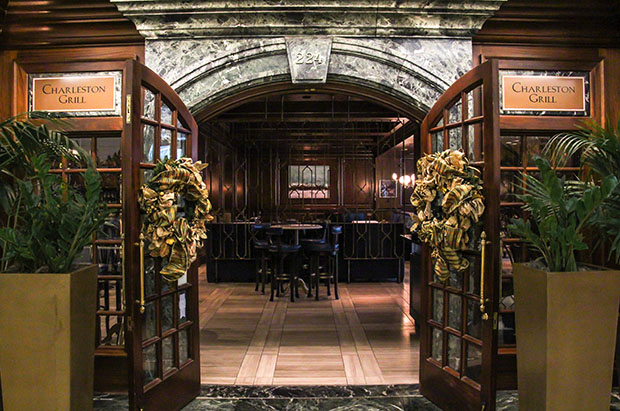 Although the holidays may look a bit different this year, that doesn't mean you have to miss out on delicious food and libations. In Charleston, restaurants are ushering in the holiday season with decadent meals for dine-in or to-go curbside—and even special events like a Christmas-themed Miracle pop-up bar and "12 days of Christmas" cocktail menu.
Whether you're looking to have a toasty evening at a local restaurant or looking to bring home a buffet for the whole family, these restaurants have you covered for your Thanksgiving and Christmas feasts.
Handcraft Kitchen & Cocktails
Handcraft Kitchen & Cocktails is sure to get you in the holiday spirit this year when they once again transform into the Christmas-themed Miracle pop up bar with over-the-top holiday décor. Beginning Monday, November 23 through Thursday, December 31, Handcraft Kitchen & Cocktails will toast the season with a festive menu of signature cocktails, dinner and weekend brunch to celebrate the holiday season. Reservations are required and are filling up quickly. Call 843-972-8060 or visit handcraftMTP.com. 35 Coleman Blvd, Mt Pleasant.
Halls Chophouse
Enjoy a taste of Halls Chophouse at home this year with their Thanksgiving to-go offerings. Diners have their choice of oven roasted turkey with pan gravy and cranberry sauce or honey-baked ham with apple compote and orange mustard glaze. Either option can cater to groups of either four or eight people and are served alongside stuffing, mashed potatoes, sweet potatoes, green bean casserole, roasted root vegetables and Parker House rolls. For those dining in, the fine dining restaurant is open and practicing healthy hospitality. Thanksgiving to-go orders must be received by November 20 at 5 p.m. and are available for curbside pick-up on November 25 or Thanksgiving Day. 434 King St, Charleston.
Peninsula Grill
Peninsula Grill is offering four-course dine-in menus for Thanksgiving and Christmas for $75 per person. Their Thanksgiving menu begins with roasted butternut squash soup followed by a baby gem Caesar salad. For the entrée they are serving an herb marinated heritage turkey with the traditional fixings. Their pumpkin salted caramel cake ends the meal on a sweet note. For Christmas, they are starting the meal with roasted mushroom bisque followed by a chilled wedge of baby gem lettuce. Diners can choose between pan seared halibut and roasted prime rib of beef for their entree. For dessert, they are serving tiramisu. 112 North Market Street, Charleston.
Butcher & Bee
The bakery at Butcher & Bee is offering housemade pies and naturally leavened bread for your Thanksgiving table. Their pies are traditional Thanksgiving flavors (pumpkin, pecan, and apple), and incorporate regional ingredients such as Virgil Kaine bourbon and NC honeycrisp apples. Their fresh-baked Parker House rolls and naturally leavened sourdough loaves are sure to accent any holiday table. Diners can place their orders any time before Sunday, November 22nd and pick up their baked goods at Butcher & Bee from November 1-24 between 2:30 and 5:30pm at 1085 Morrison Drive, Charleston and pick up from The Daily on November 25 between 12:00 and 6 pm at 652 B King Street, Charleston
Wild Common
Holiday meals are not complete without cocktails, and Wild Common has a specially-curated seasonal menu for festive libations. This year will be their second annual "12 Days of Christmas Cocktails." For the entire month of December, they are offering their seasonal "Naughty" and "Nice" cocktail lists. These cocktail lists are a nod to their year-round "Wild" and "Common" cocktail selections. Classic holiday cocktails such as mulled wine or hot toddies can be found on the "Nice" list. The "Naughty" cocktail list is a bit more adventurous with ingredients such as marshmallow infused whiskey and "coal" ice cubes for that extra holiday flair. 103 Spring St, Charleston.
Tavern & Table
Enjoy your Thanksgiving feast with a beautiful view of Shem Creek at Tavern & Table. The restaurant is offering a three-course Thanksgiving menu priced at $55 per person and a two-course kid's menu for $18. The three-course meal starts with Parker House Rolls and choice of roasted chestnut soup or salad. For the entree, diners can choose between turkey, smoked prime rib, and roasted halibut; all served alongside family-style green bean casserole and fennel sausage stuffing. For dessert, they have a choice of pumpkin cheesecake or chocolate pecan pie. They are offering the same meal for diners to take to-go who preorder by Wednesday, November 18. 100 Church St, Mt Pleasant.
Mercantile and Mash
Mercantile and Mash is offering to-go packages for Thanksgiving and Christmas for the whole family. Their Thanksgiving Dinner to-go feeds 6-8 people and features a roasted Joyce Farms free range turkey, natural turkey jus, salad, choice of three sides and dessert. Pre-order your Thanksgiving meal before November 22. Their Christmas dinner to-go feeds four people and includes a choice of slow roasted prime rib or leg of lamb with rosemary jus, salad, eight house-made rolls, and choice of three sides. Make sure to place your order before noon on December 20 and you can pick up your meal on either December 23 between 8 am – 4 pm or Christmas Eve between 8 am and 11 am. Cigar Factory, 701 E Bay St, Charleston.
Hamby Catering
Leave the cooking to Hamby Catering this Thanksgiving and pre-order their "Gobble Gobble" package that can serve either four or eight guests. The package for eight people features a whole roasted 10-14-pound turkey, three traditional side dishes, stuffing, and gravy for $179. The package for four guests features a 5-pound turkey and is priced at $129. Every Gobble Gobble package purchased, Hamby Catering will sponsor a family Thanksgiving meal at Lowcountry Food Bank. Keep an eye out for details about their Christmas offerings such as their popular Jingle Bells Cocktail Party package and assorted sweets. 925 St Andrews Blvd., West Ashley.
Edmund's Oast Brewing Company
Edmund's Oast Brewing Company is offering their famed custom charcuterie boards to-go to kick off your holiday festivities. They have 11 different varieties of meat to choose from that are all produced in-house using old world dry curing and fermentation techniques. The board comes with your meat selections ($8 per meat), dijon mustard, pickles, and bread. Give them a call four hours before you need your charcuterie board, because all of the meats are sliced to order to ensure maximum freshness. Same day orders need to be placed before 4 p.m. Want to stay awhile? Edmund's Oast has indoor and courtyard seating available. Happy hour Monday-Friday, 3-5 pm with half off house beers and small plates, like fish and vinegar chips. 1081 Morrison Drive, Charleston.
Charleston Grill
Diners looking for an elegant evening out for Thanksgiving can enjoy a three-course menu at the award-winning Charleston Grill within the Belmond Charleston Place hotel. The star of the menu is their herb roasted turkey with southern cornbread dressing, sage gravy, garlic butter haricot verts, orange-cranberry relish and sweet potato puree. Reservations are expected to be booked up quickly as they have 100 less seats to offer this year to ensure proper distancing. They will also be offering a three-course menu for Christmas Eve and Christmas. 843-577-4522. 224 King St, Charleston
Page's Okra Grill
Page's Okra Grill has a wide variety of hearty takeout options for your Thanksgiving table. For the centerpiece of your holiday table, consider ordering to-go their whole Thanksgiving turkey, brined for 48 hours and either smoked or roasted. It comes with gravy and reheating instructions. Diners can also choose the honey baked ham. There are also a wide variety of comforting sides and desserts to add a la carte—including their famous Pimento cheese and shrimp and crab salad. The restaurant is also open for dine-in, serving up their famed staples like crab cakes and fresh crab, corn & tasso chowder. 302 Coleman Blvd, Mt Pleasant.
T W Graham & Co
Diners looking for a switch up from the turkey and hearty holiday foods can turn to T W Graham & Co in McClellanville for fresh seafood. Just 30 minutes from Mt. Pleasant, this charming village restaurant has different daily seafood specials and one of their most popular items during the holidays is their whole fried flounder with traditional sides such as fried okra and red rice. Chef owner Patrick Runey wishes for all of his guests to leave "fat and happy" this holiday season. Due to social distancing, they are seating 50 capacity inside as well as patio seating and there are no reservations. Call 843-887-4342 to hear the catch of the day. 810 Pinckney St, McClellanville.