A culinary tour around the world
By Wendy Swat Snyder
Photos by James Stefiuk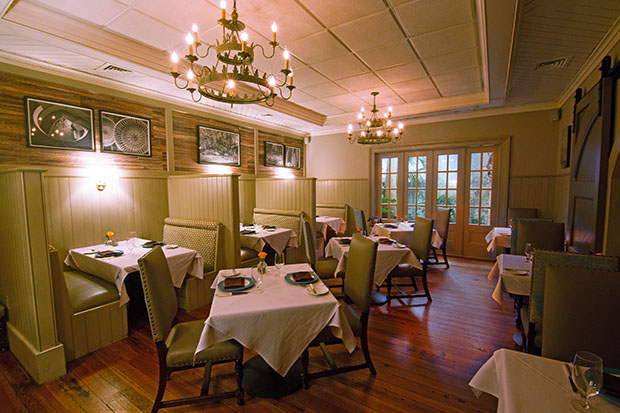 The new decade is off to a great start was my thought as I walked through the arched entryway onto the historic Wentworth Mansion grounds in downtown Charleston.
I was on my way to a much-anticipated dinner at Circa 1886, Charleston's much-lauded AAA Four Diamond and Forbes Four Star restaurant.
Tucked behind the 19th century mansion, the former carriage house now offers guests a cutting-edge dining experience in a rustically elegant setting.
Executive Chef Marc Collins had recently introduced a novel menu concept designed to illustrate the major influencers of Lowcountry cuisine—a culinary tour of African, Native American, European and Southern traditions.
"It took a year to lay the groundwork for it," explains Collins, who has helmed the Crica 1886 kitchen for almost two decades. In his tenure as a chef, he strives to continually "push the envelope."
"I wanted to do local historic cooking, but thought there's a story that goes deeper, that certain groups of people were not getting any attention. The port of Charleston was once the leading port in the country—there were influences from trade groups and the Native Americans before them. So I did the research to provide that depth, to honor them—and for the discerning diner, who wants to understand where their food comes from."
Linn Lesesne, Circa 1886 co-owner with husband Rick Widman, says the restaurant has evolved dramatically since its founding. Celebrating its 20th anniversay, Circa 1886 is one of five historic properties in their Charming Inns portfolio.
"Marc's a visionary—it's one of the reasons, when my husband and I first met him, we wanted him as part of our family. He's always seeking, studying information as it relates to the history of the city, our food, the state of South Carolina, and passes those ideas to his team, which in turn gets creative with him."
A South Carolina Chef Ambassador, Collins' executive chef credentials include the AAA Four Diamond restaurant at the Farimount Hotel in San Antonio, Texas. The Pennsylvania native credits earlier years at the Eerie Country Club for having a "huge impact" on his career.
"I worked with chef David Spadafore, a gold medalist at the Culinary Olympics in Frankfurt, Germany, and learned a lot from him," says Collins. "I began to see food differently—working in a very professional and upscale classic French kitchen. I saw fine dining as a unique way to enjoy the craft."
"Marc's an incredible partner, a great businessman and so humble," notes Lesesne. "And he loves giving back to the community. He serves food at Lowcountry Food Bank and March of Dimes events. That reflects our whole culture at Circa."
Prominent among Charming Inn's other collaborations is the inauguration of Charleston Wine + Food in 2006. Collins and Lesesne were founding members of the team that launched the city's signature festival celebrating the culinary arts and supporting community initiatives. Widman is Chair Emeritus of the 501 (C) (3).
In the dining room, Circa 1886 restaurant manager Mark Severs oversees an "ever evolving" wine program—a Wine Spectator Award of Excellence winner—with the assistance of Charles Adkins, dining room manager/ sommelier. Adkins pointed out that the 340-bottle list now features more half-bottles than ever to accommodate guests' varying tastes.
The evening of our visit, my guest and I were struck by the depth of warm hospitality on display at Circa 1886—from the moment we stepped in from a romantic arbor shaded brick path—door held open by Adkins, all smiles—to the dining experience with our exemplary server, Michael Herder.
In fact, the entire staff seemed to flow in choreographed unison, with attentive servers looking very smart in old school-style black trousers and vests and crisp white shirts, circling effortlessly with their trays.
The winter menu was divided into four sections: Native tribes, Africa, Europe and South Carolina, each featuring hearty dishes reflective of cultural traditions.
We started with the maple poached red apple salad, an autumnal combination of slender shoots and cress tossed with toasted squash seeds, sour sap and a hominy crunch that lent a foraged-from-the-forest appeal you might expect of a Native American dish.
Also from that category: preserved rabbit in a light, yet deeply flavored corn cob bouillon accompanied by a Seewee bean succotash and bear tallow. The rabbit was tender and delicious—a crave-worthy dish.
This section's entrees included Broken Arrow Axis venison plated with indigo grits, parsnip, a turnip collard green "Mixit" and preserved peach sauce.
Moving on, we sampled the shrimp and grits made with rice, a mainstay introduced to America by Africans. The shrimp were bite-sized and perfectly cooked, the grits, creamy in a light, smokey ham hock gravy enhanced with the delicate flavor of goat cheese from Burden Creek Dairy. Julienned cabbage added an appealing green crunch. A surprising take on the classic dish, and a must-have.
Also from Africa, a heart-warming piedmontese oxtail main dish served in a zesty pepper pot liquor. Collins puts a sear on the meat and braises it in a rich stock that translates to over the top flavor on the palate. Pickled okra cut through the richness of the dish and a perfectly cooked bite of sweet potato added sugary notes. Spicy mustard greens rounded out this satisfying cold weather dish.
Meeting Street crab was our selection from the European side of the menu: a gorgeous casserole loaded with chunks of crab floating in a rich sherry Mornay sauce dotted with fava beans. Collins says the kitchen sources much of its fish from local Crosby's Seafood. Bits of cauliflower added a crunchy texture to the silky dish that was topped with a cloud of tender fried onions.
One of my favorite fish dishes is fried flounder, and the pickle fried flounder from the South Carolina section did not disappoint. The classic preparation rendered a perfectly cooked crunchy fillet enhanced with the novel addition of briny pickling spices. Julienned collard greens were slightly al dente and added a savory contrast to the delicate flavor of the fish.
The colorful West African entremets showed off Collins' artistic vision. The refreshing dish delighted with a panna cotta made with kunan aya—healthy tiger nut milk. Mandarin orange, guava mango espuma and coconut lime gelée added sweet, citrusy notes.
From start to finish, this culinary tour of traditions from around the world is one that any food aficionado would be excited to experience.
Circa 1886
149 Wentworth St, Charleston
843-853-7828
Collins' thoughtful menu is another milestone in the evolution of Circa 1886 and a roadmap for understanding Lowcountry cuisine. Congratualtions to Charming Inns for 20 years of culinary excellence and innovation.