Due to the coronavirus outbreak, the Cooper River Bridge will be postponed until August 1, 2020. Visit www.bridgerun.com for more information.
Former Marine finds new lease on life through art, wins 2020 Cooper River Bridge Run design contest
By Bryce Donovan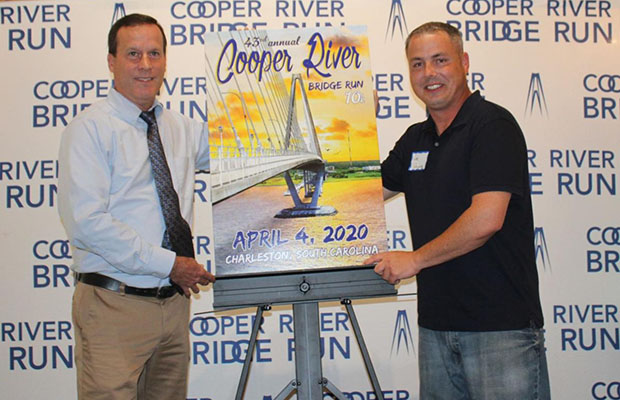 Joe Wilhite nearly had a heart attack after he hung up the phone.
Apparently, when the 38-year-old graphic designer turned in his submission for the Cooper River Bridge Run art design contest, he had forgotten to sign it.
If it wasn't signed, it might as well have not even been entered.
As he made the drive from Goose Creek to the bridge run offices in downtown Charleston, he thought about all the hard work he had put into it.
How he had painstakingly created and refined those 78 layers in Photoshop. All those hours working on the birds. The clouds. The perfect shade of orange illuminating the profile of the bridge. Please don't screw this up on a technicality, he thought.
When he got to the office, he quickly signed his submission. Then the organizers asked him to pose for a photo with his work.
And then, in what must have been one of the most confusing moments of Wilhite's life, they started singing "Happy Birthday."
"And that's when they told me I had won," he said, laughing.
According to Wilhite, after selecting his submission as the winner, the organizers had looked him up on Facebook to learn a little more about him. When they did, they realized that that very day was his birthday. So they couldn't resist the opportunity for two surprises in one.
"I was definitely excited to win," he says, "But I don't think I realized what a big deal it was until I'm driving into work one day and I see my artwork on a giant billboard on I-26."
Ever since he was a kid, Wilhite loved to draw. He remembers countless afternoons, sitting in his mom's accounting office after school, drawing until it was time to go home.
"My mom was always encouraging me with my art," he said. "Pushing me to pursue it. I really liked it, I guess I just thought it was something that was fun. More of a passion. I didn't ever think it was something I'd make a career out of."
After graduating from college, Wilhite moved to West Virginia where he played semi-professional hockey for a few seasons. He was decent, but he knew he wasn't the next Sidney Crosby. And that's when the terrorist attacks of September 11th happened.
"I remember thinking, 'Finally, I have a purpose,'" he said.
Overcoming obstacles
Two weeks later he joined the Marines, where he served honorably for four years before being seriously injured in the line of duty.
After a medical discharge, Wilhite's life was up in the air. On disability and lots of medication for pain, he was a self-described zombie. His accident—something he doesn't like to talk about, even to this day—left him paralyzed from the waist down for almost an entire year.
"I had to relearn how to walk," he says, quickly changing the subject.
Once he was back on his feet, he worked odd jobs, even managing several Kangaroo gas stations. All the while, he continued to draw. It was the one thing that kept him sane, happy, he said. And that's when it finally clicked.
"A light bulb went on or something, but I think I finally realized, 'Hey, this is what I should be doing,'" he said.
Art Therapy
A friend told him about the Veterans Affairs Vocational Rehabilitation and Employment Department, and that they might be able to help him get into and pay for art school. After a little research and getting approved, in 2015, with the help of the V.A., he enrolled in the Art Institute of Charleston.
Two years into the program Wilhite was enjoying himself but he still lacked total confidence in his skills. A school project at the time had Wilhite and his classmates enter original work in the James Island Connector Run design contest. It was the first time he had ever done something like that. Much to his surprise, he won.
That win put him on the radar of Nelson Printing, a Charleston design firm, who would go on to hire him after he graduated in 2018.
"I've gotten to be a part of so many designs working for Nelson, it really has been great for me with connections and experience. I honestly think if it wasn't for working here that I never would have known how to make something good enough to win the Bridge Run design contest," he said.
His winning entry features a view of the Ravenel Bridge, looking from downtown toward Mount Pleasant, just moments after sunrise. In it, the sky is filled with cotton candy-like clouds and brilliant shades of yellow and orange. A duo of curious seagulls circles overhead. It's one of his finest pieces of work to date, and he's very proud of it.
More than 40,000 participants in this year's event will wear his artwork on official race T-shirts.
"I might not physically be able to do the run," he said, "but thanks to my art, it allows me to be a part of it in my own way."