Classic Coastal Style
04 May 2020
How to achieve beach house perfection
By Jennifer Patterson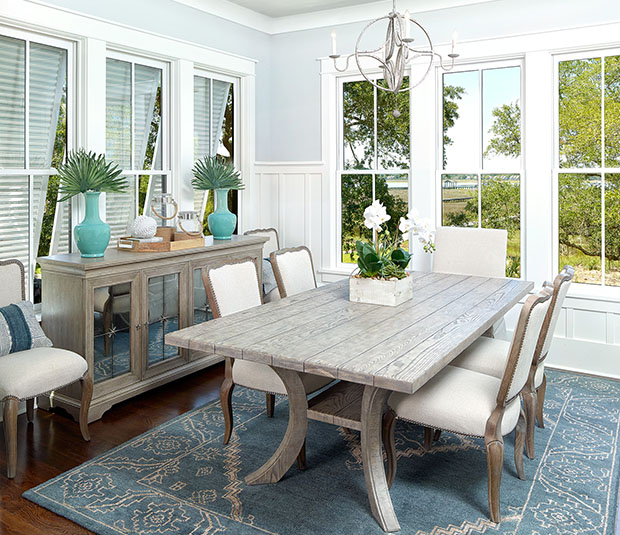 It's no wonder that we are drawn to interior spaces that give us a sense of calm like the ebb
and tide of the ocean.
Coastal style at its best captures the essence of nature, with light-filled rooms accented with natural grasses, rattan and wood elements. Cool hues and soft blues are classic elements in coastal interiors. Rooms with shiplapped white walls, crisp blue textiles and worn in rattan furniture have a timeless wonder about them. And the Lowcountry is a perfect backdrop for these calming vibes.
Raffia, rattan and block print textiles are seeing a rebirth as new fabric collections from
companies like Schumacher and Kravet roll out their cheery floral prints and furniture
companies join in to add rattan woven chairs, consoles and grass covered cocktail tables to
their collections.
We are seeing these designs in new homes and being incorporated into renovations as a way to enjoy our homes with serenity and tailored living. New designs from companies like Bernhardt debuted an outdoor furniture collection with rope and rattan woven chairs suitable for indoor or outdoor use.
To really create a timeless coastal room, you only need to go back in time to see designs
found in some of the cherished Caribbean resorts. Coastal design has its roots in old school
island resorts like Round Hill Jamaica, built in the 1950s and also one of my favorite places.
One of their villas, Cottage 19, had one large open living room with no doors, left as a wide
expanse to the large adjacent porch. The villas were designed and built on a hill next to the
ocean to take advantage of the trade winds.
Today, we are recreating some of the same rooms, like designing homes with Nana walls, retractable doors which can completely fold away making our living rooms open to the outside. Cottage 19's living room had celadon slip-covered sofas, which floated on old wide plank floors. The bedroom was enchanting with white-washed walls, a large antique poster bed, scattered grass rugs, cobalt florals and batik pillows. I felt like I was back in time.
The secret? Repurposed old items, natural elements, and artisan textiles. Antique wood chairs covered in natural linen fabrics with decorative items from local artists such as pottery, baskets and paintings added a sense of charm and tradition.
If you are inspired to restyle your bedroom or living spaces in classic coastal style, here are a
few items to consider:
Brighten Up
Paint your walls white or a soft pale gray or sky blue—cool tones set the feel. If you have darker wood floors, go lighter on all other upholstery in the room.
Layer in Natural Elements:
Invest in a Parsons-style coffee table or nightstand and cover with neutral, tan grasscloth, which
adds texture and uninterrupted lines to the space. Even a slim raffia console can be added to a
room to create a coastal vibe. Made Goods has several styles in bright white as well as navy
and gray. Mix in vintage-inspired rattan pieces in honey tones to add warmth and timeless
appeal. Companies like Gabby have rattan benches and chairs that feel nostalgic but have a
modernity to them.
Add Colorful Textiles
Try adding a punch of color with overscale florals on a chair or sofa pillows. Consider using block-printed linen textiles in chambray blues, coral or celadon. These add watercolor shades to a mostly all-white room and add a casual well-worn feel to the space.
With so many choices, it is easy to see how we can create beautiful spaces with natural
elements that calm our senses. After all, in the Lowcountry, all we have to do is look outside for inspiration.
Jennifer Patterson is the owner of Terra Designs at 630 Johnnie Dodds Blvd in Mt. Pleasant. For more information, visit www.terradesignsinteriors.com