Clay and Creativity
29 Aug 2016
Kris Neal teaches the art of pottery at Fire & Earth
By JASON A. ZWIKER
Photos MATTHEW SCOTT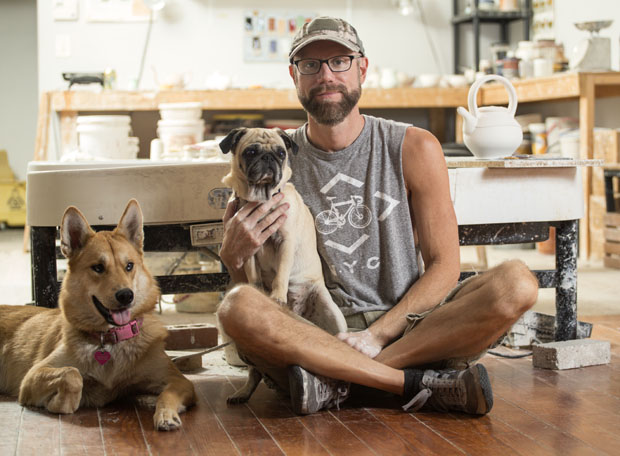 Lola, a playful pug and shin-high ball of love, has been to every class ever taught at Fire & Earth Fine Pottery. It's generally a toss-up who'll greet you at the door of Fire & Earth first: Lola or Pepper, a fun-loving year old shepherd/lab mix.
These two friendly, energetic dogs help make this art studio a comfortable, laid-back place for everyone. On average, about 50 students make their way to Fire & Earth each week to learn how to throw pots of their very own. The classes vary from group sessions to one-on-one encounters. If you want to make a date night of it, hey… they have that too! Yep, you and your favorite significant other can cuddle up close to the pottery wheel and dip your fingers into the clay as it turns. You'll get a hands-on experience of working together on art and, within a few weeks at most, you'll have that memorable piece glazed and fired to perfection, ready to show all of your friends.
So, how did this all come about? Fire & Earth owner Kris Neal honed his art and built his business over the years. Originally from Maine, he studied painting and drawing at The Heartwood College of Art in Kennebunk before transitioning to ceramics. He set up a wheel and kiln in his mother's garage and focused on honing his art.
When he moved to Charleston in 2000, the first thing he asked to be sent to him was his pottery wheel. He taught classes at the Gibbes Museum of Art, sold his work on Market Street, and all the while kept his eye on the dream of owning his own studio where he could throw pots, sell his art, and teach classes.
The Fire & Earth studio is a cozy environment with a distinct artsy vibe. Set back in a shady spot, surrounded by trees, it feels like a place from long ago, an artisan shop where a local potter would craft and sell work. While Neal sometimes misses the bustle of people constantly flowing by while he was selling his work downtown, the word-of-mouth and social media driven traffic he enjoys at his space west of the Ashley allows for deeper connections. He posts instructional videos on the Fire & Earth Instagram page, demonstrating proper techniques for working with clay and creating show-worthy functional works of art.
"I've had people from all over the world stop by Fire & Earth, buy one of my pieces, and talk about how much they enjoyed watching these videos," he says. "It's pretty neat, thinking about someone halfway across the world waking up and using a bowl or mug that was made right here in this studio."
The idea of buying and supporting artists and their art is especially important to Neal. He prides himself on attention to details that make all the difference. He personally prepares the glazes used at Fire & Earth. He built his kiln with his own hands, a traditional sprung-arch brick kiln, and one of his favorite parts of the experience is seeing the finished work of his students emerge from it.
There's poetry in the language he uses as he guides his students through the process of taking raw clay and guiding it into becoming something beautiful and functional. He speaks of slip and shadow lines as he creates subtle details that catch the eye. This attention to fine detail, paired with imagination, is how the bowls, pitchers, mugs, and other items crafted at Fire & Earth become art.
Neal enjoys watching students grow and learn, become curious and confident enough in their emerging skills to seek greater challenges. "Students will sit down with me with an idea for an advanced piece, something they've never tried before, and we'll talk about how to make it happen. That's so much fun. I love to see that creativity."
"The thing I love about pottery is that for the short time my hands are on the wheel, I think of nothing else," says Fire & Earth pottery instructor Jim Roberson, who studied under Neal for nine years. "My mind is free to create something beautiful."
Jim gives credit to Neal and his skill as a teacher for helping him develop these skills over the last nine years. "Kris' patience and demeanor are a testament to what Fire & Earth is all about. It's about giving to others." 843.766.2776, fireandearthpottery.com