Coast to Coast
04 Mar 2022
By Alli Steinke
Photos by Jim Somerst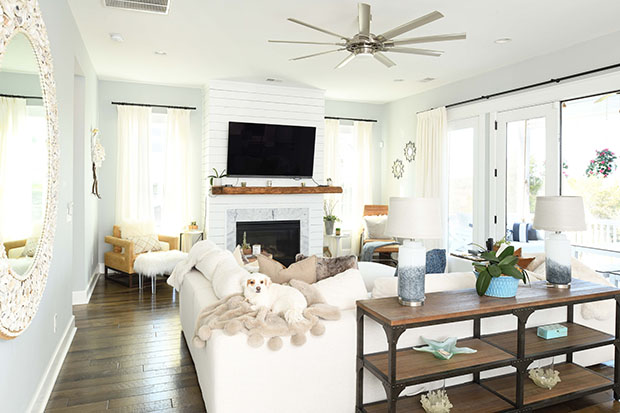 A few months into the COVID-19 pandemic, friends of actress and Days of Our Lives star Nadia Bjorlin and her architect husband Grant Turnbull left the hustle and bustle of Los Angeles and settled in the Holy City. The pandemic took a toll on everyone, and eventually, Grant and Nadia decided they, too, had enough of L.A. and made the move to Charleston themselves.
Turnbull's career was deemed essential during the pandemic, but for Bjorlin, she was forced to stop working. Months later, she was able to return to the studio continuing her role as Chloe Lane, with increased COVID protocols like frequent testing. Nadia was back at work and realized traveling less than 20 miles from her home to work meant a commute of nearly two hours during rush hour, which was not practical for her young family.
Bjorlin and Turnbull always said L.A. represented two 'T's': traffic and taxes, which were each elements of what made life there challenging. Massive increases in homelessness and crime led the couple to leaving their first home in the Valley Village area and purchasing in Porter Ranch. With two young kids, the schools were one of the biggest draws to their new community; however once the world began to reopen a few months into the pandemic and traffic for both of them, Bjorlin and Turnbull began thinking about their next steps.
The couple took a break from the hustle and bustle of L.A. and visited Charleston, at the urgency of close friends. They stayed at Wild Dunes with their boys and that was that.
"The air itself felt cleaner and better," the couple declared. "The humidity felt incredible after a brutal summer in desert heat and smog polluting everything it touched."
A week in the Holy City sold the young family; after experiencing the generosity strangers showed them and the beautiful landscape, everything felt right to start arranging a move to the East Coast.
About halfway through their week-long trip, the couple visited open houses and the first one was "the one." The couple recalls a "gut feeling" they had and put an offer in the same day.
"We flew in for a last-minute vacation to get out of L.A. and left in escrow on a house in Charleston," the couple recalls.
The home they fell in love with? A newly-built home by Ashton Woods in Mt. Pleasant on nearly half an acre that provides a 180-degree view of the tidal creek and marsh from the screened-in back porch.
The 3,212 square foot four-bedroom, five-bath home features a 4-car garage and several porches to capture every view of the marsh.
The location was perfect: the proximity to downtown, the beach and a great school for their kids excited the couple. The ability for both of them to continue their careers in a new setting was also a draw. Bjorlin was close to Atlanta and New York—big spots for filming, and Turnbull could bring his architectural and building experience to a new level.
Built in 2018, the house was turnkey, which allowed them the ability to put their own touch on it with the furniture, rather than requiring an extensive renovation before moving in.
An easy moving process was of utmost importance to them, as they were already moving cross country and had two young children. They purchased it in late 2021 and headed east.
The most challenging aspect of their move was packing up their 3,200 square foot home in L.A. and creating a new space that felt like home. Saying goodbye to their friends and leaving 78-degree weather year-round were not easy for the family, but it was worth it.
Now that they're beginning to settle in their new home, the family is enjoying their Southern paradise. Screened in porches off the living room and master bedroom are frequently used to lounge in the swinging daybeds by Lowcountry Swing Beds after a long day. The stress of L.A. traffic has
evaporated in lieu of easy date nights and the couple can now have serene mornings looking over the marsh and watching the birds and deer.
Bjorlin and Turnbull completed uprooted their lives on the West Coast and took a risk to move their young family to a place they'd only visited once; but this was a chance they couldn't pass up. Moving to the Lowcountry allowed the couple to live a less hectic lifestyle, make new friends, enjoy the delights of Southern food and cocktails and spend more time in nature with their children.
Together they worked on designing the inside of their dream Charleston home; a project they will tackle together since Grant is an architect/designer and Nadia has a natural eye for design. They packed some items they had in L.A., but sold and donated other things for a fresh start.
The home features many touches you'd expect to find in Charleston's signature coastal style: shiplap—an especially unique touch on the wall skirting the stairs—an expansive back porch with hanging daybeds and large windows that welcome the natural light in. The spaces are outfitted in mostly neutral hues, including light window treatments that showcase the panoramic vistas of the winding creeks and salt marsh expanses—an especially serene view from the master suite. Standout nautical décor, including buoy-netted glass light fixtures in the foyer and a large seashell mirror in the living room, add to the relaxed, coastal style.
Pops of color were added with accent furniture and decor pieces—including a Wayfair find red printed rug in the master bedroom and velvet benches at the live edge dining table in the foyer. The couple also paid homage to their European roots—Grant has Northern Irish heritage and Nadia is Swedish—with some of their furniture selections. A particular standout piece is the hand-carved Anthropologie Lombok headboard in the main bedroom with a medallion pattern, creating a dramatic statement.
The main level of the house has a semi-open floor plan with plenty of natural light. The kitchen and living room overlook the spectacular marsh view. The floor plan allows the couple to keep an eye on their young boys while in the home's gathering areas, or to enjoy extra room at the island bar with their guests when they entertain, which is sure to happen when their friends from L.A. come to visit.
Living in a neighborhood like this one that feels like community was something Bjorlin and Turnbull never experienced in L.A.: the closeness to their neighbors is exciting for the couple, as it gives them the opportunity to connect with people and gives their boys neighborhood kids their own age to make friends.
With a cross country move under their belts, and spring upon us, Bjorlin and Turnbull are eager to continue putting roots down in Charleston and ready for their first Charleston summer spent making memories with their two boys.
Resources
Builder - Ashton Woods
Bedroom Headboard - Anthropologie Lombok headboard
Red rug in master bedroom - Wayfair
Living room couch - Arhaus
Swinging day beds - Lowcountry Swing Beds
Lighting - Restoration Hard
ware