How Sweet It Is
04 Mar 2022
Etsy helps Sweetgrass basket makers sell, market items online
By Chelsea Greenwood
Photos provided by Etsy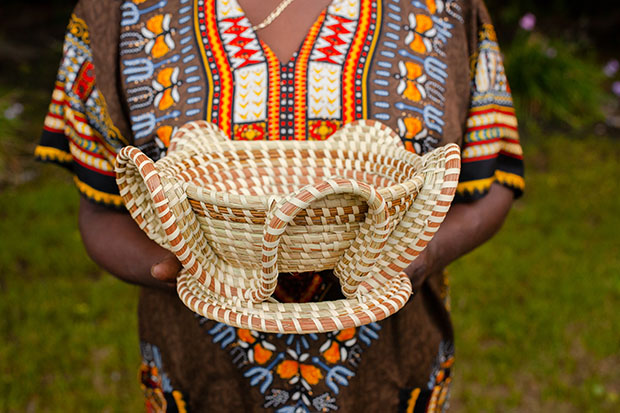 Visitors to Charleston know that no trip to the city is complete without checking out the famed Gullah sweetgrass basket weavers. The African-American artisans and their one-of-a-kind sweetgrass baskets are a major draw at the historic City Market, where shoppers can watch the weavers at work and peruse handmade works in designs ranging from platters to purses to the famous baskets.
Now, the weavers are getting much-deserved national attention thanks to the popular online marketplace Etsy and its Uplift Initiative, which "aims to bring more economic opportunities to creative entrepreneurs everywhere," per a press release from the company.
As part of the initiative's Uplift Makers Program, a $75,000 grant will help 16 Gullah weavers sell their goods on the Esty website. It will fund professional photography, content creation, design and merchandising mentorship, shop management training and shipping and fulfillment assistance.
For a period of time, Etsy will also waive transaction fees and provide listing-fee support for the artisans. For many of the weavers, it will be the first time they have an online presence.
"I believe that establishing a platform for entrepreneurs to display and sell their goods is a great way to meet new customers, and I'm hoping this is a way to make my business grow even more," said Jennifaye Singleton, a Gullah weaver from Huger, according to the press release.
The Uplift Makers Program, which is in partnership with Nest, Souls Grown Deep, and Bloomberg Philanthropies, has already been a proven success thanks to a pilot program in Gee's Bend, Alabama, that supported a group of nine quilters from the remote Black community, where the average annual income is around $12,000. Many of the quilters' Etsy shops sold out within 24 hours of launching on the site, and they made more than $300,000 in total sales within the first six months.
"For the quilters, the market access gained through Etsy helped them overcome long-lasting financial barriers," per the press release. "For example, one quilter used the income from her Etsy shop to pay for her daughter's education, and another built a house that she now owns without a mortgage."
The Gullah weavers, who are all Black women, are practicing a craft that's been passed down through the descendants of enslaved West Africans for 10 generations. Considered the country's oldest African craft tradition—with pieces being featured by cultural institutions like the Smithsonian—the unique form of weaving incorporates native plants like sweetgrass, pine needles, bulrush, and palmetto palm. Each basket takes roughly 40 to 60 hours to complete.
In a promotional video for the Uplift Makers Program, which shows the weavers at work, Martha Cayetano talks about how, as a child, she made baskets to provide for her family because jobs were scarce. "We had to weave in order to make this money to survive," she said. "That's what we did."
Multiple generations of Gullah weavers are currently at work in Charleston, and the older women stress the importance of younger women learning the craft so that it can continue to be passed down as it has.
In the video, another weaver, Gail Wright, discussed the enduring appeal of the baskets, which were originally used for winnowing rice but are now considered works of art. "People should want to have one because of the history and the love that goes into these baskets — and the time," she said.
Cayetano added: "My baskets are original and authentic. There's never been a duplication, and never will be one."
Chelsea Cayetano, Martha's granddaughter and a weaver herself, talked about the amazing opportunity that Etsy is affording the weavers. "Putting this online definitely is going to impact Grandma. Her work is just — you don't see anything like it. It's just big. She does everything big. Go big or go home."
She continued: "Everybody's work is so beautiful and so unique, and I want to make sure that we get them out there."
Thanks to the program, Cayetano herself sees a bright future ahead, too. "Once my stuff go online, I think I'm gonna sell a lot," she said. "So, I'm gonna be a busy body."
Visit www.etsy.com/blog/gullah-basket-weavers-share-their-stories for direct links to the online shops.