Coastal Cottage
03 Sep 2021
Home makeover on Seabrook Island
By Rob Young
Photos by Jim Somerset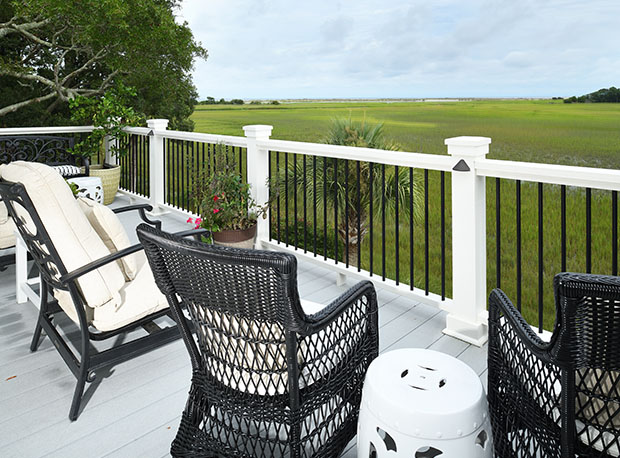 Vocation, avocation, it doesn't really matter. Judy McLean understands her love for interior design.
"It's not only my career, it's my passion," McLean says. "I get great satisfaction in helping someone with furnishing a new home or changing things around in an existing home."
One of her more recent projects might be considered pro bono work -- it was a top-to-bottom renovation at her home on Seabrook Island that she shares with her husband.
"We finally got the retirement home we had dreamed of," she says.
Rascal Run redo
The McLeans moved to Seabrook Island in 2017.
"We bought a lovely home, but it never felt right to me, so at my husband's chagrin, we started a search with our realtor Lee Lindler," McLean says.
Soon enough, they found their perfect home. Situated at 3009 Rascal Run Court on Seabrook Island, the home features sweeping views of the marsh, Captain Sam's Creek and the Atlantic Ocean.
All it needed was some work—well, a lot of work.
"It had an orange-brown roof and the siding was a goldish-yellow. The bottom part of the house was a pink shell," she said.
McLean is honest—brutally honest about the home, pre-renovation.
"We looked at lots and several houses before we happened upon the Rascal Run house," she says. "It was a 1980s contemporary, dated inside and out. Everything was beige and it had carpet everywhere. But I knew it had possibilities. We have renovated several other homes during our 44 years of marriage, and while I was excited about the prospect of getting the house like I wanted it, my husband was not so enthusiastic."
But it still had the views, the beautiful lot. It just needed some love.
"Of course, the renovation to turn this house from the 80s contemporary to a Southern coastal cottage was long, agonizing, and expensive. But it was worth it," McLean says.
They decided to gut the house, which they bought in 2018. The couple moved in a year later, then began the exterior renovation, which lasted almost eight months, finishing in 2020 just as Covid began.
Overall, the home consists of 3,200 square feet, three bedrooms, two-and-a-half bathrooms.
"We turned a screened-in porch into an interior space for a sunroom with a daybed for extra sleeping space," McLean says. The common spaces and master bedroom are on the same level. We also have an elevator. This is a great 'aging in place' home."
Settling on Styles
Harper Construction project manager Dave Rust led the renovation process.
"Dave would take our ideas and help expand upon them, and we appreciated that," McLean says. "He hired some great subcontractors, which helped with the process. I had a good idea of what I wanted. We opened up the walls and had to have several beams installed."
Architect Chris Bonner designed the new exterior. "A friend recommended Chris to us and he was great to work with. His first few renderings were contemporary, then we realized we wanted to go traditional and he drew us a beautiful plan. He drew up the upper deck and the new stairway and the front of the house changed dramatically."
The interior, of course, was McLean's project. She describes her style as traditional with a modern slant. "I like more modern, upholstered furniture and using neutral colors, light blues to create a symmetrical approach," she says.
The walls are colored similarly throughout. It's an antique white color palette, helping the home feel light and airy. "We'll bring some color in with accessories and throw pillows," she says. "I have some navy, but no cobalt, no bright colors."
McLean also emphasizes personal touches or furnishings. Many of the wooden accessories—bedroom furniture, bed frames, nightstands, even a grandfather clock—were built by her husband's grandfather. "I love to sprinkle some of those items throughout the home," she says.
A Budding Designer
McLean has worked in interior design for 25 years. After a career teaching in Lumberton, N.C., she started her interior design business after moving to Lake Norman, Charlotte and the Lowcountry.
"I started out specializing in window treatments, bedding and pillows. I had a small workroom, and with the help of two very talented ladies—one is Lynn Cruse, who happens to be a neighbor here at Seabrook—we were churning out work.
"But both associates needed to pause sewing at the same time. So, then I turned to other workrooms to do the sewing and I began including all other aspects of design in my business."
An associate member of the American Society of Interior Designers, McLean was involved with several show homes before moving to Seabrook. When she first moved to Seabrook, she wasn't necessarily looking for additional work. However, "most designers can't turn down an opportunity to help a homeowner change and improve their spaces," she says. "I helped a friend renovate a Florida home last year and I had several small jobs going on at Seabrook. It was so nice to be busy doing what I love."
McLean's design approach is fairly straightforward.
"First of all, we meet and if they're living on the property, I can understand how they've been using furniture and colors, and how they've surrounded themselves," she says. "Sometimes I shop with my clients and use samples to help them figure out what they want. I'm not sure if I will ever really retire because when a new client calls and needs help, I get excited and my wheels start turning."
Neighborhood watch
McLean enjoys the improved views, inside and out, of the full-scale renovation.
"Our friends and neighbors are always interested to see the house because it was under construction for almost two years," McLean says. "People want to know how much has changed. 'What did you keep, what did you get rid of?'"
"People walk by, expressing how different the house looks. It's now one color instead of three colors. I just think anytime neighbors are improving their houses, it makes the neighborhood happy," she adds.
Sometimes it's hard to remember its original state.
"I almost forget what it looked like," she says. "We took it down to plywood and studs. Then from the minute you walk inside, you see the view. It's remarkable what we achieved in our renovation."
Builder Resources
Interior Design - Judy McLean
704-906-6891
Harper Construction
https://www.chrisharperconstruction.com/
843-737-4745
b Studio Architecture
843-608-1858