Sportsman's Paradise awaits at Kiawah Sporting Club
By Jenny Peterson
Photos by Patrick O'Brien for Kiawah Island Club + Real Estate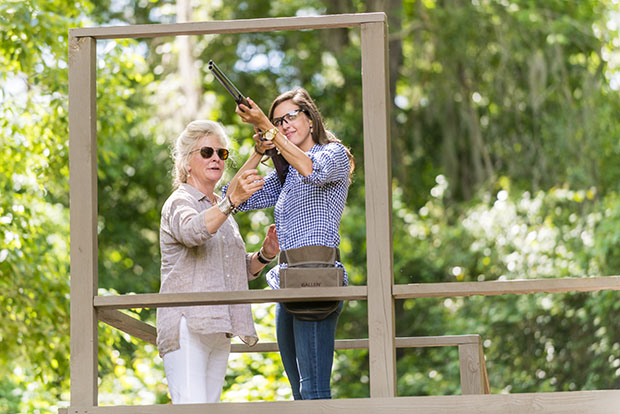 "Have you ever shot a gun before?"
It's the first question I was asked when I approached the clay shooting mark at the Kiawah Island Sporting Club on Johns Island.
Asking the question was Elizabeth Lanier Fennell, a woman donning stylish outdoor sportswear, with an open shotgun draped over her shoulder.
A self-proclaimed "big-time bird hunter," Elizabeth has been clay shooting for 20 years and teaching for 12 years and was recently named the co-director of instruction the sporting club.
She's one of best clay target shooting instructors in the country and one of just four National Sporting Clays Association Level III female shooting instructors.
It was clear she was in her element on The Sporting Club's sprawling grounds on 885 acres on River Road, nine miles from Kiawah Island.
Elizabeth has an ease and coolness that makes first-time shooters, like me, as well as master marksman, feel inspired and trigger-ready.
"Shooting a shotgun is a pointing game; the gun goes wherever my hands and eyes go," Elizabeth said. "This is like playing tennis; you don't look at the racquet, you look at the ball."
In under 15 minutes, Fennell had masterfully explained to me how to stand, how to position the gun, how to determine eye dominance and other helpful tips: Always shoot the shotgun off the same shoulder as your dominant eye. Place the butt of the gun where a tank top strap would line up on your shoulder. The shotgun shells "spray" like a garden hose, so you only need to aim in the general direction of the clay target's trajectory in the air.
Once I was set up and prepped, and given earplugs and protective eyewear, I was given clear instructions: "When I say, 'ready,' you say, 'PULL!'" Elizabeth said.
"PULL!" I yelled and suddenly an orange clay shot up into the air from a machine on the left side of the field. I pointed the shotgun up in the air, my cheek resting on the side of the shotgun—chin forward like Fennell told me—and BOOM! the gun went off and then it was almost like slow-motion as I saw the clay target obliterate in the air.
Successfully shooting a sporting clay is a thrilling feeling, the adrenaline rush made even more dramatic by the lingering shotgun noise slowly fading through the trees. I was hungry to shoot more.
Elizabeth's enthusiasm for my success was contagious.
"I find it so empowering; I feel like if I can do this, I can do anything," she said.
Clay shooting gives you more self-confidence to try more things," she said.
She then loaded up my shotgun again.
"Now, this time," she said. "Shoot it like you're mad at it."
A Menu of Offerings
The Sporting Club opened five years ago, and clay shooting is just one of the many offerings that await Kiawah Island Club members and their guests. There's a wide range of trap (clay pigeon) and skeet shooting, many skeet shooting courses and one-on-one and group lessons. Though the Kiawah Island Club is a private, members-only facility, members of the general public can take private or group shooting instruction with Elizabeth.
Elizabeth's husband, William Fennell IV, is the other director of instruction at the club.
For the experienced clay shooters, there's a 10-station sporting clays course and five-stand shooting course. Sportsmen can even the personal challenge to try and hit 100 out of 100 targets.
Elizabeth explains that traditional sporting clay shooting is like an obstacle course—"golf with a shotgun"—where 25 total targets are shot out of machines in different patterns, from different heights and different arcs. One, called the "rabbit" is a low target that ejects the target so low, it seemingly dances across the field, bouncing along, like skipping a rock in a stream.
"The game of skeet was invented for people to practice their upland hunting when the season wasn't going on," Elizabeth said.
The Sporting Club allows members to bring their own shotguns and shells but also rents the items from the office on site. Rates are based on the number of targets and optional lessons, which range from an hour to a half day.
"I've had people fly in from across the country and take a half day of lessons, spend the night and come back the next day for another half day," Elizabeth said.
Additional offerings are an Air Rifle and 3-D Archery Range, where members get a quiver of arrows and shoot traditional bullseye targets filled with sand or 3-D animal figures staged on various heights in a wooded area.
Members are welcome to wander through the trails and hit 10 targets on the course. The woosh of an arrow in an otherwise quiet wooded area is a one-of-a-kind experience.
Quail hunting to be added this season
For the bird hunters, The Sporting Club plans to host guided quail hunts, accompanied by guide dogs, across a series of fields in late fall and early winter through March 2022. Quails and guide dogs will be brought in for the events.
"The rigorous adventure plays out across the tall grasses of our managed wildlife habit," the club states.
Family-friendly
The Sporting Club goes beyond sportsman offerings. Members are welcome to sit around a fire pit and watch others in the field or attend one of the many recurring events at the location, including Ladies' Sporting Club Days, trunk shows and bourbon tastings.
Recurring introduction days are held to familiarize members with the offerings, often combined with libations and lunches.
"During COVID, so many more families came out," Elizabeth said.
Children can get in on the fun; minors who weigh at least 70 pounds are permitted to take clay shooting lessons.
"But, it has to be their idea," Elizabeth said. Children are also allowed to participate in the archery course.
"With its emphasis on fun, camaraderie, and safety, the facility has fostered a spirited fan base of men, women, and children of every skill level," the club states. "We are focused on creating a community that speaks to every passion point and personality."
For more information, visit www.kiawahisland.com/island-club/sporting-club.