Jewels for the table
04 Sep 2021
Local entrepreneur creates Estelle Colored Glass as a nod to her grandmother
By Liesel Schmidt
Photos by Catherine Hurt Photography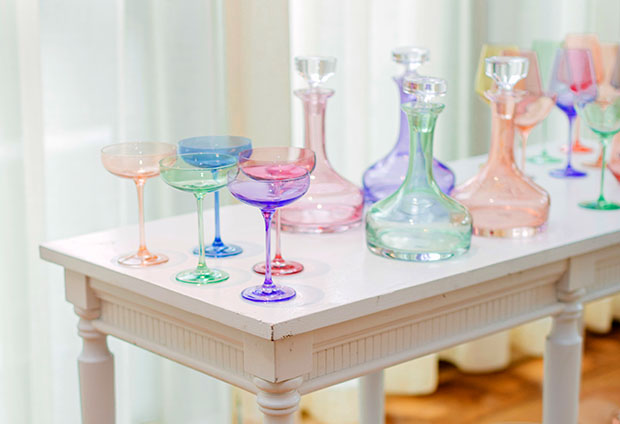 Once upon a time, we were a society whose social calendars were filled with dinner parties and picnics, afternoon teas and luncheons, brunches and weekly Sunday dinners. People knew their neighbors and were deeply involved in their communities and hospitality was a way of life.
It was an homage to this time, the art of gathering, that Estelle Colored Glass was created by Stephanie Summerson Hall in 2019.
Named for her grandmother Estelle, the company was inspired by Estelle's love of antiquing at her favorite shops as she went in search of new treasures—one of which was colored glass.
"During the summer months, I had the pleasure of coming along on many of these treasure hunts through small neighboring South Carolina towns, from my early childhood up through my college years," recalls Hall, who lives in Charleston. "My favorite of her collections was her colored glass collection, and this marked the start of my love for colored glass."
Like many women of the time, Hall's grandmother often used her colored glass pieces at Sunday dinners.
"She was well-known as an amazing cook, and every course was delicious," says Hall, the love for her grandmother clear in the warmth of her tone. "She also always prepared a homemade dessert to be enjoyed on Sundays by family and friends who would often drop in for an afternoon visit. Her signature dessert was scratch-made vanilla pound cake often beautifully displayed on a colored glass cake stand and served with a side of strawberry Jell-O topped with whipped cream."
That memory is a strong one for Hall, who started her career in law and practiced as an attorney before following her entrepreneurial spirit. She founded an event rental company called Ruth's House Event Rentals in Charleston.
She added Estelle's Colored Glass, a luxury brand of hand-blown colored glass cake stands and stemware in a mix of jewel tones and soft pastels. It's the heart and soul of the company that bears the matriarch's name, which offers products that would most certainly earn Estelle's seal of approval.
The Estelle Colored Glass collection is comprised of original commissioned pieces made by Polish glass artisans at a glass making company that is more than a century old.
"We found our glassmakers through extensive research and vetting," Hall says of the process for finding the right partners to create the pieces that bear her brand. "I call Estelle Colored Glass pieces 'jewels for your table.' We want our vintage-inspired colored glass collection to start a revival of colored glass that is reminiscent of a past time."
Accolades Pour In
Two years into the venture, Estelle Colored Glass has garnered wide acclaim from multiple media outlets including Vogue, Elle Décor, and Harper's Bazaar as well as an appearance on NBC's Today with Hoda & Jenna. For all the attention it has brought, Hall's vision is still focused on one thing: making her grandmother proud. It is that standard that has driven her success—that, and a passionate pursuit of beautiful things that people take pride in using and displaying.
She strives to offer something that is unique and different to the mainstream pieces offered by so many other companies in the market.
"Our customers love the nostalgic feeling our pieces evoke as well as the modern streamlined update on the traditional colored glassware," says Hall. "In addition, our customers love that our mixed sets allow them to select a different color glass to use every day. In grouped settings, they allow each guest to have a different color glass, and this cuts down on getting glasses mixed up. Also, our pieces stand out because of the range of colors, and color makes people happy."
Interestingly, COVID actually brought a spike in business.
"We saw a major uptick over the course of the pandemic, and this has been sustainable for us as more people have fallen in love with their homes and home entertaining," Hall notes.
Naturally, this has been a happy outcome out of a bad situation for Hall and her company—and the return of home entertaining has been something that would indeed make her grandmother's heart swell with joy.
Above all, Estelle Colored Glass is a way to connect to Hall's heritage, a full-circle project that gives her a platform for sharing a history that she treasures. In buying her pieces, you become part of that story, and you welcome her into your home.
Estelle Colored Glass can be found in local shops including GDC Home, Hampden, Fieldshop, Gwynn's of Mount Pleasant, Monkees of Mount Pleasant and online at www.estellecoloredglass.com.