Stir, blend and chill your way through the summer heat with these delicious ice-cold recipes.
Recipes and photos by KIM BYER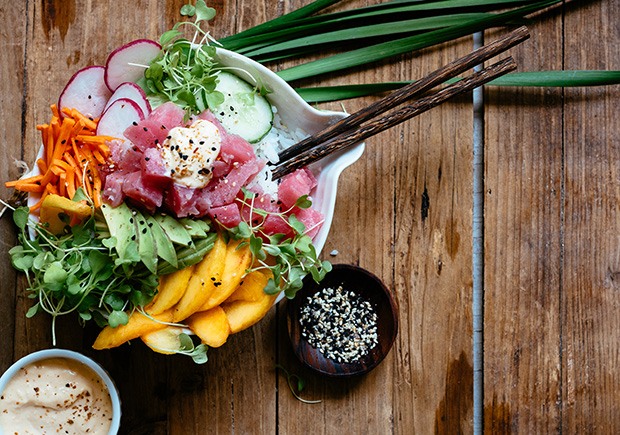 We're deep in the swells of a hot Southern summer. Beach trips, lake outings and poolside days are floating by like an endless lazy river. Beyond the smells of salty air, sunscreen, chlorine, and blowup floats, it's the smell of summer food—tomatoes on the vine, a ripe cantaloupe, sizzling hot dogs squeezed with mustard and sliced cucumbers soaked in vinegar—that wraps around us and hugs us with all the love of a giant terrycloth towel.
It's in this summer-of-love spirit that we're sharing these simple recipes to keep you where you belong—poolside, sipping on a cocktail, or surfside, spooning up a bowl of ice-cold comfort.
Dive spoon-first into an icy spiked granita. If this doesn't transport you to a tropical paradise, a bowl of piña colada inspired fruit salad surely will.
For cold comfort beyond the glass, make your next lunch a cold bowl of spicy peach and tuna poke (po-kay). This Hawaiian-meets-Southern bowl of sushi-grade squares and ripe peaches on a sweltering day is made even more irresistible with a generous pour of sriracha ginger sauce.
The show-stopping dessert of the summer is our Blushing Berry Frozen Yogurt Cake—best served thawed and semi-soft to a big crowd on a sweltering summer day. Slice into its sweet, icy crunch and fruit-filled yogurt with pops of pomegranate atop a buttery graham crust and you'll watch it disappear long before the summer sun sets.
Zucchini Gazpacho
with Chilled Shrimp
Gazpacho
Makes 4 cups
24-30 medium shrimp, peeled, deveined and cooked
2 large or 4 medium-sized zucchinis (4 cups), roughly chopped
½ English cucumber (1+ cup), chopped (if using garden variety, seed first)
1 avocado
1 green onion, chopped
1/2 cup plain yogurt
Juice of 1 lemon + 1 lime
1 teaspoon kosher salt (divided use)
1 teaspoon light olive oil
Handful of herbs such as basil, Thai basil, cilantro, mint and/or dill, minced
Sour cream or crème fraiche for topping
Blend zucchini, cucumber, avocado meat, onion, yogurt, lemon and lime juice and ½ teaspoon salt until fairly smooth. Chill.

Chill cooked shrimp in ice bath or refrigerator, then pat dry with paper towels.

In a medium-sized bowl, coat shrimp with oil and remaining salt. Add herbs and toss. Divide shrimp among bowls of chilled gazpacho. Top with sour cream or crème fraiche.
Golden Margarita Granita
in Pineapple Bowls
Makes 4 1/2 cups
1 pineapple, shaved, cored and roughly chopped (Alternatively, split pineapple lengthwise and scoop shells to use halves as serving bowls or split it horizontally and use the bottom half as a bowl.)
4 limes (divided use)
1 jalapeño, seeded and chopped
¼ cup gold tequila (optional, but if using, add more for serving)
Pineapple shells, lime wedges, cilantro, sliced jalapeño, margarita salt or other coarse salt (all optional for serving)
Blend pineapple, the juice of 3 limes and jalapeño until smooth. Pour into a freezer-safe dish.

When frozen, scrape the mixture with a fork. Store in freezer until ready to serve.

If serving in glasses, coat serving glass rims with coarse salt. Add granita. Zest remaining lime and sprinkle onto granita. Optionally, pour a small shot of tequila (1 ounce or less) into each serving glass before layering granita on top.
Tip: Want to really get your resort on? Buy a few extra pineapples, split them in half horizontally -- one bowl per pineapple-- add a paper straw and tiny parasol, and you'll have an insta-party, deserving of a big-hat-and-sunglasses selfie.
Spicy Peach & Tuna Poke Bowl
with Sriracha Ginger Sauce
Serves 2
1 cup cooked rice (white or brown, short or long grain)
6 ounces raw fish (prepared sushi-grade)
2 peaches, peeled, sliced or chopped
2 radishes, sliced thin
1 small cucumber, sliced thin
1 avocado, sliced or chopped
1 green onion, sliced on the diagonal
1 carrot, sliced into matchsticks
Handful of microgreens
Sesame Seeds (or Gomasio)
Lime for squeezing
Sriracha Ginger Sauce:
1 cup mayonnaise
2 teaspoons freshly grated ginger root
1 teaspoon sriracha
1 teaspoon honey
Chill cooked rice for 30 minutes or more.

In a small bowl, mix mayonnaise, ginger root, sriracha and honey.

In a serving bowl, put ½ cup of cold rice. Pile one half of the vegetables around the bowl and place one half of the chilled fish in the center. Top with sesame seeds, a squeeze of lime, and serve immediately with sriracha ginger sauce.
Summer Fruit Salad
with Whipped Coconut Cream
Yields 4 one-cup servings
4 cups of summer fruit (bananas, blueberries, raspberries, strawberries, peaches, nectarines, cantaloupe, melon, grapes, mango, plums, etc.)
Lemon for juicing
1 can coconut full fat cream or unsweetened canned full fat coconut milk (Note: coconut creams and canned milks vary in ingredients and quantities, so you will want to taste the whipped topping before adding sweetener or vanilla extract.)
Optional, per note: 1 tablespoon honey or sweetener of choice to taste + ½ teaspoon good quality vanilla extract
1/3 cup sliced almonds
Mint for garnish
Chop and slice fruit. Squeeze lemon over fruit to prevent browning. Chill.

Spoon the congealed cream (not the liquid) of the chilled coconut cream into a pre-chilled mixing bowl. Whisk on high until soft peaks form.

Add vanilla extract and honey (only if needed—see note). Whisk again. Place whipped cream in the refrigerator for 20 minutes or more to stiffen.

Fold the whipped coconut cream into the fruit salad. Garnish with almonds and mint and serve cold.
Homemade Ricotta
with Honey Mango
Ricotta cheese
Yields 1 cup
2 cups whole milk
1 cup heavy cream
½ teaspoon kosher salt
1 tablespoon white wine vinegar
1 mango or honey mango
Handful of raspberries
½ orange or tangerine, chopped
½ tablespoon bee pollen
Orange honey for drizzling
Bring milk, cream and salt to a slow boil in a heavy cast iron or enamel pot. While mixture is heating, wet a doubled square of cheesecloth over a large sieve or colander. Place sieve over a medium-sized bowl.

Turn off the heat when it begins to boil and add vinegar. Wait 2 minutes as it starts to curdle. Gently ladle curds into the sieve, pouring the whey, as well. Drain for 20 minutes. Chill.

Skin and slice mango and arrange on two salad plates. Add half of the ricotta, raspberries, tangerine, bee pollen and a drizzle of honey to each plate. Serve immediately or chill for 10 minutes.

Homemade ricotta will last up to 5 days in the refrigerator.
Blushing Berry Frozen Yogurt Cake
Makes 1 nine-inch cake
Graham Cracker Base
2 1/4 cups crushed graham crackers
1/3 cup sugar
½ cup high fat, salted butter, melted
Filling
2 eight-ounce packages cream cheese, softened
32 ounces plain yogurt (good quality yields richer cake)
1 cup sugar
2 ½ cups strawberries and raspberries (+ more for decorating), roughly chopped
1 cup pomegranate arils (for decorating)
Crush graham crackers in a blender or food processor. Then, in a small bowl, mix with sugar and butter.

Firmly press the crust mixture into a 9-inch spring form cake pan, lined with parchment paper and sprayed with baking spray.

In a standing mixer, whip cream cheese until smooth. Add yogurt and sugar and blend until smooth.

Remove bowl from stand and fold the berries in by hand. Pour mixture over crust and freeze two hours or more. You will want the yogurt to be somewhat firm, but not frozen solid.

Remove from spring form pan onto a rimmed, freezer safe platter. Before serving, decorate with additional berries and, if frozen solid, allow cake to thaw for 4 (or more!) hours in the refrigerator until a sharp knife inserted in the side comes out smoothly.
Tip: This cake is best when it's served at a semi-soft consistency in a bowl. However, if left in the refrigerator, the yogurt will weep, and liquid will pool beneath the cake. When this occurs, drain the liquid, refreeze cake and (again) thaw cake to achieve your desired consistency for serving.