Craftsman Cottage Charm
03 Jan 2023
Couple makes space-saving updates to cozy home in Charleston's North Central neighborhood
By Rob Young
Photos by Jim Somerset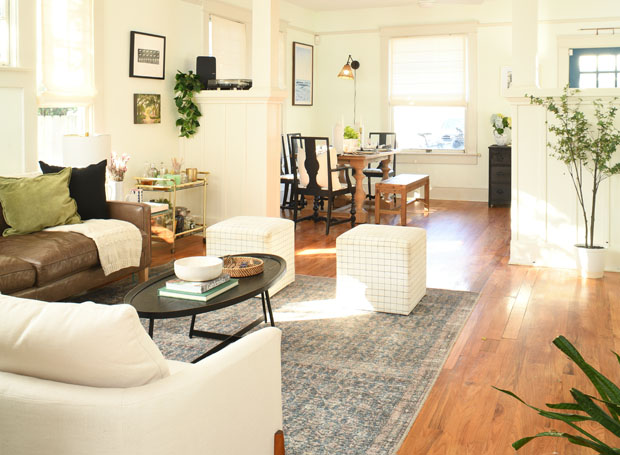 The "before" pictures of the pantry reveal a cluttered cupboard, a scattering of sundries atop a portable shelving unit. Likewise, boxes, paper towels and Swifter wipes rest strewed amongst the floor.
But afterward, it's a tidy nest, replete with storage containers accommodating household and kitchen items. "We really got into organizing because you need storage in small houses. I never thought as an adult, I'd love a walk-in pantry," Chelsea Karol laughs.
Karol and her husband, John Dodds, impart a similar perspective to their Charleston home. It's at once winsome and lively, and also deeply personal. "It feels cozy but not suffocating," Karol says. "It doesn't feel generic; it has character."
From Boston to Charleston
The couple live at a home on Cypress Street in the North Central neighborhood on the peninsula. The area is bordered by Mount Pleasant Street to the north, Congress Street to the south, Rutledge Avenue to the west, and I-26 to the east. It's a comfortable setting near Cannonborough/Elliotborough, Hampton Park and Wagener Terrace and the couple enjoy walking to local businesses including the Harbinger Café.
The pair met while undergraduate students at Tufts University in Boston. Dodds was born and raised in Charleston, helping to make the decision to live here an easy one. They also live with their rescue dogs – Boone, Gideon and Copper. "We like to take them on walks or hikes and explore the city, the historic district," Karol says.
Charleston reminded her of her home in Boston.
"It's similar to Boston in that it's a historic city. There's a lot of character. You could turn a corner and find unique personalities or characteristics in these houses," Karol says. "There are lots of creatives who live here as well, like Boston. I grew up in the city and am drawn to city environments, but I love how much nature is in Charleston, too."
Making meaning
The roughly 1,700-square-foot house contains one bathroom and two bedrooms, one of which has been converted into an office. "We decided not to make it into a guest bedroom because we wanted it to be useful every day," Karol says. "We both love reading so we created built-in bookshelves, which is helpful for storage because the house is small. It contains the books we've read, some of our prized possessions and artwork we've collected."
The love of literature makes sense. Karol's mother, Shelly Dickson Carr, is a published author whose work includes "Ripped," a YA book that follows a time-traveling teen as she seeks to stop the murderous Jack the Ripper. More recently, she was featured in Ellery Queen Mystery Magazine, the third generation of her family to contribute to the periodical.
The room also helps reveal both Karol's and Dodd's inclinations. A pastoral painting of a young woman and her spotted dog appears on one of the walls. On another: a photograph of one of Dodd's favorite musicians, John Lennon.
Eating good in the neighborhood
The couple renovated the kitchen several years ago, adding new appliances and range hood, a farmhouse sink, open shelving and a large center island. Classic white ceramic subway tile provides a handsome backdrop.
"The open shelving allows us to show more art and styling. The hardware is antique brass, and the walls are creamy white because the space is so small, which allows a fresh and bright look," Karol says.
Dodds cooks almost every meal.
"It's vegetarian, 'vegan-ish,' but healthy and really delicious," Karol says. "It's one of our favorite places to hang out and enjoy. Entertaining is awesome. It's made to be cozy. We just love to eat in general. We're so spoiled. We'll go to a different city to eat, and it's not as good as Charleston."
The rooms flow from one to the next, including the living area and kitchen.
"I liked how the area had character, and the home felt very open with defined space," Karol says. "It's a tiny shoebox of a house, but the windows are huge and we've got a big backyard for our dogs."
Beginning Beckett
It's also a mere two miles from Karol's workplace, Beckett Boutique. Karol founded the store on King Street on Oct. 1, 2015. She had studied clinical psychology at Tufts and also attended a summer program at Stanford University, where she focused on entrepreneurial business.
"I had worked retail previously and enjoyed the creative aspect. I wanted to combine those passions – creativity and business," she says.
It was an auspicious start, as the boutique began amidst a historic flooding event that saw Charleston deluged with 15 to 20 inches of rainfall. "It was during the 100-year flood," Karol remembers.
Nonetheless, her team persevered. The boutique just celebrated its seventh anniversary this year.
"The store is supposed to feel like a really cool living room; every corner has different styling," Karol says. "I have a team who puts so much care and love into every piece. Every piece is hand-picked and we work really hard to make the business feel alive and welcoming, and to make our clothes feel inspired.
"Clothes can provide so many different aspects to one's self. They can be edgy or sweet or both, and our store really helps to facilitate that."
Finishing touches
Back on Cypress Street, there's still a little work to be done. Karol and Dodds are planning on renovating their bedroom and redoing the backyard, which Karol is angling to recreate an English cottage feel.
Still, it already contains a number of great features.
"It's so fun, but it's hard to keep on top of it," Karol admits. "We've got a little garden in the back. During the pandemic, we got into gardening and growing cherry tomatoes and cucumbers. We've tried strawberries and blueberries and have grown Thai chili peppers and other pepper varieties. We have a huge blue hydrangea bush, lemon trees, roses and an archway. The dogs just love it, and so do we."