Winter Skincare
03 Jan 2023
Expert tips and tricks for healthy skin
By CeCe Nunn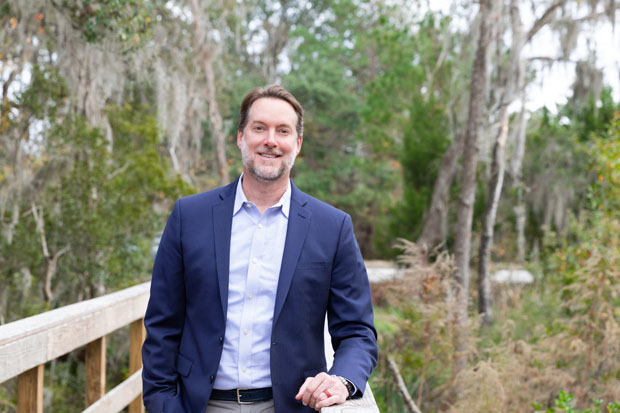 As Abby Kopald prepares for the day each morning, she's careful not to leave out a component that's critical to maintaining healthy, beautiful skin—sunscreen.
Kopald, a clinical esthetician with Charleston Medical Spa on James Island, knows all about the importance of sunscreen all year, not just on sunny summer days.
"The number one cause of aging is the sun," Kopald said. "Some people think you don't need sunscreen if it isn't sunny or believe they don't need sunscreen at all because they don't really go out in the sun."
The colder seasons and cloudy days can fool people into complacency when it comes to maintaining healthy skin and protecting it from the damaging effects of UV rays.
"I tell my patients that for me personally, I wear sunscreen 365 days a year," said physician assistant John Hendrick, who works at Dermatology & Laser Center of Charleston. "Mineral-based sunscreens have titanium and zinc, and those are the only true sun blockers."
He advises a minimum of 30 to 35 SPF for sun protection and advises wearing a wide-brimmed hat for added protection.
Everyday sunscreen and SPF products
Hendrick said in addition to sunscreen, four critical elements everybody's skin needs includes: topical retinols or retinoids, topical vitamins and a good moisturizing cream, like CeraVe.
Dermatology & Laser Center of Charleston sells a zinc-based EltaMD sunscreen with 46 SPF that is also specifically tailored for clients who have acne or rosacea.
Charleston Medical Spa also sells EltaMD sunscreen, including a tinted sunscreen version.
Kopald reveals her morning skin routine: she cleanses her face, applies hyaluronic acid serum—which she said works really well even on her super acne-prone clients—then applies Vitamin C cream by Revision and sunscreen.
To boost her sunscreen regimen, Kopald reapplies with Jane Iredale Powder-Me SPF, which sells for $58 (with refills for only $50), available at the spa.
Winterize your routine
With sunscreen is a ubiquitous, year-round need, Hendrick said there are some seasonal tips to keep in mind.
"The difference between winter and summer is most people need more moisturizing in the wintertime than they do in the summertime," Hendrick said.
Even people with oily skin need to moisturize, Kopald said, addressing another common misconception about skin care.
"Your skin will start to overcompensate and produce more oil if you're not moisturizing," she said.
Products and treatments to help correct sun damage
Surface damage exposure to sunlight over the years can cause unwanted dark spots and there are many options to treat discoloration, both topical treatments and procedures.
For patients battling pigmentation problems, Hendrick advises using mineral-based sunscreens and Ambi hydroquinone cream.
"You can make [unwanted dark areas] lighter and, in some cases, you can make some (dark spots) actually go away, but you still have to be very cognizant and use sun protectant forever," Hendrick said.
Both Charleston Medical Spa and Dermatology & Laser Center of Charleston have more intense treatments for skin issues such as sun spots and acne that have to go hand-in-hand with effective daily regimens.
Kopald said one of the medical spa's top treatments uses broadband light laser (BBL).
"It targets any kind of unwanted pigment in the skin – dark spots, sunspots, age spots, as well as rosacea and broken capillaries," she said.
One of her favorite corrective treatments is BBL Forever Clear, which targets key acne bacteria.
"It uses a blue light to really kill that bacterium at the surface and I see amazing results with the BBL Forever Clear," Kopald said. Kopald recommends a series of four treatments spaced about two weeks apart.
She emphasizes the greater benefits of medical-grade products to support skin treatments.
"One of the most common misconceptions is receiving the most aggressive, high-end treatment and only receiving one of them and then not using any kind of medical-grade regimen. Eighty percent of your results are going to come from the products you use at home and the other 20 percent are going to come from in-office treatments," Kopald said. "Products help ensure you get the best results and then we come in and fill in with treatments to help transform your skin."
Hedrick says chemical peels are a mainstay treatment for those looking to refresh their skin.
"Our practice does a lot of chemical peels, which are similar to your topical retinoids (mild chemical exfoliators) in that you're shedding the top layer of skin faster," Hendrick said. "Chemical peels do it at a faster pace than rate and more layers of skin than topical retinoids."
Microneedling, where tiny needles are used to penetrate the skin at different depths to produce an effect that encourages collagen and elastin formation, HydraFacials and carbon dioxide laser resurfacing are also popular treatments, he said.
From there, clients move into Botox and fillers that can address stubborn lines in the space above and between the eyebrows, known as the glabella.
He said one of his new favorite treatments is filler in the hands.
"They are the most neglected place," Hendrick said, "because everybody forgets to put sunscreen on their hands."
The difference between Botox and other fillers is that fillers tend to last longer, he said.
"You're spending more money on the fillers, but you're going to get more longevity with them, too," Hendrick said. "All of those things work in conjunction with each other just to make you more and more beautiful."
Kopald said some patients can feel hopeless about skin care.
"They can kind of get down on themselves for not being on any kind of regimen or never having done anything before. It's ideal to start a skin care routine in your teens and 20s, but that being said, I don't want people to 'beat themselves up' because it's never too late to start caring about your skin. There are so many things out there we can do. We can work together and come up with a good game plan."
To learn more about skin care, treatment options and consultations, visit Dermatology and Laser Center of Charleston at any of its three locations at 208 Brighton Park Blvd., 1364 Ashley River Road and 2180 Henry Tecklenburg Drive, or visit www.dermandlaser.com.
Charleston Medical Spa is located at Terrace Theater Plaza, 1950A Maybank Highway. For more information, visit www.charlestonmedicalspa.com.