Opera For Everyone
03 Jan 2023
Charleston Opera Theater brings centuries-old artform to the modern stage
By Leah Rhyne
Photos by David Goltra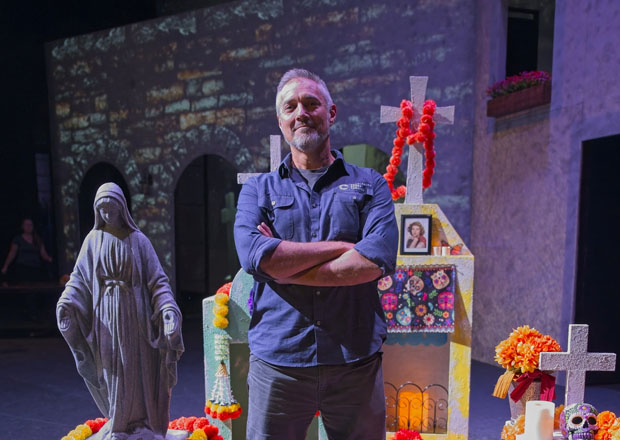 When Harold Meers and the team at Charleston Opera Theater launched their plan to open Charleston's first professional opera company in 2019, they had no idea the world was about to shut down in a global pandemic. In a way, it feels poetic that an organization dedicated to a medium that showcases tragedies was almost immediately beset by a plague. However, unlike the heroines in many of the stories it tells, the Charleston Opera Theater is here to stay.
Meers, a professional tenor who has performed on stages around the world, admits it wasn't ideal timing. "When arts organizations are ceasing their performances, how do you start something new?" he said. "We had to pivot quickly."
Pivot they did. Instead of an onstage production at the College of Charleston's Sottile Theatre, their first performance was a free outdoor concert at the Memorial Waterfront Park in Mount Pleasant in October of 2020. They set up a stage, a tent, and brought in two grand pianos. In a classic example of "if you build it, they will come," 400 people showed up, hungry for the arts in a pandemic world. This performance was followed by others, outdoors and socially distanced, including a special production of The Tragedy of Carmen, adapted for COVID-19 audiences to look and feel like a 1930s radio drama.
Fast forward to 2022 and now Meers and the theater are excited to share their art form in its truest form to audiences across the Lowcountry at The College of Charleston's beautiful and historic Sottile Theatre in the heart of downtown.
But why opera? It's a great question when you consider opera's elitist reputation and the fact that it's most often sung in non-English languages, making it appear less than accessible to many. Meers, who came to the art form almost accidentally, aims to change opera's stodgy rep. "I've always loved music," he said. He played piano as a child and sang in his high school choir. "I would much rather have been a rock and roll singer. If I could have been Steve Perry, I would have done that in a heartbeat. But in college, I followed where the talent took me. I learned I had the aptitude [for opera] before I found the love of it, but the love came very shortly thereafter. If you think about it, opera was the 19th century rock music. It's loud. Raucous. Visceral."
Opera singers treat their vocal cords as instruments, training them to fill entire auditoriums with sound without amplification. You'll find no microphones at the opera. "To be able to project and be heard over the top of a 60-piece orchestra—that's a skillful thing," added Meers. "It takes time and dedication to learn how to do it. Opera is athletic and artistic at the same time."
"It's a bit of a spectacle," he continued. "Opera is larger than life, but it's also accessible. We don't have to have lived in early 20th century England to understand the emotions in Downton Abbey. Opera is similar to that. Happiness felt the same 300 years ago as it does now. Human emotions transcend time, and opera tells the stories of human emotions."
Charleston Opera Theater board member Gene Massamillo agrees.
"The first opera I went to was when I was a young lawyer. A partner took us to Lincoln Center to see La Boheme," Massamillo said. The first act is the most famous act in opera. It's emotional. I fell in love. Since then, I've gone to operas all over the world. Every time my wife and I go to a new city, we try to go to an opera."
Massamillo joined the theater almost at the beginning, such was his love of opera and his excitement at welcoming a production company to Charleston. Together, Meers, Massamillo and the theater's team of professional performers and administrators face the daunting tasks of producing high-quality, professional operas on the limited budget of an upstart nonprofit. They focus their funds on hiring the best singers and musicians, knowing that money for costumes and sets can be used more creatively when the foundations of the opera are strong. They also put on smaller recitals throughout the community, raising awareness and appreciation for their beloved opera.
Coming up in the spring of 2023 is a production of Donizetti's L'Elisir d'amore. Tickets start at $25 for students. And rest assured, if this is your first opera: the wonders of modern technology allow for the projection of super-titles so you won't miss a moment of the action as the 19th Century comes alive in the Sottile Theatre.
Visit www.charlestonoperatheater.org for a schedule and to buy tickets.