Crossing to Cape Charles, Virginia
04 Jul 2014
Sunlight shimmers, creating an angelic expression on the Madonna with child. The chorus of birds wash away the morning fog with their musical notes and awaken the gardens to a new and profoundly beautiful day in Cape Charles.
Text and Photographs by Donna Keel Armer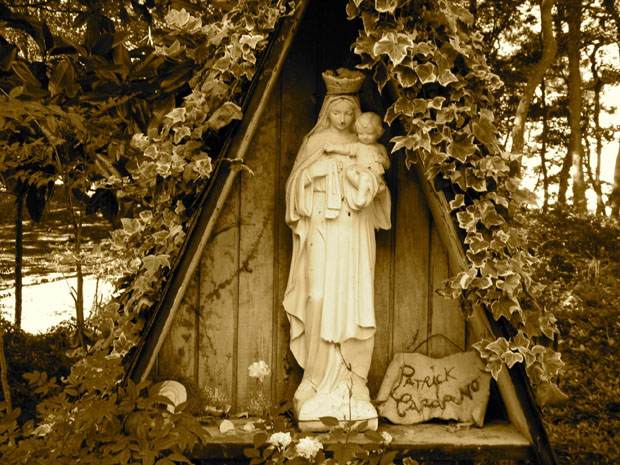 Am I really here on the Eastern Shore of Virginia? Is this view of gardens, sand and sea, and the orchestra of birdsong my imagination? Did I really find time to leave behind the chaotic schedule of my life to spend a week in Cape Charles? I whisper a resounding "YES" under my breath and take another look at the lush gardens spread out before me.
The weariness of yesterday's drive fades away and I am ready for today's adventure with my three sisters for our 17th annual girls' get away. It is during these weeks that we reconnect and catch up, surrounded by new sights, sounds and tastes that feed our memories and senses. The location has to be special and appeal to all of us. This location checks all the boxes.
For me, the most memorable part of driving here from the Carolinas to Virginia was crossing the Cheasapeake Bay Bridge-Tunnel. It is an experience not to be missed. The bridge-tunnel is an instant and graphic picture as you soar into the heavens and then dramatically plunge into the sea for two mile-long tunnels. From shore to shore it's 17 miles. The bridge is considered one of the seven engineering wonders of the modern world. There is no backing up or getting off once you've paid your toll and passed through the gate. You have committed yourself to reaching the other side.
And, the other side is another world. As you reach the shoreline and sigh with blessed relief that you made it, you are surrounded immediately by the beauty of the Eastern Shore National Wildlife Refuge. Any time is good for a visit, but Fall is the perfect time as millions of songbirds, monarch butterflies and thousands of raptors wing their way to this sanctuary on their journey South.
Cape Charles (pop: 999 soon to be 1,000 I'm sure) is the perfect lazy sun drenched small town on the coastal Eastern Shore and it's where we unpack to live for a week. The town is filled with tiny shops and restaurants and friendly people. In each shop I enter I'm greeted as an old friend returning after a long absence. "Can I take a few pictures," I ask? Of course, you can is the reply.
Checking out each small shop is mandatory and a great way to spend the morning and early afternoon. Each shopkeeper from the fish & bait shop to the olive tasting shop has words of wisdom regarding what to purchase. Take your time in each shop, but know that your destination is 22 Strawberry Street. How can you not love a street named Strawberry? And, how can you not love a shop called Moonrise Jewelry?
If you're lucky, the founder and designer, Meredith Restein will be on hand and you will be in for a special treat. Not only is the handmade jewelry exquisite; it is a unique combination of innovation and eco-friendly components for signature jewelry, including real orchid blossoms preserved in resin and "reel" fish leather jewelry made from salmon, perch and carp skins which have been discarded by fishing canniers. Meredith comes from seven generations who have lived and worked in this area where the Chesapeake Bay meets the Atlantic Ocean. She is a self-taught designer and grew her company from the ground up not only collecting accolades and awards along the way; but, also reaching out to other women who needed assistance and a way to sustain themselves in this rural community. You will not be able to leave Moonrise without finding an amazing piece of jewelry art that you will never want to part with.
Of course, by now, you've worked up an appetite so stop in at Kelly's Gingernut Pub on Mason Avenue. The pub/restaurant is a 1907 converted bank with original brick walls and the ability to dine in the bank vault. Order a beer (12 varieties on tap and 25 bottled brews) along with Kelly's Jumbo Wings and Fried Pickle Spears. Or, continue your stroll to any of the small cafes with outside seating that line the sidewalks.
There's still an old fashioned drugstore at 2 Fig Street. Rayfield's Pharmacy Fountain & Grill is worth a stop. You can try a vanilla coke or a malted shake and cheeseburger or maybe one of the daily blue-plate specials that this genuine sofa fountain offers. Be sure to bring a pocket full of coins to play those oldies but goodies on the 1950's jukebox and give your partner a whirl … it's allowed!
For more upscale dining try Acqua at Kings Creek Marina. You won't be disappointed. Every seat has a view of the Cheasapeake Bay and you have a choice of dining inside or out. The food and wine are topnotch. For wine, try the Church Creek Steel Chardonnay for white and the Church Creek Vintners Blend for red. These are local wines from Chatham Winery in Machipongo, Virginia which is just down the road and should be on your "must do while in Cape Charles" list for an enjoyable wine tasting experience. Call ahead for reservations.
There is plenty to do on the Eastern Shore. You can fill your days with wonderful little side trips to Kiptopeke State Park (don't miss the butterfly garden); the fishing village of Oyster; Maplewood Garden or venture as far as Chincoteague which is about an hour and 15 minutes' drive from Cape Charles. Take the Captain Dan's Around the Island Tour well worth getting a glimpse of those ponies that Chinoteague and Assateague are so famous for. You can fish, kayak, bicycle or sail or you can book a self-catered vacation rental with a private beach and move from bed to beach and back again.
For our week's stay I combed the usual vacation rental sites until I found the perfect place for our group … St. Patrick's on the Bay. If you are a fan of Old World charm, then this is the right place for you. The large family home encompassing 4,500 sq. ft. of comfortable living space is personalized by unique family pieces of history and art. The house is blissfully nestled in a true Italian garden on 1.5 acres. There are quiet nooks inside and out for reading, resting and quiet contemplation as well as an amazing deck overlooking the bay where congregating for evening cocktails is a much. Each sunset is creativity at its best.
This is as good as it gets and before we leave, there will be one more toast to family and the spirit of adventure. Then, it's back through the bridge-tunnel headed south, to spouses and friends we left behind who will hear our stories and surely want to plan their own Cape Charles getaway.