Here's the Beef
04 Jul 2014
Charleston burger aficionados unveil the selections for 2014's "Best Burgers in Charleston"
By DAVID WILKINSON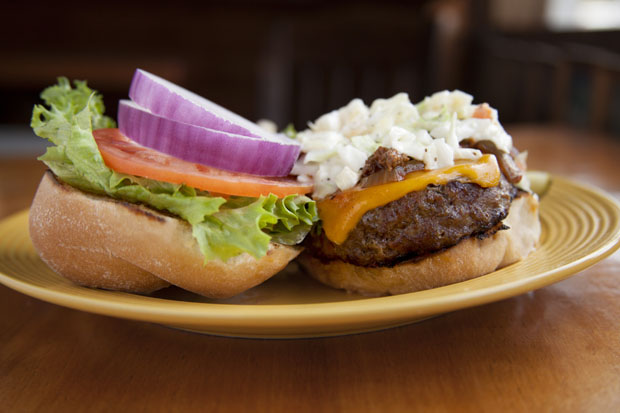 Asking someone to create a short list of Charleston's great burger joints is like forcing someone to choose which one of their children they love the most. Doing so is virtually impossible, and asking someone to do it in the first place just isn't good manners.
However, we know our readers are a discerning group and no ordinary list would do, so the intrepid staff at Charleston Living made the tough decisions and did what we had to do to get this list compiled and onto the pages of the magazine – that's right, we passed the job off to someone else! Lucky for us – and you – we have two nationally-recognized burger experts right here in our own backyard.
The journey for Chevalo and Monique Wilsondebriano, the creative forces behind Charleston Gourmet Burger Company, has been a true American success story. Shortly after moving to Charleston from New York (where Chevalo was a member of the New York Fire Department's EMS team and first-responder to the 9/11 attacks on the World Trade Center), the couple quickly realized – with a little pushing and prodding from family and friends – that their passion for cooking the best backyard burgers in town could actually turn into a full-time venture.
Using their home-tested and family- and friend-approved marinade recipe, they launched Charleston Gourmet Burger Company and quickly gained a loyal, local following. Then, seemingly overnight, the business went from regional favorite to national darling as the couple and their marinade were featured on two nationally-televised shows, Food Network's "Food Court Wars" and NBC's "The Today Show". The secret is now out, and the couple's backyard marinade is going coast-to-coast.
Fret not, local burger lovers – despite their recent national success, the Wilsondebrianos are sticking to their Carolina roots. There marinade still sources Carolina-grown ingredients and can still be found at this season's farmers markets in both Mount Pleasant and downtown Charleston.
So, without further ado, here it is ― Charleston Living's 2014 Great Burgers of Charleston list, prefaced with a few opening remarks from the Wilsondebrianos:
Chevalo: We love burgers! Burgers have been part of our lives as far as we can remember. As a Paramedic First Responder with NYC Fire Department EMS and Charleston County EMS, I had to find quick eating choices in between emergency runs – and burgers fit the bill perfectly.
Monique: Upon meeting Chevalo, I realized that we had something in common because I love to travel and try different burger spots wherever I go. After years of experiencing countless burger joints together, we created a Gourmet Burger Marinade that, in our opinion, produces the tastiest burgers available.
Chevalo: With a bias towards burgers that have incredible flavor from the inside out (meaning a scrumptious meat patty that can stand on its own like a fine steak), we set out to compile our choices for "Great Burgers in Charleston". In no particular order, here is our list.
*CGBC = Charleston Gourmet Burger Co.
Moe's Crosstown Tavern
CGBC Review: Great burger with great taste. Make sure to try the BBQ Bacon & Cheddar Burger – it's a winner! On the side: Crab Balls – mini Charleston-style crab cakes served with vodka cocktail sauce or tartar sauce. While you wait: Try Moe's Chicken Wings – skip the Hot sauce and go for MOE HOTTER. When to go: During your favorite sporting event – Moe's has NFL Sunday Ticket, ESPN Gameplan, MLB packages & more. 843.641.0649, 714 Rutledge Ave., Charleston, moescrosstowntavern.com
Husk Restaurant
CGBC Review: The Husk ambiance alone makes it worth the price of admission. The cheeseburger is grilled to perfection and filled with bacon flavor in the patty. Just how we like it – flavor from the inside out. Summarized in one word – legendary. What to drink: Choose from the extensive lineup of historic and modern cocktails, rare artisanal microbrews, or wines grouped by terroir and soil type. Did you know: Husk was named by Bon Appetite as 'Best New Restaurant in America' in 2011. Save room for: Pecan Tart, Bourbon-Vanilla Bean Ice Cream with Sorghum-Caramel Sauce. When to go: Only after making reservations well in advance. 843.577.2500, 76 Queen St., Charleston, huskrestaurant.com/home
Poe's Tavern
CGBG Review: Absolutely scrumptious burgers that never disappoints. We love the "Pit & the Pendulum" – the burger and the book. While you wait: Try a bowl of Edgar's Drunken Chili. What to drink: Taste one (or more) of Poe's 50+ beers, which tend toward "craft, high-gravity and local/regional selections". When to go: On a sunny day, take advantage of Poe's front porch and courtyard seating. 843.883.0083 2210 Middle St., Sullivan's Island, poestavern.com
The MacIntosh
CGBC Review: "The Mac" is a must eat for any burger connoisseur in Charleston. Tasty, hearty and memorable. While you wait: Have a drink upstairs at "The Cocktail Club". Save room for: Banana Mousse – fudge cake, milk chocolate peanut butter ganache and peanut brittle. Did you know: The MacIntosh has a homegrown feel to it – Executive Chef Jeremiah Bacon is a Charleston-native, and he likes to source local farms and purveyors. 843.789.4299, 479 King St., Charleston, themacintoshcharleston.com
Hall's Chophouse
CGBC Review: You know a burger from a renowned steakhouse has to be good. The Halls Chophouse Burger is something everyone has to experience. So juicy, so scrumptious – simply amazing! Too bad we're only reviewing burgers and not fries, because their parmesan truffle fries are in a class by themselves. What to drink: Want to pair your burger with something other than a cold beer? Halls has one of the most exclusive wine lists in town, with over 100 selections. Save room for: Whiskey Bread Pudding, made with New Orleans style warm bread, sun dried cherries, pecans & bourbon crème anglaise. Did you know: Halls Chophouse ranked #4 in the OpenTable 2013 Diners' Choice Top 100 Best restaurants in America list. 843.727.0090, 434 King St., Charleston, hallschophouse.com
SOL Southwest Kitchen & Tequila Bar
CGBC Review: A burger lover's dream! Not just beef burgers, either – they also offer turkey, chicken, tuna, and even bison. For traditionalists, make sure to try the Texas BBQ Bacon Cheeseburger – Delicious. On the side: Get creative and pair your burger with something other than fries – try the roasted poblano and smoked gouda grits. While you wait: Order a drink at the Tequila Bar. Drinks are made with citrus juices fresh squeezed each day at the bar. The tequila selections are endless, and you can drink your favorite at the huge maple wood bar. Did you know: SOL believes in "Kitchen Karma", which is their program for giving back to the community. On special nights, proceeds from meals and drinks go to a local charitable organization. 843.388.4302, 1101 Stockade Lane, Mount Pleasant, solmtpleasant.com
Dunleavy's Pub
CGBC Review: What makes a Dunleavy's Pub burger a favorite is that it is just a great burger – the bun is so good it can be eaten on its own. But, when sandwiched with a tasty meat patty and cheese – so good. On the side: In lieu of fries, go with the loaded baked potato. There's a nominal $2 upcharge, but you'll look more like a true Irishman. Did you know: After 20+ years in business, this popular Sullivan's Island pub is still family-owned & operated – and proud of it. Second generation family members are now helping run the business. Insider's tip: Be sure to bring cash because Dunleavy's does not accept credit cards. There is an ATM on site for those not in the know – and for those wanting a second round of burgers! 843.388.4302, 2213 Middle St. , Sullivan's Island, dunleavysonsullivans.com
Sesame Burgers
CGBC Review: This place is for Burger Lovers! Sesame Burgers have been our "go to" spot when we have a craving for a burger that won't disappoint. Try the hamburger sliders so you can sample three burger choices. Don't worry – they are all good. On the side: Put a little twist on the traditional pairing of fries with your Sesame burger by choosing the sweet potato fries, which are lightly dusted with Parmesan – goes great with their homemade ketchup. Did you know: Sesame uses only hormone-free and pasture-raised beef, and their restaurants are built with sustainable materials and ecologically sound building practices. What to drink: If you're not thirsty for one of the craft beers from their amazing selection, then you might opt for a homemade shake, which are offered up in traditional and special flavors. Mount Pleasant: 843.884.5553, N. Charleston: 843.554-4903, West Ashley: 843.766.7770
Big Billy's Burger Joint
CGBC Review: Big Billy knows burgers, and your mouth will start watering as soon as you walk in. We built our own simple burgers and the quality of the angus beef was evident in every bite. Loved it! Win your meal: Conquer Big Billy's "Belt Buster Challenge" and your meal is free, plus you get a t-shirt and your name on a plaque. Simply finish all of a double patty burger with grilled cheese in the middle, an order of loaded nachos, fries and a signature shake – all within 20 minutes. Did you know: A key ingredient in these burgers is the bun, which is made fresh daily by local artisans at Saffron Bakery. When to go: Get a break in price but still the same high-quality burger on Thursday's Half Price Burger Night, from 4-9PM. 843.737.4212, 5070 International Blvd., N. Charleston, bigbillysburgerjoint.com
Matt's Burgers
CGBC Review: Matt gives special attention to the meat patty before cooking, resulting in an extremely delectable burger. Matt's is a short trip to Summerville and it's more than worth the effort. Try the chili cheese burger – it's yummy. On the side: Try the Frito Pie – it's as good as it sounds: a bed of FRITO's covered with chili, lettuce, tomato, and American and hot pepper cheese. Insider's tip: Ask for beans and onions on the Frito Pie – they will add it upon request. When to go: Matt's is closed on Sunday and has limited hours on Mondays and Tuesdays, 11Am – 3PM. Open till 11PM the rest of the week. 843.821.1911, 102 South Cedar St., Summerville
Tattooed Moose
CGBC Review: To be featured on The Food Network you have to be something special, and the "Tattooed Moose Burger" is extra special and unique in flavor. Incredibly delicious! Did you know: The Tattooed Moose's 'Famous Duck Club Sandwich' was featured on "Diners, Drive-Ins and Dives". When to go: This is a great lunch or dinner neighborhood pub, but it's also a great late night spot with "good beer, cheap beer, lots of shots, and a kitchen that's open 'til 1am!" Insider's tip: After 5PM, you can park next door at DwellSmart (formerly Berlin's), but do not park in the old gas station lot next door - you will be towed or booted. 843.277.2990, 1137 Morrison Dr., Charleston, tattooedmoose.com
Parson Jack's Cafe
CGBC Review: If you're hungry, then you gotta get over to Parson Jack's! The meatiest, most well, done-up burger around. 'PJ's Half Pound Fresh Ground Burger' is an experience. Thoroughly enjoyable. On the side: You can't go wrong with the fries – they are beer-battered AND bottomless! Save room for: Wholly Snick - O-REO Pie. Locally made vanilla ice cream with chopped Snickers bars served in an Oreo cookie crust. Yes, this is a real thing. What to drink: Choose from an ample beer menu of domestic, import, draft and craft beers. Drink a Chimay and you not only get a great craft beer, but you also help support Trappist monks in Belgium. 843.769.7775, 3417 Shelby Ray Ct., Charleston, parsonjackscafe.com
Big Gun Burger Shop
CGBC Review: A place for burger aficionado's, Big Gun serves it up right with a selection of gourmet artisan burgers that made our mouth water. The Bungalow Burger is incredibly tasty and next level. Will try the venison burger next time (we heard they are great). While you wait: Start your meal off with an order of Mac N Cheese Fritters made of spicy gouda mornay sauce. What to drink: Forgo the craft beers or expensive wines and instead go with an old school Nehi Grape Soda, a soft drink founded by a Georgia grocer 90 years ago. Insider's tip: – Big Gun will deliver to your home or hotel in Charleston. 843.789.3821, 137 Calhoun St., Charleston, bigguncharleston.com
HOM
CGBC Review: What a fun place with an unbelievable burger selection. The "Backyard Burger" was right up our alley and had the excellent flavor that we love. Did you know: HOM isn't just a burger joint – it's a full-on pong lounge with tournament-style tables and league play! On the side: Go with the Dragon Fries, which consists of duck confit, creamy thai red curry, pepper jack, tomatoes, lettuce and roasted garlic sour cream. When to go: Pencil in Monday night's on your calendar – this is "classic burger and beer night". 843.573.7505, 563 King St., Charleston, homcharleston.com
The Griffon
CGBC Review: The Griffon Burger has "gourmet" written all over it. Well thought out, and grilled and plated to perfection. A beautifully soft and tasty bun. In a word – Excellent! On the side: Tired of fries? You can't miss with the fried pickles – either as an appetizer or as a side for your burger. Did you know: In 2013, The Griffon was named by Southern Living as one of the "Best Bars of the South". Insider's tip: Many Charleston chefs head here after work. Strike up a conversation with a stranger at the bar and you might get some expert culinary advice! 843.723.1700, 18 Vendue Range, Charleston, griffoncharleston.com
Jim 'N Nicks
CGBC Review: World famous for barbecue, the "Hamburger Dave" and "John T. Pimento Burger" are so tasty that it is evident that the owners know how to create dishes that represent Charleston, the Carolina's and all that's good in the South. While you wait: Whatever you do – don't skip the cheese biscuits! Did you know: Jim 'N Nicks was named the best barbecue chain in the country by The Daily Meal. Save room for: Mable's Homemade Pies, made fresh in each store daily. 843.577.0406, 288 King St., Charleston, and 843.747.3800, 4964 Centre Point Dr., N.Charleston, jimnnicks.com
Magic Sauce
The Charleston Gourmet Burger Company's marinade has taken the backyard burger nation by storm! What's the secret? Well, if marinade creators Chevalo and Monique Wilsondebriano told us, then it would no longer be a secret. However, they do let on that they use nine Lowcountry spices and herbs to create their sent-from-the-heavens marinade, which is designed to enhance the natural flavors of the meat, not overwhelm it. In their words, the marinade "produces the juiciest, most flavorful marinade around – no fancy toppings necessary!"
Chevalo and Monique also make a point to emphasize the healthy goodness of the marinade – it's all-natural, gluten-free, low sodium and low calorie, and does not contain high fructose corn syrup or MSG. So, the marinade tastes great, doesn't drown out the burger's natural flavors and is just about as healthy as any marinade can be. I think we just found the secret to their success, after all!
If you enjoy the marinade, then keep an eye out for other products coming soon, including their own mustard, ketchup and "Church Tea", made from a family recipe. charlestongourmetburger.com