Curate your Space
06 Jan 2021
How to Start an Art Collection
By Shelby Simon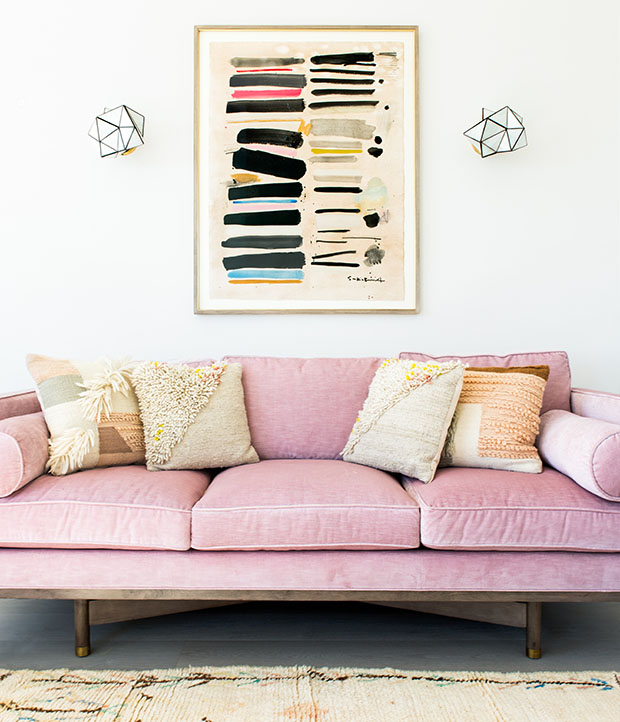 Let's face it: collecting contemporary art — and deciding how to integrate and style standout selections in your home — can be an intimidating process.
This genre of art, influenced by the cultural and technological trends of the late 20th and 21st century, tests the boundaries of artistic mediums, methods and ideas set by centuries of artistic precedent. And with near limitless boundaries comes a range of artists, aesthetics and — especially — prices.
Cortney Bishop, principal designer and owner of full-service interior design firm Cortney Bishop Designs based in Charleston, offers her expert tips and suggestions on how to collect and feature art in your home, along with how to discover and support local artists you love.
Bishop, an avid art collector herself, shares this enthusiasm with her clients. "For me, [collecting contemporary art] is a lifelong hobby. I love art world culture — there's nothing better than going to the big fairs like Basel and Frieze, and discovering a new talent or that perfect piece you just know will take a room from good to out of this world."
When Bishop first began collecting art, visiting art fairs in Miami and Aspen helped immerse her into the temporary art community. Her enthusiasm led her to serve the Charleston community by way of nonprofit boards to promote local art culture and discussion between artists and patrons.
She founded the group that is now known as Society 1856 at The Gibbes Museum of Art, and advanced the artist salon series at the Halsey Institute of Contemporary Art at the College of Charleston. Now, Bishop works with her design clients, both residential and corporate, to make art an integral part of their spaces in an approachable way.
"I've fallen in love with taking my clients through the journey of selecting art," says Bishop. "It can be quite an overwhelming feeling, starting a collection, so I'm very keen on educating across artists of all ages — modern, contemporary, traditional. Each brings a diverse design perspective to the table that can be beautifully incorporated."
She offers design tips for styling with art in any space:

-Focus on one strong focal piece and curate the rest of your collection from there.
-Don't skip on frames. Go with frame styles that work cohesively together and feature finishes that are complementary. For example, choose a stained wood and gold or a gunmetal versus a black frame or a white frame.
-Budget smart. You can find beautiful art under a reasonable threshold. (Around $3-10K per piece is the sweet spot for Cortney's clients.)
-Use lighting strategically to illuminate art.
-Avoid cluttering.
-If you love it, use it! Don't be afraid to bend the rules!
Bishop's team frequently collaborates with local artists for projects.
She is currently working with Becca Barnett of Sisal Creative on a project for a new hotel downtown set for a spring 2021 opening, and she and Charleston muralist David Boatwright often team up for exterior murals on commercial spaces and custom works for residences.
Bishop also recommends checking out the many galleries around Charleston, including the notable George Gallery, Heart of Gold for photography and Charleston Artist Collective.
Another favorite spot of Bishop's is White Gallery in Mt. Pleasant for mid-century finds and approachable and modern aesthetics.
Her personal art collection has been heavily influenced by the one-of-a-kind vintage goods she has discovered throughout her world travels. In the spring of 2021, Bishop's new e-commerce site will be a hub of the items she has purchased from around the world.
"My intention is to make it an accessible and inspiring decor destination," she says.
The decor hub will also serve as inspiration for Cortney Bishop Design's clients, who trend towards creating thoughtful, functional design that relates to their personal styles. "They're looking for livable spaces, thoughtfully curated with handmade, artisanal, high-quality pieces," she says.
Most importantly, when collecting and designing with contemporary art, Bishop encourages choosing what you like—and losing the rest.
"Art adds a unique perspective and brings a space to life," she says. "More wallpaper, color, texture and layers are trending, which are all ways to bring one-of-a-kind warmth and personality to a home."