Making Kiawah Island House a Home
By Rob Young
Photos by Jim Somerst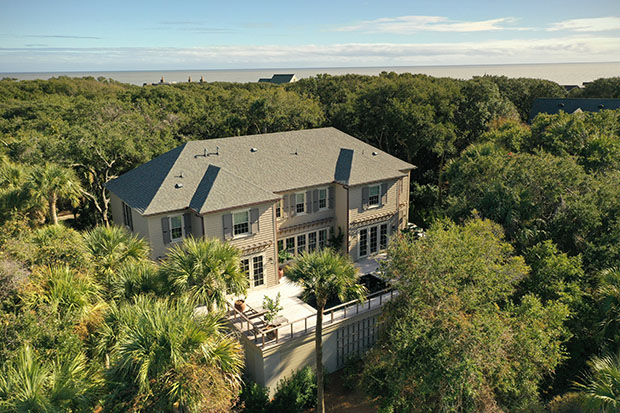 Just about more than anything, actually, they wanted a large dining table. A really large dining table. One that would seat 12 to 14 people. One that would even make the builder do a double take. After all, it was family tradition.
"Every Sunday, we would visit my mother-in-law and have a big Italian dinner," Joan Cossell remembers. "We might have ravioli, pasta, homemade sausage, homemade meatballs and sauce, and homemade bread. We all sat together as a family."
Now they gather again at their Kiawah Island home, Joan and Tony Cossell's children and grandchildren by their side. It's a hearkening to the past, and a chance to make magic anew.
"Our goal in raising our children was to make sure they got to know their grandparents and spend time with them. Hence, the Sunday dinners. We always had dinners together," Joan says.
"Now that our children are grown and on their own, Kiawah is the place where we can be together again for a week and have family dinners again. Now we're the grandparents and get to spend time with the grandchildren. This is why the large dining room was an important part of the design of our house. It's where we can relax and reconnect again."
Visiting Kiawah
The couple reside in Carmel, Ind., first meeting when they were both in college. Joan attended Marian University and Tony went to the University of Notre Dame.
Then in 1990, the family visited Kiawah Island for the first time. A travel agent recommended the spot, though the Cossells had never been to the island.
"We were looking for a place that was family oriented," Joan says. "So many places are commercialized with fast food, putt-putt courses and movie theaters. We already have all that stuff in Indiana."
Just a year later, they bought the land where they would eventually build their house. Still, almost every summer afterward, they ventured to Kiawah, vacationing in different homes on the island. "We loved to go bike riding, and the kids always enjoyed being out at dusk and looking for deer," Joan recalls. "Our two sons loved going fishing on Rhett's Bluff, and we all enjoyed crabbing together.
Eventually the family grew, too, as Joan and Tony's four kids grew up, married, and had children of their own. And they kept coming back to Kiawah.
"We can escape everyday life here and be a family again," Joan says.
A Beneficial Beginning
Just in the past few years, the Cossells decided to build a home on their lot. Here's how they met their builder: pure serendipity. One of the Cossell's sons, Charles, completed his residency at Cleveland Clinic. While there, he befriended another resident whose family also vacationed in South Carolina.
Where, he asked? Kiawah, she responded.
That resident's parents were building a house on Kiawah, just as the Cossells had planned. Her family had entrusted the build to River Creek Construction. Soon, the Cossells received introductions to River Creek owner Colin Regan, and the construction firm had secured another client.
Colin began River Creek Construction in 2007, as he built the company's first home on Kiawah the same year. A construction role with the Chesapeake Bay Foundation on Fox Island, Va., gave him his start four years prior, allowing him to learn from the ground up. Today, Colin and his wife Ashley work together. Colin spends his time on site, and Ashley manages finances and many times leads the interior selections processes.
The Cossells only visited every three months during constructions, but received constant progress reports and pictures. "(Colin) was the just one," Joan recalls. "He's just very down to Earth, and we're very down to earth people. He helped us make the best decisions possible."
For instance—being from Indiana—they Cossells figured they'd need a pair of fireplaces in the home. Then Colin mentioned that he was actually removing more fireplaces than he was installing, and that two just maybe weren't needed in Kiawah. "He made us see that we wouldn't get our money's worth," Joan says.
Bunking Together
The Cossells also met their architect, Kenneth Wiland, though River Creek Construction. Wiland and River Creek often partner with one another. Wiland's methods are grounded in traditional construction processes, as his detailed working drawings let contractors stay on schedule and budget. "They all work so well together, and bounce ideas off each other," Joan says. "They were just nice people and very intelligent. They were easy going and easy to talk to."
All told, the home totals 4,750 heated square feet, including seven bedrooms and 6 and a half bathrooms. Two of those bedrooms are bunk rooms for the kids, each outfitted with four bunk beds apiece. Joan and Tony's children each helped design their own rooms, adding character to the home. The downstairs houses Joan and Tony's master bedroom, while the other bedrooms are on the top floor, as well as a walk up or loft area.
The patio is substantial as well, mostly due to the large lot size. The pool and outdoor area allow the grandkids to lounge, swim and grab snacks. It truly is a kid-friendly home.
"We didn't have any real challenges," Ashley says. "We just wanted to keep the vision of the home cohesive while taking all of the children's wants and needs in mind."
And of course, there's the dining area. "The most important piece of the project was centered around the living, dining and kitchen areas, where the family spends most of their time, overlooking the pool and golf course," Ashley says. "They basically wanted a Kiawah beach house with an Italian twist."
There's also a built-in bench in the kitchen, where the grandkids can all slide into together. "It's another way where they can spend time with their cousins," Joan says.
Then in the evenings, the grandkids can rest and play board games and cards with "Oma" and "Pop," just the way Joan and Tony always envisioned. "I've told them many times," Joan says about River Creek Construction and Wiland, "that you've given us our dream house."
Builder Resources
River Creek Construction
https://www.rivercreekconstruction.com/
843-514-6487
Architect Kenneth Wiland
https://www.kennethwiland.com/
843-323-5642