Decorating Ideas for Outdoor Spaces
27 Mar 2014
Whether you're entertaining a group or relaxing by yourself, people are spending more time outside in their own backyards with a wide selection of outdoor living products
By COLLEEN TROY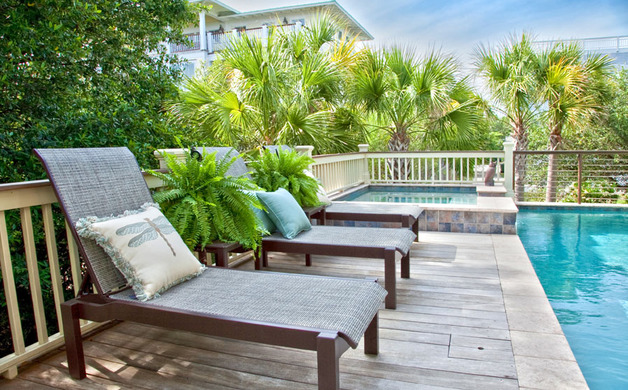 With an average of 211 days of sunlight every year, Charleston ranks as one of the nation's best places we know for outdoor living. Sure, it can get a little chilly in winter, and a little humid in the summer. But heck – it's a small price to pay for the right to bask in a semi tropical climate.
Demographers cite the climate that continues to attract folks to the region. With a population growth of three times the national average, local professionals are seeing a real up-tick in interest for outdoor living spaces.
According to the 2014 Garden Trends Report, consumers are spending more leisure time outdoors and "decorating" their yards as well as their homes.
"2014 is all about balance. People finally appreciate that being in nature and in the garden is true bliss. But now, they want the garden to do double duty: A Zen oasis and the social hub for entertaining," says Katie Dubow, creative director of Garden Media.
"Surrounding yourself with nature, with trees in the yard and houseplants in the office, brings a sense of peace, boosts productivity and enhances your quality of life—in addition to providing a great escape from the hustle and bustle of a technology intense life."
Customers Dig DIG Landscape

Designing Innovative Gardens ("DIG") has helped scores of Lowcountry residents make the most of their landscapes. Spend a little time on their website – and chatting with the principles – and one thing becomes clear: working with professionals turns good gardens to great escapes.
Local owners Patty Craven and Nicholas Popovich have perfected a four-part process for turning dirt into gold.
It all starts with design, which starts with listening. DIG is focused on learning what the customer wants and needs. What lifestyle do they live? How much time do they want to putter, and how much would they be willing to outsource? What preferences do they bring to the process, and what will their property support?
"We're very proactive at the beginning," said Popovich. "We want to listen for their needs, for the long-term, and strive for a design that will work year-round."
Next comes plant selection (and remember, native is always best!). Hand selecting each plant, the team considers the quality of soil, access to water, and even the presence of critters (welcome and otherwise).
One trend Popovich sites is the reduction of lawns; "they are just so labor and chemical intensive. That's not how people want to live today."
Another challenge is working with the region's micro climates. A yard in downtown Charleston is often starkly different from one across the river or up near Summerville. "Clients will see a garden they want replicated in one place, which is doable, but it might demand different plant choices that work with the soil, the sunlight and the general location."
With a plan in place, crews get to work creating the skeletal structure: the hardscape. DIG is big on pathways – reminding owners that they'll want access to their yard's various features. Walls, walkways, raised beds and lighting plans come together to frame the ultimate escape.
The final, and most exciting part of the process, comes with the final garden, a fresh-air space that will grow and evolve over years.
"We are always committed to delivering a garden that looks great on day one, and which will still look great on day 10,000," Popovich said. 843-327-4372, diglandscape.net
Relaxing with Backyard Retreats
Drop in to Sharon Campbell's showroom, and encounter a world of fresh-air possibilities. As owner of Backyard Retreats, Campbell carefully curates all manner of products designed to extend a home's interior to the great outdoors. As a result, she features all-weather wicker and other patio furnishings, spas and accessories, and all manner of outdoor living hardware.
The whole idea of her store is to allow customers to bring to life their desire to spend more time outside. "Whether that's because they want more family time, more socializing, or just quiet time, we can help create a plan that allows them to create a space they love."
Campbell started out in the "outdoor" business selling hot tubs. "But the designer in me was always pushing to do more, to create an entire environment that customers could enjoy."
Today, those environments are as varied as is the clientele who visit her Mount Pleasant store. Some are augmenting a new deck or pool. Some come with a clear vision; others with a finite budget. Some have just an inkling of what they'd like.
While it's long been 'a well kept secret,' her business is definitely on the up swing. "I think the economy has people spending more time home with the family, and that's a good thing."
No matter the size and scope of a project, Campbell is always happy to work with a customer's budget. "That helps us create a real plan, and clarify what's most important. We can always add or subtract elements from there."
Often, before the final design plan and purchase is made, Campbell will visit the customer's home to ensure that her minds-eye matches their reality.
One thing she does caution customers against is falling in love with any element before they get their big picture fully in focus. "People may just love a certain piece, but then find it doesn't fit their space, or their vision. It's hard to let go at that point."
Campbell says outdoor kitchens continue to be a very hot trend, as families extend their living space with built-in grills and the like. One particularly popular item is the fire pit that converts during warm weather into a table; either iteration invites people to gather around and relax.
And what's perennially in style? "A lot of seating, really comfy chairs. That's what people want when they relax outside," she said. "But variety is the key for our business. Everybody has a unique vision."
In fact, that's where Campbell's design sensibility really comes in to play. She appreciates an opportunity to see a client's interior, so she can extend their design sensibilities outdoors. In addition to photos, she encourages them to bring color swatches they love, and any other items that inspire them. She's also happy to work with builders or other designers.
"At the end of this process, my customers truly are like my friends," she said. "I want to be sure that when we're done, we've done the best possible job for them, and that they'll enjoy the results for years to come." 843-856-0049, backyardretreatsinc.com
In the Swim with Atkinson Pools
Jenny Atkinson and her family can be credited with making Lowcountry living a wet, refreshing and welcome adventure for three decades.
Their company, Atkinson Pools, has specialized in turning backyards into watery playgrounds. And the choices for doing that are amazingly varied.
"More and more people are adding the backyard oasis – or the outdoor living room – onto their homes," said Atkinson. By blending interior and outdoor with a transitional space, homeowners increase family and social time.
Indeed, a pool allows families to connect and entertain with ease. It encourages children to learn to swim early (a special benefit in a region where water truly is everywhere), and promotes physical activity.
Indeed, for many customers, there are measurable health benefits available from a pool or outdoor spa.
Hydrotherapy has long been known for its healing power. Ancient Egyptians and Greeks believed water therapy was essential for health. And modern science has indicated that soaking in a hot tub or swimming a few laps can lead to better sleep, reduced arthritis symptoms, recovery from back and muscle injuries, and stress reduction.
Many customers know they want a pool, have done a bit of research, and need some guidance. "The key to every project is understanding what the customer wants to get out of their pool or spa owning experience."
All pools are not created equally, either by design, by infrastructure, or by purpose. The Atkinsons help customers answer all sorts of questions that lead to the right choice for them. Will this be a second-floor elevation, or in-ground? Fiberglas? Multi-generational? "Knowing the home, the landscape and the owners' desires is key to making the right recommendations," said Atkinson.
And having decades of experience is key to making those recommendations work.
Atkinson says that her staff is trained to help walk customers through everything from permitting to engineering and design. Atkinson also handles the fencing and hardscaping surrounding the pool or spa, and they can recommend trusted professionals to provide lighting.
Her son Josh, who manages most of the company's installations, says there is a real advantage to working as a design-build firm. "Some clients come with a landscape architect, but for most, we meet onsite, get their likes and dislikes, and start creating."
The next meeting involves reviewing several designs. Client input helps narrow down the features. And ultimately, the winning design gets assigned a price tag and production schedule. Installations can take anywhere from five weeks to multiples of that to complete.
And Atkinson installations tend to include some attractive bells and whistles. Salt water pools are now standard, and mineral purification systems are available. These systems respond to growing consumer demand for minimal chemicals. Another consumer craving: automation. Atkinson pools can be operated on a smartphone or tablet. "That means you can be out to dinner or golfing, pull up your app, and have the spa heated up by the time you get home," said Josh.
Perhaps best of all, the family-owned company also offers maintenance contracts on all installations. Notes Josh: "We're not just the builder; we're here from cradle to grave." 843-881-3068, atkinsonpools.com