Delightfully curated
02 Nov 2021
Bubbles Gift Shoppe sells items from local artists
By Sophia Rodriguez
Photos by Aleece Sophia Photography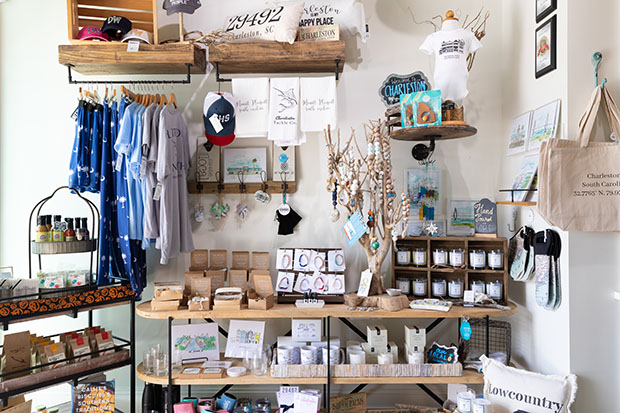 It's no secret there are lots of places to go if you need to buy someone a gift. King Street and the US-17 corridor in Mount Pleasant have many, not to mention the ubiquitous influence of online retailers like Amazon.
Still, there's something to be said about stepping into a clean, attractive space that contains a manageable amount of carefully curated products. Which is exactly the environment that Bubbles Gift Shoppe in Mount Pleasant offers.
"Our goal has always been to be unique. We want to be sure that we carry items you don't find elsewhere," said Jenn Wilkinson, who owns Bubbles with her teenage daughter, Mary Brennan Wilkinson. "We turn over our inventory often, so every time you pop in, it is a unique experience."
"We are honored and love to support our local artisans—those are staples in our shop," Jenn said.
Products like hand-painted oyster shells from Grit & Grace Studio, Charleston's Own saltwater taffy, Charleston Tackle Company apparel and bath products from the Old Whaling Company are recognizable favorites for locals. And they mix well with other merchandise in the shop, such as Jilzarah's beaded bracelets that hold scented essential oils and hats from the Florida-based 30A company.
Bubbles Gift Shoppe has a diverse customer base and local following. According to Jenn, they wanted to have items for "someone with three dollars to spend or $300 to spend."
"We love to help everyone find that special gift. We decided that we would carry items that not only a child with their allowance could come in and purchase, but also those looking for high-end gifts and jewelry," Jenn said.
The story of Bubbles' existence is as unique as the store itself. When Jenn's daughter, Mary Brennan, was a tween, she couldn't find the fashionable yet age-appropriate clothing and accessories that would help her transition into teendom. So, she started to seek out suppliers they could partner with.
At 11 years old, Mary Brennan was the primary buyer for the business, traveling to Atlanta and New York to visit markets and place orders. Even though the other employees make suggestions, "every item is carefully chosen and Mary Brennan-approved," Jenn said.
And how did the shop get its name? When Mary Brennan was a toddler, she went to a tea shop with her grandparents but asked for asked "bubbles" instead of tea. Her grandparents figured out she wanted Sprite. And from that moment on, Bubbles became her nickname. So, it was only natural that it would be the name of the shop, too.
After a couple of years of hosting successful pop-up shops around the Lowcountry, the mother-and-daughter team started toying with the idea of a brick-and-mortar store.
Located in the Market at Mill Creek shopping center on Highway 41, Bubbles is just a stone's throw from Mount Pleasant's Dunes West neighborhood and burgeoning development in the Wando area. As a real estate developer, Jenn knew better than anyone that the shop's location would be a key factor in its success. "When [the shopping center] was under construction, I knew there was a need to offer the local community somewhere to purchase a gift," she said. "The shop is located 10 miles from any other retail stores. It truly has a sense of community in its location."
In its two years as a physical shop, Bubbles has been awarded multiple Best of Mount Pleasant and Best of Charleston awards. Jenn credits a lot of that success to her work family, consistency when it comes to quality of the merchandise and the copious amount of research she and her daughter conduct before introducing a product into the store.
Everyone who works at Bubbles made a point to keep the shop customer-focused, even in the face of the pandemic.
"During COVID, we would do home deliveries. Just because we were required to be closed didn't mean those birthdays and anniversaries stopped," said Jenn. "It was like we were elves dropping off gifts at doors and texting when it was delivered. It added a bit of fun during such hard times."
The holiday season has traditionally been generous to Bubbles' bottom line because that's the time of year when everyone is looking for that perfect gift. Bubbles also has monogramming services that are perfect for personalizing birthday, hostess, wedding party or baby shower gifts.
"I love our community," Jenn said. "Pre-COVID, we had late shopping hours on Thursday nights, with bubbles and mimosas. We would also feature our local artisans. They would set up shop in the store and introduce the community to their craft. We had sweetgrass basket workshops, earring-making workshops, and painting workshops."
Keep up with them on social media @bubblesgiftshoppe
for announcements about workshops coming back to the shop and photos of items in stock.