The people have spoken, and they know what they like when it comes to pleasing their palates in the Holy City. There's certainly no shortage of food hangouts in the Lowcountry, and we've compiled our annual list of where readers most enjoy eating, sipping and fellowshipping. The top 25 restaurants for 2016 were chosen based on a combination of local feedback, the publication's "Best of the Best" lists and Trip Advisor rankings. And it seems restaurant-goers can't get enough of both the sophisticated dining experience, with dishes featuring local seafood, and food hot spots that offer unique style, friendly service and an unforgettable view.
By JENNA-LEY JAMISON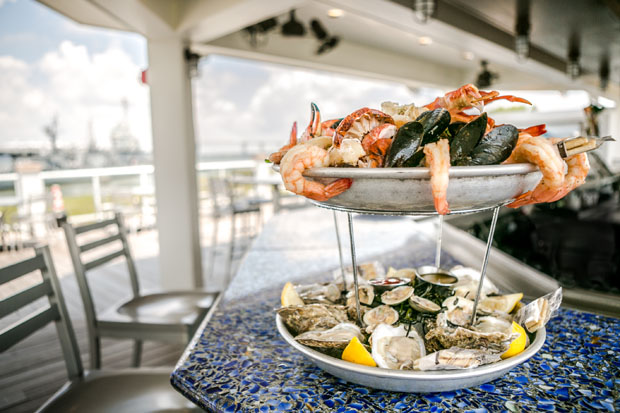 82 Queen
This posh eating house, operated by Queen Street Hospitality—also owner of Charleston's Lowcountry Bistro and Swig & Swine—knows exactly how to deliver the Southern taste your palate fancies—particularly with its two most popular dishes: the she-crab soup and shrimp & grits—a spin on the original with its addition of "Southern Comfort" bbq sauce. This downtown eatery also features intimate courtyard dining for that special occasion, and the peaceful view is a bonus. For dinner, satisfy your hunger with seafood gumbo made with shrimp and fried oysters, or try the classic Lowcountry boil, beef tenderloin, or shrimp and crawfish jambalaya. 82 Queen is also known for its weekend brunch—crispy chicken and biscuits and crab cake benedict among the tempting plates. 843-723-7591, 82queen.com
Burwell's Stone Fire Grill
Innovation is a key concept at this modern Charleston steakhouse. Tastes and recipes are ever-evolving, and ingredients stem from "humane" ranches and local farms—Moncks Corner's Mepkin Abbey mushrooms and Columbia's Anson Mills corn. The restaurant prides itself not only on local publications' frequent accolades and positive reviews of its food and atmosphere, but also on being "female-friendly"—due to colorful décor and artistic plate presentations—and "next-generation"—thanks to its contemporary bar, extensive wine list, and of course, its stone-fire grill. All steaks—some aged up to 45 days—are cooked over a wood fire burning at 1,400-degrees. In addition to steak, entrees include seared scallops, buttered lobster, Waygu beef and rigatoni Bolognese, and red chicken "hot cobb"—paired with roasted tomato, poached egg, avocado, bacon and blue cheese. 843-737-8700, burwellscharleston.com
Charleston Crab House
This "crab-a-licious" spot is popular for pumping out raw bar favorites and steamed dishes for customers looking to satisfy a lust for all things seafood. Think she-crab soup, chilled blue crab dip, Lowcountry shrimp boil, mahi-mahi, as well as classic American finger foods — a juicy burger and fries or hot, breaded chicken tenders for an appetizer. With dining available inside or outside, don't pick one over the other. Sip a cold beer at the bar before gathering 'round with friends at an outdoor table. And come visit both locations: Charleston and James Island — where customers can enjoy a view of the Intracoastal Waterway. Lunch and dinner are served daily at each location. So hurry in for a quick lone bite or reserve a meal time for a large group. 843-795-1963, charlestoncrabhouse.com
Charleston Grill
Sophistication characterizes the sights, sounds and tastes of this date-night locale, where Southern hospitality is part of the allure. Tap your foot to live jazz music in the main dining room or opt for private dining for you and a loved one to sip a favorite wine in romantic solitude. The restaurant boasts more than 1,300 labels. As for food, dishes are designated as Lush—"lavish" and French inspired; Pure—"simple," "clean" and "light"; Southern—modern twists on Lowcountry favorites; and Cosmopolitan—"exotic" and internationally inspired. Start with an octopus salad or kabocha and coconut soup, before ordering up the Thai fish, prime rib or domestic lamb rack. But save room for dessert—carrot cake fritters with cream cheese ice cream, German chocolate cake and housemade sorbet, among other sweet selections. 843-577-4522, charlestongrill.com
Charleston Harbor Fish House
Head to the rooftop at this swanky seafood eatery situated in the perfect spot to spy on both the Ravenel Bridge and vessels crossing the Cooper River. The elevated Bridge Bar is unlike any other outdoor dining setting in the Lowcountry. Pause a moment, with the sunset in the background, to sip a margarita or cocktail and view the natural beauty around you. Don't forget to look for the marina, USS Yorktown and Patriots Point, also in the distance. Daily fish specials dot the menu here, including lobster, shrimp, crab and mussels—to name a few. Also just an order away are customer favorites like the Creole shrimp and grits, cedar plank salmon and pecan-crusted grilled grouper options. Non-seafood plates include southern fried chicken, filet mignon and ribs. 843-284-7070, charlestonharborfishhouse.com
Cru Café
For the last two decades, Cru Café and its popular catering have transformed dining in the Lowcountry. Dubbed Charleston's "hidden gem," its award-winning recipes boast modern flare and foreign touches—French, Italian, Asian, Southern, Southwestern and Caribbean. Lunch dishes include everything from ginger-glazed salmon and General Tso's chicken to a balsamic Portobello wrap, garlic chicken club sandwich and fried calamari. Unique salad creations also dot the menu and pair greens with duck, salmon, shrimp or chicken. Dinner creations range from Nantucket Bay scallops and local swordfish to Thai seafood risotto and the Black Angus beef short rib. If you're planning a celebration, consider Cru's full-service catering to make your wedding, birthday or other party occasion an unforgettable experience. Each menu is tailored perfectly to your taste. 843-534-2434, crucafe.com
Drawing Room
Formerly known as "The" Drawing Room, this quaint bistro, located inside the historic French Quarter's Vendue Boutique Art Hotel, later trimmed down its name as a re-branding technique. It now considers itself a contemporary niche hangout—refurbished from an 18th century warehouse. It's also home to Executive Chef Jon Cropf, an award-winning kitchen connoisseur with a resume that includes platinum member of the S.C. Aquarium's conservation program, the Sustainable Seafood Initiative. Through the program, it's his mission to promote local seafood and teach other chefs to do the same. He also utilizes only the freshest of ingredients when preparing customer favorites like the sweetgrass mussels, seared grouper and venison and beef tartare. The eatery is also known for Tuesday's half-price wine specials. 843-414-2334, drawingroomrestaurant.com
Eli's Table
High-end drinks and Southern fare—that's what it's all about at this colorful downtown Charleston establishment, named after the son of the owner of Charleston Hospitality Group. Stop by for breakfast, lunch or dinner and pick a seat inside or outside the artful hangout, which offers courtyard dining for customers who prefer a spot closer to nature. Tantalize your taste buds with the freshest of ingredients. For lunch, treat yourself to a Tuscan grilled cheese, ham and brie croissant, Filet Mignon salad or simple hearty burger. Dinner offers unique entrees like the espresso-rubbed ribeye, seared duck breast with sweet potato waffles, simple roasted chicken, and the "forager's filet," with mushrooms, white truffle whipped potatoes and green beans in a port wine reduction. 843-405-5115, elistable.com
Fill Restaurant & Piano Bar
Who doesn't love good music and a meal? This hotspot is open daily for both, but Thursday through Sunday, the entertainment amps up with a lively dueling piano show, sure to entice you to dance and sing. But don't forget to checkout a menu. Try a salad, soup or sandwich option for lunch. And for dinner, order up some crab and corn taquitos, Thai shrimp pizza or other finger foods. A few heartier dishes include the clam and shrimp fettuccini, bone-in pork chop and marinated hanger steak. Pair them with a number of tasty sides including sautéed spinach and smashed red potatoes. Don't forget Wednesdays are "ladies and steak night," and "jazz night" falls on Tuesdays—when select wines are half-price. So hurry up and reserve a table. It's time you experience what others in the Charleston area are talking about. 843-800-3042, fillbar.com
Fleet Landing
If Food & Wine Magazine considers this historic military building a delicious hangout, then it's sure to leave a lasting impression on your taste buds. In addition to waterfront dining, which means you might spy a passing fisherman, sailboat or sea creature, this maritime lounge—situated on a pier and renovated from its former use as a U.S. Naval house—prides itself on its friendly atmosphere and affordable food. Finger favorites include peel n' eat shrimp, fried calamari, oysters and hushpuppies filled with corn and shrimp—not to mention a number of sandwich and burger baskets for customers not in the mood for fish. So pop in for lunch and dinner seven days a week or satisfy your stomach with a weekend brunch. 843-722-8100, fleetlanding.net
Grill 225
Housed within the Market Pavilion Hotel on East Bay Street—a top hotel in the world according to Travel & Leisure Magazine, this Trip Advisor favorite received the company's 2015 Certificate of Excellence. Famous for its steak entrees and seafood eats—oysters, colossal crab cocktail, Macadamia crusted Red Snapper, poached salmon and pan-seared flounder—the eatery is most venerated for its selection of chilled cocktails—the "Nitrotine" topping that list. Infused with liquid nitrogen and chilled to negative 325 degrees, the drink of choice for most customers is unlike any of the other 16 cocktail flavors the restaurant boasts. Others include gin with cucumber-infused lemonade, and Cotton Candy vodka paired with pink lemonade, grenadine and a cotton candy cloud topping. 843-723-0500, marketpavillion.com/grill225

Halls Chophouse
Is your mouth watering for a thick, juicy cut of succulent, aged steak? Then come to Halls—located in downtown Charleston and Greenville—and feast on New York strip, ribeye, prime rib, filet mignon and porterhouse, each rubbed with a different flavorful mix of spices. But don't fill up solely on meat. Pair your entrée with an appetizing side such as sweet and sour collard greens, broccolini, lobster mac n' cheese, loaded mashed potatoes or asparagus with hollandaise sauce. If steak isn't your preference, try Maine lobster, slow-roasted prime rib, maple leaf farm-braised duck or goat cheese ravioli, among other chicken, veal and pork dishes available. There's also no shortage of raw bar favorites, sparkling wine varieties and dessert treats. In addition to the food, your sure to remember the friendly staff and live piano entertainment. 843-727-0090, hallschophouse.com
Hank's Seafood
For the last 10 years, this saloon-style restaurant has been voted best place to eat in town. That's probably because it exudes elegance and class, with servers decked out in white dinner jackets and tables topped with pure white linens. It's also located in the middle of Charleston's downtown Historic District. Filled with history, the eatery's upscale vibe is partly due to its roots—once serving the community's upper class as an entertainment hotspot—a 1970s disco club named after Garden & Gun magazine. Top menu favorites include the Charleston oyster stew, roasted grouper and signature pan-fried crab cakes—each plate served in a picturesque way. The drink menu is also a hit with seasonal sangria, cocktails, and a lengthy list of premium whiskey. 843-723-3474, hanksseafoodrestaurant.com

High Cotton
Elegance and class best describe this dining atmosphere, where live music while you feast is just an added bonus. Owned by the same family who operates Charleston's famous Halls Chophouse, High Cotton is a similarly unforgettable, upscale experience, known for dinner, brunch, cocktails and wine. In the mood for breakfast? Brunch eats range from appetizers like the buttermilk-fried oyster and bourbon-glazed, bacon and apple donut hole, to a seafood crepe or brioche French toast entrée. For dinner, consider the pan-seared halibut with crawfish butter and watercress, spinach and artichoke ravioli, yellowfin tuna with onion jam or lobster tail and scallops. All ingredients originate locally, with at least 10 different farm sources throughout the Charleston region and Upstate. 843-724- 3815, highcottoncharleston.com
Hyman's Seafood
This Lowcountry seafood front-runner has been a beloved operation for more than a century, run by five generations of family businessmen since the late 19th century. The location is filled with history, including a touch of Hollywood. Because celebrities often lodged over the years at next-door's Charleston Place Hotel, their pictures now cover Hyman's walls so customers can marvel at the famous faces that once passed through. And there's never a shortage of hungry locals and tourists looking to bite into a classic lump crab cake, gator sausage or spicy feta shrimp dip. Other menu favorites include the po-boy sandwich and an appetizer dubbed the "Wadmalaw Delight," fried green tomatoes served with grits, cheese and parmesan cream sauce. Along with good eats, Hyman's prides itself on its charitable contributions, donating $200,000 annually to various organizations. 843-723-6000, hymanseafood.com
Lana Restaurant & Bar
At this Rutledge Avenue establishment, you'll find classic Mediterranean fare, with ever-changing recipes and menu options. Each month cuisine is featured from a different Mediterranean country—think Moroccan, Italian and Turkish, to name a few—with all dishes specially concocted by head chef John Ondo, who learned the tricks of his trade right here in the Lowcountry, graduating from the Culinary Institute of Charleston. For dinner try the seared duck breast, local fish feature, short rib or succulent scaloppini—pork and Parmesan risotto with almonds in a lemon caper sauce. If you have a large party, consider ordering the 4-course $40 "Chef's choice tasting menu." Also, stop in during happy hour—5-7 p.m. weekdays—for a drink and tapas creation. 843-720-8899, lanarestaurant.com
Morgan Creek Grill
Straight from the kitchens of the Caribbean, Morgan Creek Grill chefs know how to cook the authentic tropical cuisine local patrons crave. Fish dishes are among the preferred menu items and can be prepared in three different ways. Choose "island," if you want a meal blackened and paired with grits, collards and mango salsa; pick "pumpkin seed crusted" if it's mashed potatoes and asparagus you prefer. Or select the "simply grilled" option, which combines rice and mixed vegetables in a lemon caper butter. Menu items also include options for customers with food allergies or diet preferences. Whichever meal you decide to feast on, there's no disputing the view of the nearby Intracoastal Waterway will instantly relax you as you dine. 843-886-8980, morgancreekgrill.com
Old Village Post House Inn
Housed inside a cozy, white inn in Mt. Pleasant's historic Old Village, this restaurant feels like home, whether you dine inside the main tavern room, the outside patio and or three private dining areas—reservation required. If it's brunch you're craving, order the devil crab cake benedict or French toast, strawberry shortcake style. And be sure to add a glass of blood orange mimosa or bloody Mary with a kick—made with house infused jalapeno vodka. For dinner, start your taste experience with a hot tavern onion soup or pork belly and cornbread. For a filling entrée, pick among one of seven chef specialties—crab crusted salmon and sweet potato gnocchi—or a tender steak flown straight from the Windy City. But save room for a side—potato gratin, asparagus or hot honey drizzled over Brussels sprouts. 843-388-8935, oldvillageposthouseinn.com
Rutledge Cab Co.
Nestled in Charleston's Wagener Terrace neighborhood, this 1950s cab-inspired hangout will easily grab your attention by its imaginative décor—including faux gator skin at the entrance—good food and unpretentious vibe. Take a load off and order up a beer, burger, or other char-grilled favorites—after all, Rutledge boasts the area's only indoor charcoal grill. The location is also notable as the former site of a popular area convenience store and gas station. And it doesn't matter the day or hour, you can try breakfast—huevos rancheros, candied bacon and eggs benedict—around the clock. Additional eats include the BLT, Reuben and baja fish tacos. Wash it all down with one of six milkshake flavors: classic vanilla, black and white, double chocolate, orange creamsicle, strawberry and Nutella. 843-720-1440, rutledgecabco.com
Saffron Café & Bakery
There's no need for a passport or suitcase to go on a taste trip beyond American borders. Leave Southern comfort and traditional seafood cuisine behind at this destination for foreign fare and culture. The eatery is celebrated for its eclectic array of Middle Eastern eats—such as Jerusalem-imported pickles—as well as dishes inspired from Australia and Africa. But don't worry if you're not up for supplementing American staples with new flavors. You can always order conventional shrimp n' grits or she-crab soup. Due to the eatery's constant flow of patrons, kitchen staff work around the clock to provide fresh items. The operation even maintains a 10,000-square foot production facility to meet growing demands for its bakery items—especially since employees routinely deliver to nearby businesses hankering for tastes beyond the ordinary. 843-722-5588, eatatsaffron.com
Sermet's
Sermet's offers a downtown destination—Sermet's Downtown—and two beach locations—Sermet's Courtyard on Daniel Island, just a block away from the surf, and Sermet's Southernterranean Cuisine-Bar on James Island. Both kitchens provide customers a fresh fusion of Mediterranean flavors and classic recipes from the historic American South—hence the name "Southernterranean." Start your meal with hand-pulled mozzarella in a balsamic reduction, ginger and garlic mussels, sautéed shrimp or a hot bowl of mushroom and roasted tomato soup. Entrees include the braised short rib, herb-encrusted eggplant, Filet Mignon and chicken agnolotti, made with applewood-smoked bacon, Granny smith apples and Marsala Parmesan cream. Some seafood options include shrimp tortellini with roasted peppers, herb-seared flounder and seafood linguini—tossed with shrimp, mussels, calamari, chorizo and sausage. 843-471-1777, sermets.com
Tavern & Table
Located on Mount Pleasant's Shem Creek, this eatery's celebrated menu is the brainchild of kitchen expert and Executive Chef Katie Lorenzen-Smith, who championed over internationally-renowned chef Bobby Flay on Food Network's "Iron Chef America." Since December 2014, this eatery's rustic, austere setting has attracted customers with its simple but delicious menu and relaxing appeal. Find everything to eat from favorite finger foods—tacos, wings, burgers—to pricier plates—pan-seared scallops, filet of beef and duck breast, to get your mouth watering. So sit back and relax either inside or outside—on a couch or chaise lounge chair—where just a few feet away is a waterfront bar stocked with wine, seasonal craft beers and barrel-aged cocktails. 843-352-9510, tavernandtable.com
Taziki's Mediterranean Café
Established by couple Keith and Amy Richards after a memorable trip to Greece, this café has several nationwide establishments, with Charleston lucky enough to claim two—one downtown on King Street and one across the bridge in Mt. Pleasant. Known for a "nationality" of "originality," this Mediterranean-inspired eatery provides customers an authentic atmosphere, from taste to décor—the outside dining area is reminiscent of a classic international courtyard. And there's no shortage of menu options—each one combining Greek flavors with tastes commemorative of mama's soulful kitchen. Try spicy pimento cheese or humus for an appetizer followed by any number of daily or nightly specials, depending on when your stomach growls. Desserts range from classic baklava to dark chocolate cake. But don't fret if you don't have time to stop in. Order a pork, chicken or lamb "take-home" meal for four any time after 2 p.m. 843-352-6215, tazikiscafe.com
The Oyster House
It's all about the popular pearl-making mollusk at this eatery, where the oyster is the preferred star of most menu items. Anything you can imagine with oysters is offered, from a Vodka-infused "Southern Belle" oyster hooter to bbq oyster grits—a twist on a Lowcountry classic. There's also the oyster slider or wrap, a traditional baked Oyster Rockefeller meal or fire-roasted plank oysters. But if you're not a fan of the so-called "saltwater clam," don't walk out the door. Other seafood options include garlic mussels and scallions in a white wine sauce, bacon-wrapped stuffed shrimp, pimento cheese fritters, fried calamari, and wasabi-crusted tuna. Also accessorize any meal with fried oysters, crab cake, lobster tail or fried/grilled shrimp or chicken. 843-723-1151, oysterhouse.menu

Vincent Chicco's
Named after the Holy City's earliest prohibition outlaw, Vincent Chicco was an Italian native who sold alcohol to the Charleston community in spite of the laws against it. His fame also includes work as a local councilman and Lowcountry business leader. Today Chicco's era is captured in this sophisticated establishment's timeless décor and traditional Italian-American eats—including the house meatballs with polenta, veal marsala, chicken piccatta and the special "Sicilian Sunday Gravy," slow-cooked pork, beef and veal over spaghetti alla chitarra—an Italian egg pasta—blended with ricotta and Romano cheeses. The restaurant is operated by Holy City Hospitality's Executive Chef Aaron Lemieux—former head cook at Charleston's 39 Rue de Jean. He also owns and heads the kitchens at Victor Social Club and Michael's on the Alley, both located in the same facility as Vincent Chicco's. 843-203-3002, holycityhospitality.com/vincent-chiccos