The Bead Goes On
10 Nov 2016
The Bead Goes On
Beads and polished stones from around the world for making one-of-a-kind necklaces and bracelets can be found at Beads on Cannon
By JASON A. ZWIKER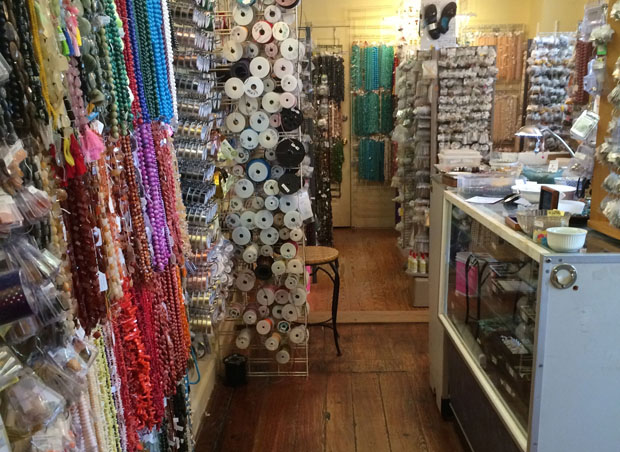 Walking through Beads on Cannon with Jo Cannon is like taking a mini masterclass on beads, gemstones, and other small, beautiful things from all around the world.
There is Czech glass and Chinese glass, beads with double holes to facilitate weaving, agates, jaspers, lapis lazuli from Afghanistan, copal resin amber from Columbia, freshwater pearls, fossils, and rare vintage finds gathered over a lifetime of searching through bins and tents and warehouses for just the right eye-catching pieces.
"If I ever come across a stone I don't have, I buy it," she says. "That way, if someone sees a pattern they like in a magazine, they can come here and find exactly what they need to make it on their own."
For ten years, Cannon has shared her love of beads with Charleston. The variety of items at Beads on Cannon is staggering. This is the place to go for those who want to string together something beautiful, to make a unique piece of jewelry with their own hands.
Maintaining that kind of inventory is no easy task. Each year, she travels to trade shows around the world – from the desert southwest to as far off as Hong Kong – to handpick the items she'll bring back to Charleston.
Buying stones is her passion. It has been, for most of her life.
When Hong Kong became a regular stop on her itinerary, she began studying Chinese at College of Charleston. "I went back to college as a senior citizen because I wanted to be able to reach my hand out to the people I was buying from and speak to them in their language," she says. She humbly acknowledges that she's not fluent, but three years of classes, together with countless trips to gemstone manufacturer's shows in China and Chinese New Year celebrations, have given her legs to stand on when it comes to business negotiations in that faraway land.
She shares one of her favorite Chinese phrases to use when negotiating and then translates it into English: "Too dear! Too dear! Make it a little more comfortable!"
She's gathered stories aplenty over the years to go with the multicolored array of polished stones hanging along the store walls. There is maw sit sit, a beautiful black-veined green gemstone named for the village where it was first discovered, from Myanmar; drucy, with its distinctive crystals; larimar, a stirring blue pectolite from Dominican Republic; moldavite, a fascinating green stone with glasslike patterns that is said to have been created in a meteor strike.
Rarities abound at Beads on Cannon, including, a unique stone called Chinese Writing stone that she says is actually from California. "You might never see this exact kind of stone again," she says. "They found it when they were working on a freeway."
The stones are often so expertly polished that it can be difficult to tell at a glance how to differentiate them from glass, but Cannon has the answer: "Grab them," she says. "You can actually feel the coldness in true stone. You can feel in right there in your hands." It's true!
She speaks of the colors in the stones, how some colors are naturally occurring and other colors are the result of dyes. "Agates have been dyed for jewelry since the 16th century in Germany," she says. Then, she points out how amethyst can be turned a Coke-bottle green with heat. "Glass also changes color when heated," she notes. Then, she recalls a childhood story of watching her mother leave glass in the sun to give it an aged look.
There are also pieces of old jewelry on hand, pieces that either fell away or were warehoused by jewelry makers long ago. "You can find some amazing things," she says. "These are perfect for a classic Hollywood look, the glamour of the 1920s."
Beads on Cannon offers classes on weekends for those who want to learn more about how to make their own custom jewelry. See a bracelet or necklace on Pinterest and feeling up to the challenge of making it yourself? Or maybe you have a piece of well-loved jewelry that needs patching up? There's a very good chance that you'll find what you need here.
Whether you are just beginning to learn how to string beads together, or whether you are already skilled and wish to learn more about the fascinating and fun world of beads, stones, and weaving, Beads on Cannon is the place to go. 843-723-5648, beadsoncannon.com