Digging into Charleston's Tech Economy
07 May 2016
A local conference has grown tremendously in attendance, and is helping to expand the digital technology sector
By HOLLY FISHER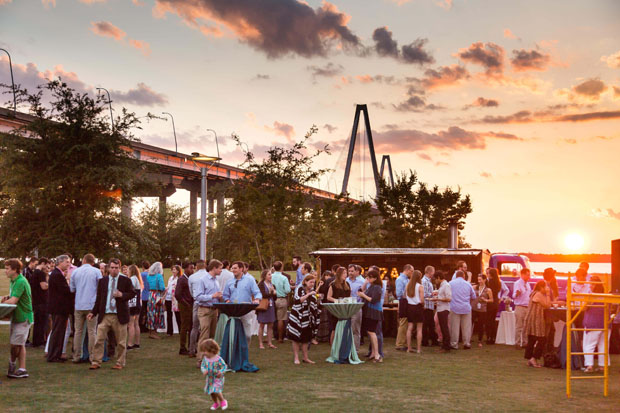 Stanfield Gray has impeccable timing. His idea for a multi-day conference highlighting the Southeastern tech industry came right on the cusp of Charleston's digital explosion. Four years ago when he introduced DIG SOUTH, Charleston was ready.
The South had long been viewed as a place for manufacturing, not technological and digital innovation. But all that has changed in the last decade and even more so in the last five to six years. Early adopters like Benefitfocus, PeopleMatter and Blackbaud – startups turned tech giants – were inspiration for Gray.
Seeing the success of Charleston's early tech companies plus ventures like the expanding Charleston Digital Corridor's Flagship incubator spaces, Gray knew it was now or never.
"My timing was very good," he said, reflecting on those early days while sitting in the DIG SOUTH office on Upper King Street. Like so many startups, Gray launched DIG SOUTH in his garage in 2012 before moving to King Street in January 2013.
Go Big Or Go Home
Gray left a job as director of strategic communications at the College of Charleston to pursue an idea he felt certain had the potential to be big.
That first year, 454 people attended the conference at the College of Charleston to hear speakers from Facebook and CNN along with keynote Robert Tercek, media futurist. The conference was a fusion of technology, culture and creativity. Attendees were treated to a tradeshow, concerts and meetups at tech companies around the area.
As of press time, this year's event at the Gaillard Center was on pace to surpass the 2015 festival and very likely hit Gray's goal of 2,500 people attending some portion of the three-day festival.
The first year was more about Charleston being a beautiful place to visit so people would come to the city and attend a conference while they were here, Gray said. The mentality has completely shifted and people are eager to attend the conference, set up meetings and network with other tech-minded people.
"We are more of a legitimate business-focused festival," Gray said. "People come here to do business and then have a good time."
Conference attendees are mission-minded at DIG SOUTH. They want to raise venture capital, gain new knowledge and get jobs, Gray said.
While outsiders may marvel at DIG SOUTH's success, Gray isn't all that surprised. Sure he had the same startup jitters anyone does, but he had complete confidence in the festival's success. "We did very much plan for it to scale in this way," he said.
Gray modeled aspects of DIG SOUTH on big festivals like South by Southwest in Austin and the Ad Age Digital Conference and The Fast Company Innovation Festival in New York City, and was confident the South could support something of that caliber.
"I truly believed if this can happen on a grand scale in other parts of the country, there was no reason it couldn't work here," he said. "I left a great job at the College of Charleston. I was all in 100 percent."
The theme for the 2016 festival was #Power with 200 presenters discussing power in the 21st-century digital economy: the power of venture capital, code, the cloud, connected devices, data and analytics, community, creativity, branding, marketing and advertising, media, entertainment, entrepreneurship, gaming, sports, renewable energy, social good and much more.
Gray also expanded the festival's Wild Pitch event in which innovative startups present their companies to key investors, expert judges and DIG SOUTH attendees with the hope of gaining investor seed money.
This year, Wild Pitch was part of a larger Venture & Demo Day. Dubbed "the South's capitol of capital," it included a keynote speaker, job market fair, startup showcase and Investor Bash networking event at the Cigar Factory.
Organizations like The Harbor Entrepreneur and SCRA, an applied research corporation focused on growing the state's knowledge economy, joined in the Venture & Demo Day efforts.
Those collaborations are symbolic of the region's effort to work together. Even healthy competition has an air of Southern hospitality.
Gray is quick to credit his innovative counterparts like John Osborne, co-founder of The Harbor Entrepreneur Center; Grier Allen, co-founder and CEO of BoomTown; Nate DaPore, founder of PeopleMatter; and Shawn Jenkins, CEO of Benefitfocus with growing Charleston's reputation as a tech-minded city.
"We're all trying to row this massive boat together," Gray said. "That energy is contagious. I've done my part, but no more than anyone else."
A Secret Weapon
There are two other people who drive Gray to build a community that can support a digital economy well into the future: Gray's two children.
He calls 8-year-old Garrison and 10-year-old Stella his "secret weapon."
"I'm determined that when they graduate from college if they want to grow a company in the South they can," he said.
Simply growing up in these times makes Gray's kids digital natives, but he's also taking extra steps to ensure they understand not just how to use an iPad, but also how the iPad works. It's about digital literacy, Gray said, and learning what lies behind the hardware.
His daughter enjoys fashion design so he'll introduce her to the Adobe Creative Suite. His son loves Legos and building things so Gray has sent him to some coding camps – all with the intent of expanding their knowledge and giving them every advantage in this digital world.
Also standing next to Gray in this digital life is his wife, Sunny, the CFO for DIG SOUTH. "We're a good team," he said. Although, Gray jokes maybe that's because he works out of the downtown Charleston office and Sunny works from their Mount Pleasant home office.
Both have entrepreneurial backgrounds – Sunny was the co-owner of the "Little Black Book for every busy woman" – so they take the startup life in stride. Plus, Gray said, their styles are different and, thus, complementary.
Sunny is perfectly happy in the roles of CFO and mom, while Gray is the more public face of DIG SOUTH, handling speaking engagements and interviews. "Because we're so different, the division of labor works well."
Digging the Future
An innovator like Gray is always looking ahead so in the weeks and months following the festival, look for two new initiatives under the DIG SOUTH brand. One is DIG SOUTH magazine, a digital site that will cover technology, creativity, venture capital efforts and entrepreneurial communities in 10 Southern metro areas.
For the last three years, the DIG SOUTH team already has been producing this kind of content on its blog as well as with articles and videos from festivals. This effort puts all that content – and much more – out front.
Next is DIG Nation, a subscription-based membership portal focused on content, contacts and capital, Gray explained. Since its founding, supporters have been invited to be part of DIG Nation and even those early Kickstarter donors are still listed on the festival website. But, this year, DIG Nation goes deeper with its offering and the ability for entrepreneurs, those in the tech industry, creatives and others to formally join and have access to even more information as well as online classes and workshops.
As for Charleston's future as the Silicon Harbor, that's not slowing down. When people attend DIG SOUTH and visit Charleston for the first time, Gray said he wants them to realize how many national brands do business here – IBM, Dell, Adobe – alongside big players like BoomTown, Benefitfocus, SPARC and Blackbaud that have made Charleston home base.
"There's a high level of talent here and that talent is networked globally," he said.
The South has moved well beyond its reputation as a place for manufacturing only. Charleston is joining with the likes of Raleigh, Miami, Atlanta and Nashville as a city that tech companies and entrepreneurs look at seriously.
"We're catching up," Gray said. "We're more affordable and beautiful. We have the natural resources and this is an attractive place to live."
BIO:
Stanfield Gray
Founder and CEO of DIG SOUTH
Family
Wife, Sunny, and two children, Stella, 10, and Garrison, 8
Education
Bachelor's degree in English literature from the University of South Carolina Honors College; master's degree in Southern studies from the University of Mississippi
Hobbies
Last year Gray discovered paddleboarding and is eager to pick that back up this summer
Volunteer
Lowcountry Land Trust board member and new board member with the Carolina Lowcountry Red Cross