Dunleavy's Pub
19 Jan 2015
By HELEN MITTERNIGHT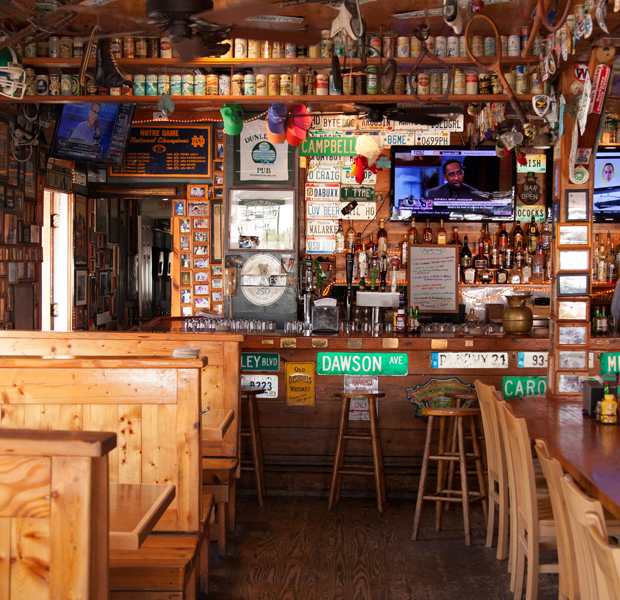 If there was a theme song for Dunleavy's Pub, it might be "Danny Boy," as sung by Jimmy Buffett.
"Because we're located on a beach, it's difficult to be just a traditional Irish bar," says Jamie Maher, owner of the Sullivan's Island pub. "We're more of a beach-Irish combination."
Beach-Irish-New England, he adds, noting that his family comes from Connecticut, so Dunleavy's is a haven for fans of the Red Sox and the Patriots.
Maher says Dunleavy's is known for its wings – chargrilled rather than fried and never frozen – served with honey mustard, teriyaki, lemon pepper, ranch rub, or barbecue sauce. Others swear by the classic Reuben on rye. To be sure, the pub does serve Irish fare and beers, but it also serves burgers, hot dogs and other pub fare.
The bar is a reflection of the family that owns it, a local standout in the world of chain faux-Irish pubs.
In 1992, Maher's mother, Patti, and her brother, Bill, opened the bar before Sullivan's Island became trendy. The bar sits at the corner as you turn onto Middle Street coming over from Charleston, a warm introduction to the little strip of Sullivan's Island restaurants. Bill is still an owner. Maher moved back in 1997 after trying, then rejecting, the life of a history teacher. He took over for his mother in 2004 when she retired. Maher has since become as much of a fixture at the bar as the popcorn machine against the wall, even putting in a brief cameo appearance as himself in the famed lowcountry writer Dorothea Benton Frank's latest novel.
Asked to describe the pub's charm, Maher hesitates. A couple finishing up their beers at the bar jump in to fill the silence: "It's the vibe!"
Nancy & Craig Risor have stopped in from their Maryland home to celebrate their 20th anniversary. When they were locals back in 1992, they conducted their courtship at Dunleavy's after meeting on a blind date.
"From its inception to now, Dunleavy's has always had a local feel, a real laid-back atmosphere," Craig Risor says.
Nancy adds that they return every time they come to South Carolina for a visit.
It's not uncommon for patrons to jump in. After all, Dunleavy's customers helped with the décor. The walls and even the ceiling are covered with photos, license plates, even a pool stick contributed by their customers. The photos show patrons in the Dunleavy's t-shirt all over the world. Most of the t-shirt wearing patrons are people, although there are the photos of dogs wearing the t-shirt as well.
Dunleavy's Pub has made patrons feel like it is "their" bar, and the pub is filled with evidence of the warm relationship between the people serving the beer and the people drinking the beer.
At one end of the bar, a plaque commemorates the Liar's Club, a group of regulars ranging in age from 40 to 70, that have been coming to share a drink and top one another's life stories for more years than Maher has been an owner.
"For 18 years at least, they've been coming in here three times a week to laugh and talk about life," Maher says.
Dunleavy's also hosts the Notre Dame Alumni Club, which takes over the back corner, as well as alum groups from Fordham, Marquette, and the University of Virginia. One group not here is alumni from the tiny Assumption College in Worcester MA, that Maher himself attended, although he felt somewhat vindicated when he found out that Notre Dame head coach Brian Kelly attended Assumption.
The photo on the wall of Maher with Coach Kelly joins the hundreds of other photos pinned up.
One whole column is filled with photos of the Pub's marriages – people who met or dated at the pub.
"That one's my sister," Maher says, pointing to a young woman in a flowing white gown. "People come here in gowns and tuxes to have their photos taken."
Maher says he met his wife, Jennifer, at the bar as well. The two have three children, ranging in age from 10 to 15.
The children have grown up knowing Dunleavy's, and now they are old enough to participate in one of the most visible events that connects Dunleavy's to the community: the annual Polar Bear Plunge.
Maher says that he's a little hazy about what year the run started – he thinks it's about 1994 – but the event started out "as a lark, with my uncle and a couple of his friends on a dare."
The object was to go out into the frigid water on January 1 and at least get your head wet. The event grew and, in 2003, the Special Olympics Committee in South Carolina approached Dunleavy's about sponsoring a Special Olympics athlete for the 2003 games in Ireland. Maher and his uncle were in, and they've raised money for the Special Olympics every year through donations at the event.
"Over the years, we've probably raised more than $200,000," he says.
The Polar Bear Plunge has become a destination trip for people from all over, and many take the plunge in costume.
"We've had Elvis, the Incredibles, people dressed as a beer pong. We've had generations of people in costume," Maher says.
The event attracts a few thousand each year.
The family – Maher and his uncle, assorted cousins – always wear white tuxedos to mark the event and, yes, they do get their heads wet.
"My kids go now," he says, adding that some years are better than others. "Some years, it's 70 out and the water is around 50 degrees. That's not bad. But then some years, the air is 50 and the water is…much colder."
Dunleavy's Pub
2213 Middle St., Sullivan's Island
843-883-9646
dunleavysonsullivans.com