Updated American fare with bold, worldly flavors served in a crisp bistro atmosphere
By DENISE K. JAMES » Photos by ASHLEY WALKER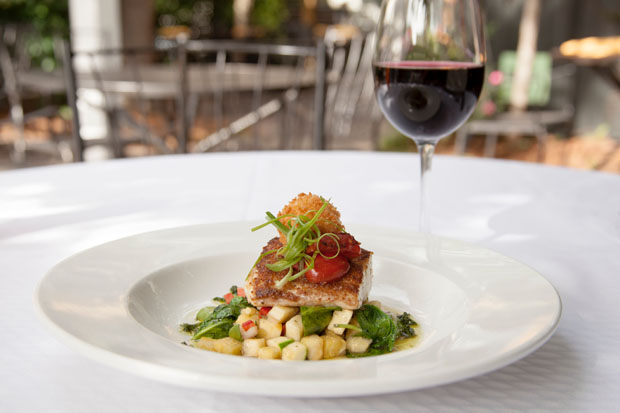 Have you ever had soup made with watermelon? The version I speak of is chilled, of course, and perfect for the sticky days of a sultry Lowcountry summer. It was a surprisingly delicious way to kick off my dinner at Eli's Table, and the surprises kept coming. I found myself thinking that nothing is what you'd expect at this restaurant. You might even call executive chef Scott Vasburgh a risk-taker – in a good way.
Vasburgh grew up right here in South Carolina, in Clemson to be exact, and he wasted no time climbing up the culinary ladder. But rather than delve into the typical formal training that you might expect, he decided to teach himself the ropes of cooking, with a few pointers from Roy Yamaguchi along the way.
"I got a job at one of Roy's restaurants and worked my way up," he commented. "Roy has about 30 restaurants worldwide. It was a great company to work for, and I was able to travel."
I asked Vasburgh what his primary cooking style is. This happened before my dinner, or else I would not have bothered – his eclecticism is evident in the food. Vasburgh replied that he has realized during his years in the kitchen that "people want newness and different items each day." Thus he strives to keep things interesting at Eli's with a diverse mixture of Asian, Southern and even French on the menu. And though he admitted he is partial to Asian cuisine for the "big, bold flavors," Vasburgh does not want to push his own tastes on patrons at Eli's Table; he gives them a little of everything.
"We don't want to pigeonhole the restaurant," he pointed out.
My meal started off with a cocktail, as is the custom in Charleston: the highly recommended Italian Sunrise, made with champagne, Campari, orange juice and apple juice. It was the cocktail special for that particular evening and tasted refreshing in the humid weather.
Then the watermelon gazpacho I mentioned earlier arrived at the table. I couldn't slurp the stuff down fast enough. It was an incredible, savory way to enjoy the taste of watermelon, and it was my first hint to start getting excited about the meal. I wasn't sure what to expect next, but the following appetizer was the shrimp and pancakes. Made with chai-spiced shrimp and sweet potato pancakes with pecan butter, this dish would make a terrific alternative to the "breakfast at dinner" tradition that many of us grew up with.
Eli's Table is open for all three meals of the day, getting its start as a breakfast and lunch spot and following in the footsteps of Joseph's, the popular restaurant that was previously in its location. About two years ago, Eli's Table elected to begin serving dinner as well, and the results have been fabulous. The dinner menu (which often changes) is a crowd-pleaser, with interesting appetizers and entrees to suit everyone's preferences. The night I dined in, the menu included a spiced pecan salmon; espresso rubbed beef rib-eye; pork chops; shrimp and grits; chicken Marsala; a local whitefish and more.
Vasburgh had trouble picking a favorite off the menu himself, but he named a few items that are frequently ordered: the whitefish, which he described as "a different whitefish – tonight's is Mahi – depending on what is fresh; the braised lamb, which he called "a fan favorite;" and the rib-eye, a "signature dish."
With a nod to my Mediterranean roots, I chose the braised lamb. I chose wisely; it was pretty much falling off the bone, and I discreetly set my knife to the side after realizing I didn't need it. Meanwhile, the bed of roasted acorn squash and bulgur salad was delicious.
"Good thing I'm not on a date," I thought to myself, wolfing down giant fork-fulls, much to the amusement of the staff members who frequently passed by my table to check on me. I have this thing where I like to be alone when I eat really good food. I tend to get overzealous.
After I finished, checked my teeth and dabbed my chin with the napkin, Chef Vasburgh and I talked about the culinary scene in Charleston. Though he has been with Eli's Table for a while, he's enjoyed the Holy City's food scene from a few other angles, including Tabbuli on the Market and Rutledge Cab Company on the Upper Peninsula. In fact, he helped open Rutledge Cab and admitted his particular love for launching new restaurants. He credits his time with Roy Yamaguchi's restaurants for this interest, as he was part of the "opening team" for new ventures in the company.
"I enjoy developing the menus and concepts," he said. "And evaluating the strengths."
While Vasburgh would never trade being in Charleston, which he described as "an exciting city for food culture," he did mention the fact that it remains a competitive environment.
"Even if you have the skills, it's challenging to find that restaurant willing to admit what you're worth as a chef and not pass you over," he said.
Perhaps that's the reason that tourists and savvy locals alike seek out Eli's Table for a night in downtown Charleston: The food is delicious and made with quality ingredients, yet you can leave with a full belly at a reasonable price. Personally, though, I would have to credit the service above everything else at Eli's. Throughout my entire meal, I received visits from General Manager Damon Boyd, as well as several servers and other restaurant staff who were eager to find out whether I was enjoying my stay.
My answer was a resounding "yes."
Eli's Table
129 Meeting St., Charleston SC
843-405-5115, elistable.com