Slice of Paradise
20 Sep 2014
Camens Architectural Group connects with a repeat customer to design a stunning home that takes in the lush marsh views surrounding it
By ROB YOUNG » Photos by JIM SOMERSET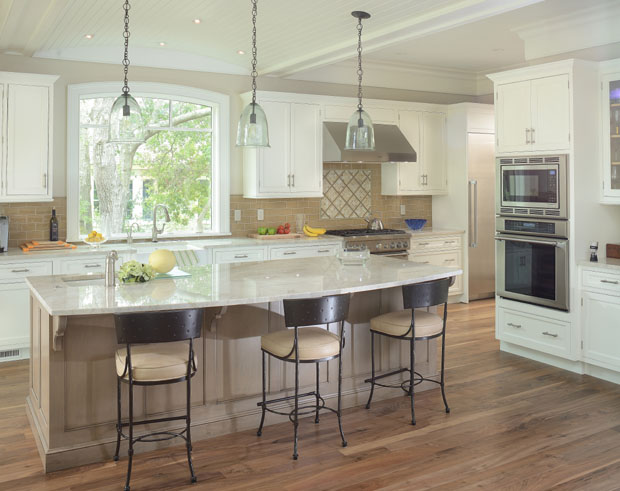 Nearly 30 years ago, Marc Camens attended a week-long seminar hosted by renowned architect Christopher Alexander. The dialogue still resonates today with Camens, coloring his approach to work, and really, his life. Alexander, a native of Vienna, Austria, has designed more than 200 buildings in California, Japan, Mexico, and other points around the globe. But he likely is best known for his architectural theories and books, one of which is titled, "A Pattern Language."
Alexander encourages towns, families and neighbors to design and build their own homes, streets and communities. He theorizes that the best, most cherished places in the world are planned and built by the people living there, not by architects. It is an empowering read – and philosophy.
"The whole topic involves egoless architecture and how you involve all the trades and builders, and design the problems on paper rather than the field," says Camens, the principal of Camens Architectural Group. "It totally impacted me on how I listen and try to create egoless architecture."
"That's just the way I practice. You can go to school and study the great masters and try to emulate their work. But here's what made me successful: I follow his principles. You have to take yourself out of it, and be a player on the team."
Those beliefs help guide the Johns Island firm, including Camens' home design for Bruce Stemerman and his late wife Pam Winthrop. "This is not one of Marc's grand homes," Stemerman says, perhaps too modestly. "This is a very livable home. It may not have all the bells and whistles of the spectacular homes that Marc has done. But it is a great home and very comfortable. To me, it is a palace!"
And it was – and is – exactly what Stemerman and his wife wanted. Stemerman's wife fell ill about 4 ½ years ago and Stemerman retired and became her fulltime caregiver two years into her illness. The pair had planned to design and construct the house for some time. "Notwithstanding her illness, we remained hopeful that she would recover, and we went ahead and built the house. Unfortunately, she passed away about three months before it was completed," he says.
Still, Stemerman can take solace in the design, and how the home represents his wife's wishes and tastes. "She had input into all the selections," he says. "They were pretty much all her choices so I'm reminded of her every day, which is very nice."
Finding Home
Stemerman and his wife frequently visited the Lowcountry over the past 20 years, traveling from their Potomac, Md., home, near Washington, D.C. Stemerman, 58, previously worked in hotel real estate and his wife was a partner at a major DC based law firm. They savored their visits to Kiawah Island. "We fell in love with the area immediately and wanted to retire here," Stemerman says. "It's a pretty amazing place. We felt very fortunate to be able to build a home here."
The pair previously owned a home on Kiawah, which they bought in 2003. It was a residence built in the early '90s, and they did a major renovation that Camens envisioned and designed. "Our prior home here was a small, one-level house. It was a very chopped up home with several small rooms," Stemerman says. "We hired Marc to redesign the house. He opened up the main living areas and put in barrel vaulted ceilings. He did a truly amazing job on the redesign and his vision and ability to transform that space earned our lasting respect."
Clearly. Stemerman's former home features an open floor plan with Brazilian cherry floors, beadboard wainscoting and oversized windows. Natural light fills the interior due to the large, picture window in the living room. The kitchen and dining area reveal great detail: custom wood cabinets, granite countertops, tile backsplash, and a center island with an additional prep sink and casual bar seating.
The master bedroom contains a roomy walk-in closet and the bathroom accommodates a granite, dual-sink vanity, Jacuzzi tub and stand-alone corner shower. Then outdoors, a private, screened-in porch and large, exterior deck provide ideal space for relaxing or entertaining. "We lived there for seven years and sold it at the height of the recession," Bruce says. "We sold it very quickly, which is really a tribute to Marc's design. It made it a very attractive home to the buyers."
Once Stemerman and his wife decided to build another home on Kiawah, Camens, of course, was an early favorite. They interviewed three firms, though the final choice was easy. "Frankly, Marc was at the top of the list, but we thought it would be helpful to talk to other architects. Marc had teamed up with Solaris (a leading builder of custom homes on Kiawah Island), and we chose that team," Stemerman says.
Simplicity and Sincerity
Remarkably, the planning and design process was simple, straightforward, seamless. "It was a piece of cake," Stemerman acknowledges. "I kid Marc that he never earned an easier design fee than the one for this house. We told him what we were looking for, and in the first sketch he nailed it. It was almost like he could read our minds."
Camen agrees: "We all just understood each other and what we wanted to accomplish." Again, Camens' philosophy drove the process. "We listen. I don't ever fight the client. I'm always on their team," he says. "So it's a lot better that way, and we're open to listening and we're responsive to people's needs. We're not trying to infuse our ideas for what it should be. We listen to what it should be and then we develop it."
Camens created a logical, smart scheme, the only real variation of merit being a floor plan reversal. "Seriously, on the first crack he pretty much had it," Stemerman says. "There was some minor tweaking that took place – adding a window here, little things like that. But the process with Marc could not have been easier."
Leaps of Faith
Stemerman and his wife could only observe the build remotely during the 11 months of construction. Still, they managed to feel connected to the work because of Camens' updates. "Marc and his team would file these weekly reports for us," Stemerman says, "where they sent us pictures and gave us a written progress report on the construction. That's a great feature of his services."
The new home was completed in December and Stemerman moved there in March. "I felt like I needed a fresh start, so that's when I moved down here fulltime," he says.
The house sits marshside on Kiawah, offering a backdrop that continuously fluctuates. "It's wonderful being on the marsh because it's a constantly changing view due to the tidal movements," Stemerman says. "There are times when the marsh becomes a lake with particularly high tides. The animals and birds and wildlife are plentiful, so it's a great spot."
The house also contains a large, gracious entry area, and an open-floor plan featuring a main living room that connects to the kitchen. The dining area, with an interesting vaulted ceiling, juts out to the deck area facing the marsh. Adjacent to that room is Stemerman's favorite space: a large screened-in porch with a herringbone brick floor and fireplace, where he retires to smoke an occasional cigar.
Each of the four bedrooms has its own bathroom, with the downstairs master featuring two walk-in closets. Guests enjoy the home's upstairs gathering area with a small, kitchen facility. "We wanted that room to be special," Stemerman says. "It has a peaked ceiling and beautiful windows that overlook the marsh. The views are terrific from that room and Marc designed the windows to take full advantage of them."
And the home is more, too. It is a lasting testament to collaboration, consideration and devotion. "There were a lot of leaps of faith. You can see these homes on a piece of paper or drawing, but until you see it live, and in person, you never quite know how it's going to turn out," Stemerman says. "Frankly, we were distracted by my wife's illness so we tended not to focus much on the details. But in the end, that's one of the key things we were so happy with and pleasantly surprised by. Marc's attention to detail and talents really comes through in the final details. The home has exceeded all my expectations; it is my slice of paradise on Kiawah."
Architect: Camens Architectural Group, 843-768-3800. camensarchitecturalgroup.com