Emotional Endeavor
05 Jul 2017
Architectural design group brings dreams to life
By LINDSAY STREET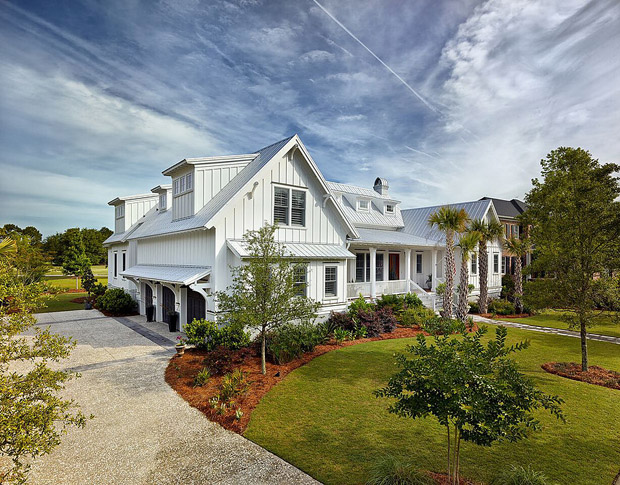 On the main road through Sullivan's Island, next to Poe's restaurant, there sits an old art gallery, renovated to accommodate a team of professionals. If owning a home is the American dream, then these people are the dream makers.
Sandlapper Design Group began in 2010 under the umbrella of Herlong & Associates, a full-service architecture group, and was formed as a result of a market need for specific architectural and design services using time sensitive techniques.
If Herlong is a set four-course meal, then Sandlapper is the a la carte meal. Owner Jim Henshaw said Sandlapper offers design services dependent on the needs of the client. "All of our projects require unique and creative design solutions, so we work with clients and builders to tailor services and design to budget and schedules."
When the company first began, the focus was largely on renovations. Since that time, those projects are still coming, but the company has received more interest in new home builds and now, light commercial. That project list keeps growing. The company is on track to work on more projects than in 2016, which was its biggest year yet, according to the company.
Henshaw said the growing company usually gains new clients via referrals by previous clients or homebuilders.
Typical projects range from 2,500 to 3,500 square feet for new residential homes, and up to that square footage for renovations. Henshaw said the company's clients range from first-time homeowners to clients building their third home for vacations. The homes are located in Isle of Palms, Sullivan's Island, Mount Pleasant, Daniel Island, Johns Island and downtown Charleston.
"I like the fact we have a lot of different project types that come with their own challenges and owners with different needs," Henshaw said. "Every (project) is different, because every one of them has a client that has been thinking about their house for the last year, or the last 10 years. It's personal. It's such an emotional endeavor."
Though no project is the same, Henshaw said there are guiding principles to every design.
"First, we have to listen to what the owner's goals are for the project and what their budget is for the project. That lays out the parameters," Henshaw said.
What makes Sandlapper Design different?
"We're really careful about the designs we do," Henshaw said. "We think about how these homes will live and how comfortable they will be … We know how to create a comfortable home."
That means focusing on transitions between spaces by making them easy and logical.
Another difference-maker is resources. Between their three companies, the team has a comprehensive resource bank, which helps the team of architects and designers stay nimble when it comes to different project types and problem solving.
"Every project is different but since we do have the resources within the umbrella of companies, every project gets the attention of a number of different people," Henshaw said. "We have a team of architects here and interior staff that are comfortable moving from different projects and different budgets."
Sandlapper works with the clients' desires for the project.
"The openness is a big trend — having an open floor plan, not many hallways in the plan. Light: it's what we constantly focus on," Henshaw said. "Light and breezes and things like that are always a design factor."
Many Sandlapper clients have properties with scenic views and ocean breezes, which help guide design.
"We specialize in homes that have unique settings and views that we can design the house around," Henshaw said. "A lot of the homes we deal with are waterfront homes with a nice setting, and we have the opportunity to incorporate natural light, views and breezes."
Henshaw said that many clients are looking at smaller designs for a number of reasons. The first is cost, but clients also seek smaller homes because of lot size and because they realize that they don't necessarily need a big space — just a well-designed space.
"A well-designed space is comfortable without having to create a big space," Henshaw said.
Having a well-designed space goes for renovations, too.
"Most of our renovations start with the kitchen. Either it's outdated or they would like to open it up to the living space," Henshaw said. "It starts with the kitchen and it moves from there to the master suite."
From there, Sandlapper Design improves outdoor living spaces and the transition from outside to inside.
"Many of the projects we work on connect the kitchen and living space to the outside space," Henshaw said. "That's where people live." sandlapperdesigngroup.com