English Charm
30 Jan 2013
The lure of the Lowcountry coast and the charisma of Kiawah help set the stage for Anne and Lee Cotton's uniquely designed home.
By ROB YOUNG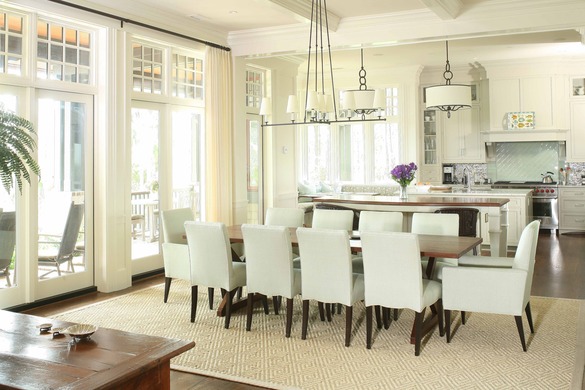 Koenig Construction
---
---
The charisma of Cassique owes a great deal to its natural vistas, as well as to its planned aesthetic. Undulating dunes, golden Lowcountry marshlands and saltwater channels dot the landscape, where dwellings reminiscent of the English Arts and Crafts movement also abide. Together, those traits help Cassique achieve a unique footprint, one in which drew New Englanders Lee and Anne Cotton to the development.
"We chose to live within the constraints of the Cassique building envelope," Lee Cotton says. "We took the English style – the style that Cassique desires – but in terms of colors and shingles, we were able to apply our own ideas and design, and blend it successfully with what the Cassique architectural review board wanted."
True, the Cassique fabric may be for a certain style, but it also demands a skilled team comprised of builders and architects to work within that framework to create an exceptional product. In architect Wayne Windham, and Koenig Construction, a family-run business led by founder Steven J. Koenig and son Scott Koenig, the Cottons found the perfect partnership. "Our relationship helped to bring in and finish the project at the appropriate level," Cotton says. "We trusted them, and if you trust somebody in construction, that's the most important thing."
Company Bedrock
The senior Koenig started his business in Charleston, West Virginia in 1978, after working as an engineer for Union Carbide Corporation. "He had had enough of the corporate world, and decided to put on a nail-apron and start building. He knew he could make a go of it," Scott says of his father. "It didn't take long for him to realize that he could be successful at something he had always loved ― building."
Then, seven years later, he moved shop to Charleston, S.C. West Virginia's coal-based economy had begun to falter as energy prices declined, which spiked unemployment. The Koenig family was familiar with Kiawah, having vacationed in and around the island since the 1970s. "We went up and down the coast from Virginia to Florida looking for a place to live," Steve says. "We couldn't find a location with more potential than the Charleston area – and Kiawah Island in particular."
Steve started his business by building spec homes, which are houses produced on a speculative basis. Builders simply hope someone will come along and want to buy. Happily, the business model lasted only a short time. "Pretty soon people started wanting him to build a home for them," Scott says. Today, they still do.
The Cassique Build
The Cottons' 5-bedroom, 5½-bathroom, 5,000-square foot home rests in a private enclave named for the Kiawah Indian chieftains who once used these lands as hunting grounds. Set at the crossing of the Kiawah River and Atlantic Ocean, the Cottons chose Cassique after visiting friends up and down the Eastern seaboard. Ultimately, the beauty of Kiawah and Johns islands, Charleston, and the Lowcountry in general, won them over.
"We really liked the airy, open feeling of Cassique. We bought a lot here almost three years ago, mostly because we like the southwest aspect of the property, which has a nice breeze across the golf course and marsh," Cotton says.
Property owners enjoy access to all the Kiawah Island Clubs' amenities, as the makeup of the development reflects the Arts and Crafts style of the early 19th century. The approach stresses craftsmanship, the notions of smart design connected to a smart society. The use of natural materials, balance, the harmonization and contrast in coloring, the play of artificial and natural lighting, and spatial dimensions between features form the cornerstones of the movement.
The build centered on a team approach. During construction Koenig worked closely with Windham. "Much of the detail that goes into the home is developed by the architect," Scott says. "Of course, as builders, we have experience implementing the details people love. But the architects help bring out those details from the client." It's a sturdy bond. Koenig and Windham have built approximately 35 to 40 homes together. "We've had a long history," Windham says. "They're good builders who try to do things the right way. It shows in their quality."
Windham actually ended up introducing the Cottons to several home builders, and the couple interviewed a number of companies prior to settling on Koenig. "Each of the builders had their strengths. When we were done interviewing, my wife and I chose Koenig for a few reasons," Cotton says. "They're a good organization with good people, and they had the proper technology to keep us informed of what was happening during the project. We liked how they treated their subcontractors and their philosophy for paying subs, and we liked how they controlled the project."
For instance, the Koenigs estimated the cost during the design phase, giving the Cottons a preliminary cost figure. "When we were done, we built a house very close to the number," Cotton says. "But we didn't pick them for the number. We picked them for their skill set." Additionally, Koenig initially allotted 12 to 14 months for construction. But the schedule needed tightening soon after the start. The Cottons had sold their previous house, and needed to move to their Cassique home more quickly. Koenig worked at an efficient, accelerated pace to fulfill their clients' request, as the build lasted only 11 months. "They're extremely honest and very straightforward," Cotton says of Koenig. "There were no surprises."
And in the end, the Cottons got exactly what they wanted, particularly in terms of colors, space and light. A glass wall alongside the home's rear provides an unimpeded view of Cassique's 15th-hole fairway, where a lush marsh sits near the Kiawah River and Captain Sam's Inlet. "It's a wide open space that contains a lot of air and light, but on the outside it still fits perfectly within the Cassique model."
Distinctive Elements
The home abounds with unique features, including a wine cellar/wet bar area, which turned into a fun space for entertaining. The kitchen, living room and dining area adjoin as well to create a large, welcoming area. "We love the fact that if you're cooking, everyone can watch and everyone can be in one place," Lee Cotton says. "Everyone is together as opposed to being seated in a formal dining room."
The entry way forms a sort of terrace, the stairway leading to the home and a living area characterized by butternut wood. A plunge pool and handsome, hand-carved, bas-relief fountain help dress the grounds, while a screened porch with built-in fireplace offers ultimate comfort. "It's such a luxury," Cotton says.
A guest cottage also doubles as a separate garage, the bedrooms and kitchenette atop the space. "The garage itself is finished better than some homes," Scott jokes. "It has beautifully finished concrete floors, and stucco and cedar walls throughout."
Building Relationships
To further the client relationship, Koenig Construction also has a property management firm called At Your Service. Koenig Construction's motto, "We build relationships," lets homeowners know that Koenig is in for the long term, and At Your Service affords them a way to stand behind their construction for years to come. "Quite often, as a construction company, it's hard to efficiently help our clients out in the future with maintenance and repairs," Scott says. "But At Your Service can. We found a partner to help with day-to-day, and Dad and I assist in making sure that our clients enjoy a concierge feel. We handle renovations, remodeling, and maintenance ―really anything our clients need."
It agrees with the Koenigs' overall way of thinking.
"Many say that the custom home building business can be stressful at times," Scott says, "but to us, it is rewarding. First, there is a great feeling of accomplishment in what we have physically built each time. More importantly, however, Dad and I cherish the bonds we make with our clients. Ultimately, their happiness is our greatest reward." For more information: 843-768-0842, www.koenigconstruction.com.