Say Yes to the Dress
30 Jan 2013
Finding the perfect wedding dress can be a daunting task. Here's some expert advice on what's trending and how to make this journey fun and magical.
By COLLEEN TROY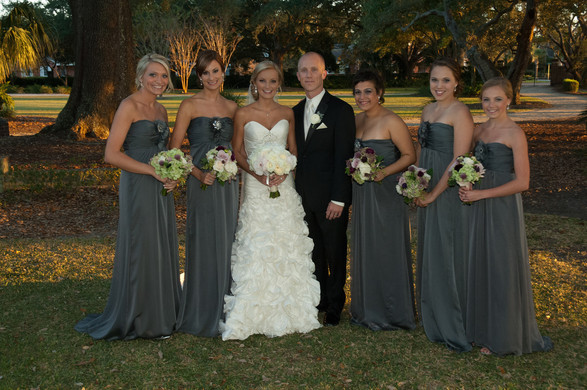 As is true for so many businesses, the Gown Boutique was born of inspiration.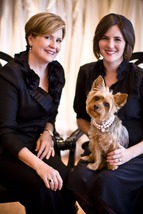 While planning a Charleston wedding with her daughter, Krista (now Roach), Terri Espy visited dress shops in several states. "And we just kept leaving disappointed," she says, recounting that limited selections, low-level customer service, and a general feeling of being overwhelmed conspired to leave them empty handed.
"It was stressful, and not fun," she said.
A lifelong entrepreneur who was looking for a business that she could bring to Charleston (where Krista and fiancé planned to locate), she recalls her and her daughter were sitting in their car after one such meeting, looked at each other and at the same moment said "oh my gosh, it's a bridal business."
The actual birth of the boutique on Daniel Island took another 2.5 years. When they opened in 2006 as a by-appointment bridal boutique, the Gown Boutique catered to local brides and to young women planning destination weddings in Charleston. In their first two years, the pair learned "a lot" about regional preferences, price points and, unexpectedly, how to manage during a recession.
But they survived the initial start up phase, thrived despite the Great Recession, and managed to expand recently to a larger space in the Belle Hall shopping center in Mount Pleasant.
Much of their success, notes Terri and her clientele, comes down to customer service; to really knowing what the client is looking for in what's both said and unsaid. So what are the most fashionable brides wearing these days?
» Charleston brides tend to be a bit more conservative than their peers in LA or New York. "That glitz and glamour won't always work in the historic homes and churches here."
» The sleeveless look is still big, but more brides are opting for some sort of neckline. Also big: very beautifully detailed backs. And good news for most body types: the mermaid style is dead, but there's still lots of variation between fitted and ball gown styles.
» The A-ha moment is a myth. Fans of "Say Yes to the Dress" are familiar with that moment the bride catches sight of her soul dress. Not so fast, says Terri, who notes that girls often become so overwhelmed by the sea of white they can no longer truly see the dresses. "So many times today, there are too many choices before them, and it makes choosing difficult. Plus, once they choose a dress, they are committed. The shopping stops. That can be hard."
Terri's team of trained stylists and seamstresses helps with that transition. When the shopping ends, the fun begins: alterations, along with possibly outfitting her entire retinue, as well as her mom and, now and again, mother in law.
With careful attention to color, fabric, body types, seasonality and more, The Gown Boutique helps bridal parties look picture perfect.
The Bride
In the jargon of Hollywood, you might say Jordan Smith and Jordan Graffis "met cute."
At a mutual friend's party, the two hit it off immediately and chatted for an hour before he asked her name. On finding they shared the same moniker, she had to laugh: "I'd spent my life avoiding men named Jordan because I thought it would be too weird to be a couple of Jordans."
But fate intervened and, last September, the couple married at Lowndes Grove in a lovely ceremony and reception designed by Luke Wilson. Months later, Mrs. Graffis can scarcely conceal her happiness with the entire event. "It was just breathtaking."
Among the banner elements: her dress, which was chosen for her with loving care by The Gown Boutique – and her dad!
Jordan's search began with some solo store visits. But she soon became frustrated "with this sea of white. After the fourth dress, they all looked the same." She called her mom, and invited her down from West Virginia to help, finishing with: "And bring Dad."
Meeting for the appointment, Jordan and her parents were warmly welcomed. Terri reviewed some of the details Jordan had sent by email ahead of time, to really understand her style preferences, her event design, and more. "I'm pretty petite, and the only thing I knew for sure, is I didn't want to be all dress, no Jordan."
No problem.
Three dresses into it, and Jordan was still waiting for that magic moment when she "just knew" she'd found the right dress. But while she didn't experience the thunderbolt, somebody did. Turning around in dress #4, she caught her dad's gaze; his eyes were tearing up. "My dad knew it was the one! He said 'that's it, you have to get that dress.'"
Turns out, Daddy does know best. Once the dress had arrived in Jordan's size, and been fitted to her figure, it was clear that she said yes to exactly the right dress. Then it was time to work on her bridal party, fun, open-minded girls who were game for anything. The only rub: they all lived out of town. "Nobody was here, and I was thinking maybe they could all wear different dresses in the same color, just to make it easy."
Terri and her team kicked in then, helping Jordan pre-sage her wedding photos and see that a riot of dress styles was not going to capture the look she desired. So they collected photos and information from the attendants in West Virginia, Florida and California, and did the seemingly impossible: found one dress that looked beautiful on everyone.
Even Jordan's mom got in the spirit, with a long, very formal dress chosen by Terri. Set with three-quarter length sleeves "and a little bling."
But the boutique's service didn't end there; Terri also worked closely with Wilson, the planner, to coordinate colors and fabrics and to be sure there was absolute integration throughout the ceremony and reception.
"I loved, loved, loved my wedding," says Jordan, happily settling into her married life in Charleston. "I have so many friends getting married now and I just tell them – find the right people to work with and live in the moment. It will be over before you know it!" For more information, contact 843-856-2682, www.gownboutiqueofcharleston.com.