Gateway to Norway
07 May 2016
Beautiful, exotic, friendly and historic – we've got to put this trip on our bucket list.
By KATIE MCELVEEN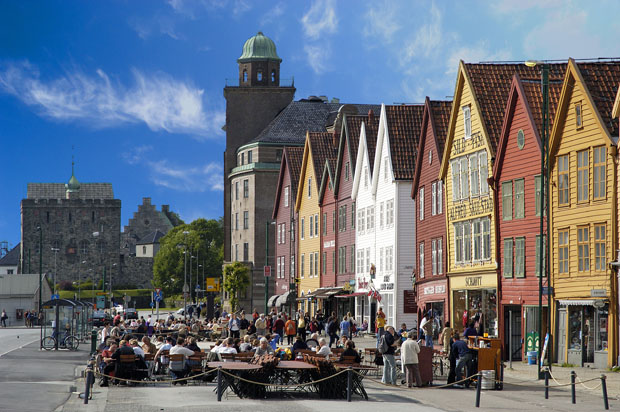 If this is your year to venture to an exotic locale, here's one you may not have considered: Norway. But as unique destinations go – those with native foods to try, interesting geography to explore, traditional folkways to observe and a remarkably confusing language – Norway hits all the marks. It's also safe, clean and stunningly gorgeous.
I knew Norway would offer a number of distinctive experiences, but it didn't fall into the exotic category until I arrived at Cornelius, a restaurant that sits on an island within Bergen's vast archipelago and serves what the local fishermen pull from the sea. Approaching an employee setting up an outdoor raw bar, I noticed the sea urchin and asked where it had been caught. "Right out there," he replied, grabbing it and, in a single motion, neatly slicing off its top. Handing me a tiny spoon, he offered up his treasure. "This is the best way to eat it." Trying to keep the horror off my face, I steeled myself and dove in. Turns out he was right. Briny but sweet, the urchin's roe gave the tasty morsel more dimension than an oyster, but with all the tenderness. The rest of the meal—fist-sized local "horse" mussels with salsify, cod bathed in hollandaise perked up with a whisper of chipotle pepper – was equally delicious, a mix of the familiar and the unusual. It also set the stage for a week of unique tastes like pucker-inducing cloudberries and sea buckthorn berries, fish of every ilk, king crab pulled straight from the sea, reindeer and strong local cheeses.
Bergen's history as an 11th-century trading port was evident as I strolled around the wharf. The lively fish market, where you can purchase smoked Minke whale meat, which Norwegians have eaten since the 9th century, smoked salmon literally dripping with Omega-3's and giant tubes of caviar, has operated for centuries; across the harbor, wooden boats afloat in front of a row of colorfully painted clapboard buildings from the 1700's transform the scene into a perfect postcard. Throughout the city, buildings, doorways, benches and decorative pieces are often decorated with hand-painted flowers, fanciful scrolls and other patterns in an 18th-century tradition called rosemaling. Common in Norway and neighboring Sweden, the craft was influenced by the Baroque and Rococo styles of the era.
Bergen is the gateway to Norway's fjords, spectacular seas that cut deeply into the land and are, by definition, longer than they are wide. Many countries have fjords, including Canada, the US, Chile and New Zealand; Norway is literally riddled with the glacial bays, many of which are some of the most beautiful in the world. Although day tours are available, I chose to explore the region on a six-day journey on Hurtigruten, the venerable Norwegian cruise line that's been plying the waters of the fjords for more than 120 years. That choice gave me the opportunity to not just see the fjords, but to visit the towns and villages along the ocean's edge.
With its waterfall-lined 1,000-foot-tall cliffs and sapphire-blue water, UNESCO-protected Geirangerfjord is a dramatic first look at the fjords. It's also an easy jumping-off point for eight of Norway's National Tourist Routes, a network of 18 roadways, each set with architecturally-stunning tourist overlooks, created to showcase the country's natural beauty. I soon found myself on the Trollstigen, or Troll's Ladder, which started on a mountain top and, 11 hairpin turns into a sheer chasm later, ended in an alpine valley filled with rushing rivers and emerald-green meadows. There, in the town of Valldal, I tasted strawberries ripened to candy sweetness in the 20-or-so hours of sunlight the region receives each day during the summer. We also drove past traditional Norwegian dwellings, many from the 18th and 19th centuries, and notable for roofs made of sod that are trimmed by goats that are hoisted onto the rooftop for an hour or two each week.
As our week continued and the ship moved further north, the landscape changed and the ocean opened up, offering views of distant isles, rocky shorelines and tiny farms and fishing villages. Passing the golden globe that marks the entrance into Arctic Circle at dawn – I set my alarm to be sure not to miss it – was a spectacle that included a visit by King Neptune and a shot of aquavit, the infamous, but, I discovered, misunderstood Norwegian spirit that, like tequila, is produced in a wide variety of qualities.
Norway's coastal towns were striking in their individuality. In Trondheim, which was founded in 997, I explored the massive 14th-century Romaneque Nidaros Cathedral, which was built over the tomb of St. Olav, a Viking king who became Norway's patron saint. Filled with gorgeous stained glass windows and one of the largest organs in Europe, it's also famous for the face of Bob Dylan, which a mischievous craftsman carved onto the head of the statue of Archangel Michael during a renovation. The arctic capital of Tromso, the largest city within the Arctic Circle, is filled with museums and excursions detailing the city's past as a center for arctic explorers and hunters; during the winter, there are dog sled rides through the Tromso Wilderness Center on Kvaloya Island.
Not many places can lay claim to being on the top of the world, but Norway can: Europe's northernmost point lies within Norway on a plateau that rises nearly 1,000 feet above the sea and is marked, like the Arctic Circle, with a golden globe. This northernmost area is home to the Sami, Norway's indigenous residents. Those who live in this part of Norway speak Sami, a language that's related to Finnish and Hungarian. They dress in traditional knitted jackets and often make their living as reindeer herders.
I spent my last days in Norway exploring Oslo, an architectural hub where Medieval castles and ancient fortresses sit blocks from modern marvels, including the Astrup Fearnley Museum, which houses a collection of contemporary art within a Renzo Piano-designed building, the dramatic Oslo Opera House and Vulkan, an urban development that's home to the city's new artisan-driven food hall. I stayed at the Thief, an art-filled hotel – there are original works in each room – that opened in early 2013. In addition to a rooftop lounge and an elegantly groovy lobby bar, the hotel is filled with thoughtful touches that include a space outside the closet to hang the next day's outfit, electrical outlets galore, private balconies and, as part of the nightly turndown service, a thermos of hot water, tea bags and brownies. visitbergen.com