European Philosophy
04 Mar 2016
Kingswood Custom Homes builds a masterfully planned Kiawah Island home using time-honored English ideals, including a shared process among designers, artisans and builders
By ROB YOUNG » Photos by JIM SOMERSET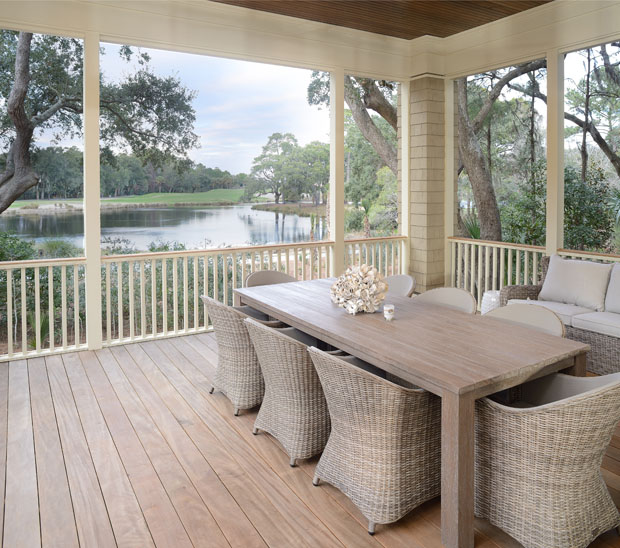 From Charlotte NC to Charleston SC, Kingswood Custom Homes has stamped its reputation, showing a distinct capacity for craftsmanship and vision. These traits attracted Bob and Rose Cohen, as the couple sought a home builder for their new Kiawah Island residence. The end result was classic Kingswood: a 5,240 square foot home comprised of 4 bedrooms and 5 bathrooms, the dwelling structurally sound, the design imminently appealing.
"When we met with Kingswood, the whole process was well organized, and it was relatively straightforward," Bob says. "We had a very effective team, where it was easy to make modifications or suggestions and resolve issues."
Indoor Outdoor Living
Bob works in commercial real estate development in Washington, D.C., while Rose works in financial banking. And as a real estate professional, Bob was keenly attuned to schedule and budget, a pair of Kingswood's specialties. "When we were looking around, the broker had recommended several different builders, and we liked that Kingswood had built for Kiawah Development Partners," he says. "That told me they knew how to build to schedule and budget, as opposed to some custom home builders who build three or four homes a year."
Kingswood, as led by managing partner Rob Hutzler, helped develop a complete package for the Cohens. In this instance, the distance may have deepened the Cohens' and Kingswood's relationship. "They made several visits down from D.C. to attend team meetings at our office on Kiawah," Hutzler says. "We would hold working sessions and spend a lot of time together to develop that connection. If (Bob) needed something, he knew that he could call me and get and honest answer. The process ended up working very well."
Hutzler worked with architect Chad McDonald and interior designer Sabrina Williams, as the Cohens keyed in on two crucial features. One, the couple wanted an open-flow floor plan for the kitchen. Secondly, the great room needed to take advantage of the Cohens' view: a snapshot of the live oaks overlooking Kiawah Island Club's River Course.
The property, itself, proved challenging. "The view was critical," Bob says. "There were actually a few maple trees near the golf course and property that required cutting to permit an unobstructed view. We made the contract contingent on removing the trees. But we also had to retain five live oak trees on the property."
Now the home endures as a fine example of ways to blend indoor and outdoor living space. It is recognizable from the moment guests enter the home through the front, or exit on the back porch. "The house is set in the dead center of the lot," Hutzler says, "and as soon as you walk in the home, you can see how it was designed and built with the live oaks in mind. The second-story windows help emphasize the landscape. You cannot miss it. Even at night, you can see it."
The home retains an extraordinarily welcoming feel, as the ceilings extend 11 feet in height, and the coffering adds soft appeal. "At first we thought it might be too high, but it worked out well," Bob says. "The coffering made it feel much warmer. Then in the kitchen, we always wanted a dining room that could house a round table rather than a rectangular one. We just love the openness of it all."
And again, there's the view, Hutzler says. "The architect did a great job of opening up the home to the outside from the kitchen as well. A large bank of windows above the sink allows for great viewing. The room is open to casual dining and the custom cabinet layout design helps anchor the kitchen," he says.
'The Old-Fashioned Way'
For Kingswood, the project is another of its many successes. Englishman Peter Leeke founded the company when his family migrated to the United States in 1996. While living in England, Leeke built an impressive resume, constructing several award-winning homes in and around London. He additionally worked alongside the British government, partnering to build apartments and town houses for handicapped and special needs residents. His work today channels time-honored English ideals, including a shared, creative process among designers, artisans and builders.
Leeke also met his wife, Louise, in London, as she worked alongside her family in the building industry. They were married in a Saxon church made in 1610, the details including a hand-cast date stone set within the walls. Leeke has helped to further the tradition, reproducing and placing a date stone in each home built by Kingswood.
Once the Leeks arrived in America, they began their business by building homes in the Charlotte area, including custom builds in neighborhoods such as The Sanctuary, The Point, Springfield, The Club at Longview, and The Peninsula. In Charlotte, Kingswood also took on projects for professional football players such as Carolina Panthers tight end Greg Olsen and former Panthers receiver Muhsin "Moose" Muhammed.
For Olsen and his family, renovation accounted for a five-bedroom home, including well-appointed rooms suitable for the 6-foot-6, 250-pound player, as well as a home theater, playroom and space for a nanny. It centered on several main areas, such as a redesign to the master bedroom; resurfacing of all wooden surfaces; enlarging the dining area; and creating more appealing spaces for the fireplaces and kitchen. Muhammed's home was built in a Charlotte neighborhood called The Estates at Soen, a 40-acre subdivision with luxury lots that maintain a European look and feel. Among its features: a sophisticated entrance; guardhouse and bridges; three lakes; and two miles of nature trails.
The company and its staff have been presented several English and American awards, including Best Speculative Design Award by The Daily Mail; Best Exterior by the Home Builders Association of Charlotte; and Best in Show from the Lake Norman Home Builders Association.

Then in 2009, Kingswood entered the Charleston market. Today, the range of designs mastered by Kingswood has grown to include 19th century Colonial, French modern, modern Expressionist, organic Voysey, English transitional, French Riviera; 1920s Hollywood; English Arts & Crafts; coastal Nantucket; and Lowcountry marshland. "The various styles keep us rejuvenated," Hutzler says. "We want to build diverse types of homes. It keeps the process exciting and fresh."
But their values have largely stayed the same. "One of the biggest things that attracted me to Peter and the Kingswood name were his European philosophies," Hutzler says. "I had been involved in Cassique on Kiawah, which is an English Arts and Crafts development. I loved the architecture, and it was one of the things that I loved about Kingswood. Peter was attuned to European ways of construction, and building objects that can last and be passed down from generation to generation. In America, we're disposable consumers who buy inexpensive things. But Kingswood really wanted to set itself apart, and build homes the old-fashioned way."
Process Makes Perfect
In fact, the Cohens' build represents "the old-fashioned way" Kingswood prefers, as the couple plans to use the home as a vacation retreat now, before perhaps eventually retiring there. "We were able to manage the front end of it, and worked hard so that the budget was not exceeded," Hutzler says. "As a developer, Bob knew the ends and outs. And our in-house designer worked well with the Cohens' designer to price things up front, and they were able to feel assured they were going to get what they wanted. It required extra time up front, but really saved time throughout the process."
Coordination was imperative, as Kingswood has pieced together the perfect lineup. "We are an extreme team. We don't have just standout individuals," Hutzler says. "From the beginning, we brought in an estimator, a design coordinator and builders to all work on this project. Then when the home building starts, it was just a natural evolution."
Resources
Builder: Kingswood Custom Homes, 843-801-1600, kingswoodhomes.com
Architect: McDonald Architects, 843-576-9257, mcdonaldarchitects.com
Interior Design: Sabrina Williams, 203-858-3128, beauregarddesign.net