Functional Fashion
04 Mar 2016
The beauty of one-stop shopping for affordable women's and girl's clothing

By TERI ERRICO
Photos by NONI BRUECKNER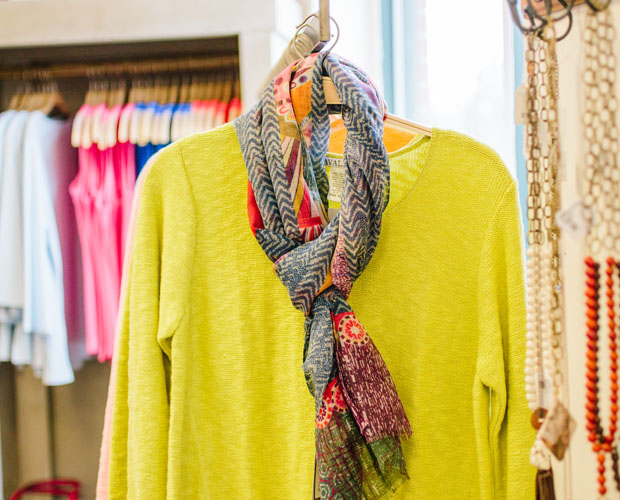 Affordables Apparel is a local women's boutique, beloved by daughters and mothers as their one-stop shop with four locations here in the Charleston area. You would never guess, however, that it is owned and run by former NASCAR driver, Lyndon Amick, and his wife Melanie—but it is, and it's Lyndon's favorite professional venture yet!
Lyndon's journey began in 2012 with an intriguing phone call. "A friend of mine called and said there was a tremendous business opportunity. I asked him what it was and he said it was retail," Lyndon recalls. Having no retail experience, Lyndon asked what type specifically. "He said women's clothing and I just laughed!" It was as far from what Lyndon has done professionally in the past, but through prayer and guidance, he and his wife decided to take the leap. The store, previously owned by The Epsteins, was a pre-existing business, having been started 45 years prior. Following Lyndon's acquiring, Affordables now has eight locations, expanding from downtown King Street, Mt. Pleasant, South Windermere and Pawley's Island into downtown Summerville, Aiken, Hilton Head Island and Savannah.
Today Lyndon runs a majority of the business, with a little help from The Epsteins and a lot of input from his buyer, Nora Innis. In fact, they all just returned from Atlanta together to pick out the store's summer and fall lines. Of his partner, his wife, Lyndon notes, "My wife is the number one model," and adds that while she has her hands full raising their three boys and one daughter, as they continue to get older, Melanie gets more and more involved in the business. Lyndon loves the idea, though, of his daughter and wife shopping together at Affordables someday, as that concept is what sold him on taking over the stores in the first place.
Back when the business proposition came to him, Lyndon and his wife did their due diligence by heading to King Street to check out the shop. "I randomly walked in and asked one of the associates, 'What is Affordables?' And without hesitation, she said, 'Affordables is a place where a mom and daughter can come, and they can find something for each one of them.' That hit me. That was perfect. That's what I want to have. I have a little girl now and that's the kind of place I want to have."
There is so much a woman can find at Affordables, which mainly targets customers age 30 and older. Shop for jewelry, bags, dresses, or an outfit from the store's top-selling line, Clara Sun. The lifestyle brand is incredibly popular with local customers for its comfort and quality, its mix and match potential, and because it's easy to pack and re-wear on trips.
"We carry the same clothes that are in a lot of other boutiques, we just don't charge as much," says Lyndon, who adds that business is based on repeat customers having such a great experience they come back again and again. "Most of our customers have become friends, our associates have developed relationships with them, know them by name, and know their likes and dislikes."
The fact that The Epsteins are still involved, makes owning the business even more of a family-feel for Lyndon. "The fact that they still want to be involved, it's allowed Melanie and I to perpetuate their legacy and what they created," Lyndon says. But if you told him years ago this is where his life would have lead, Lyndon never would have believed you.
"It's crazy," he acknowledges. Having spent most of his young life driving race cars for NASCAR, Lyndon then joined the military for eight years and was deployed. He has also worked for his family's chicken business and helped a friend in real estate. "I'm a burly looking guy, who likes to hunt and fish. I have three boys and we like to do stuff outside, but I have loved the retail business." From the customers who have become friends, to the 55 employees who have become family, Lyndon says, "We have great people who work for us. It just has been a lot of fun and you can't imagine how much I've learned about the clothing business!" The owner adds with a laugh, "I've had a colorful past for sure, but this has been the most fun and the most enjoyable thing I've ever done." affordablesapparel.com