Looking to fill your social calendar? We've got the rundown on how to stay entertained this holiday season.
Due to uncertainty still surrounding COVD-19 please check ahead as events are subject to change.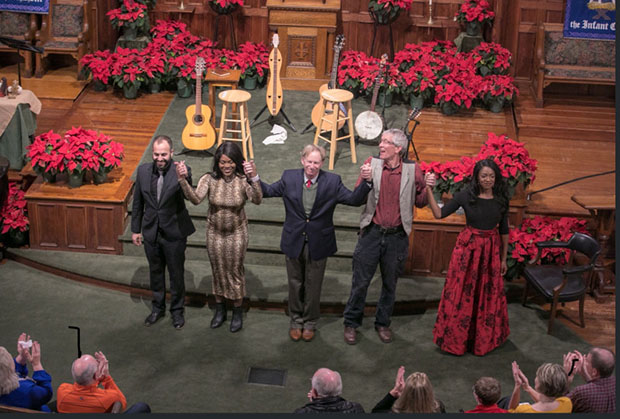 The Sound of Charleston—Special Holiday Edition
Nov. 28; Dec 4, 11, 18, 23, 26, 30
The Sound of Charleston is the city's longest running musical production. In this very special Holiday Edition, you will hear music of our history from gospel to Gershwin, music of the Civil War, jazz and light classics. Holiday musical selections are included and light refreshments are served after each performance. The concerts are at historic Circular Congregational Church, festively decorated for Christmas, and feature some of Charleston's finest musical artists, including Mayor John Tecklenburg, Ann Caldwell, Carl Bright & Family, Shanelle Woods, and many more. All performances are at 7pm. Attendance will be limited, social distancing will be practiced. 150 Meeting Street. soundofcharleston.com
New Dog Park opens at North Charleston Wannamaker County Park
Nov 1
A new six-acre dog park recently opened at Wannamaker County Park in North Charleston. The new dog park encompasses a large area for play and parking while offering several new amenities for dogs and their owners. A highlight is the "Splash Paw," a splash pad area for dogs only. The dog park also features two large meadows for off-leash play areas for large and small dogs, along with a dog washing station, seating and shade structures. Admission to the dog park is included with regular daily admission to Wannamaker County Park, which is $2 per person or free with the Gold or Individual Pass. ccprc.com/dogparks.
Early Morning Bird Walks
Wednesdays and Saturdays in November
Join us on one or more of our regular bird walks at the Caw Caw Interpretive Center. Our trek through many distinct habitats will allow us to view and discuss a variety of birds, butterflies, and other organisms. Every Wednesday and Saturday, 8:30 a.m.-10:30 a.m. Registration is not required. Participants are encouraged to bring own binoculars.Max. 10 participants. Fee: $9; free for Gold Pass holders. Ages: All, a paid chaperone is required for participants ages 15 and under. Ccprc.com. 5200 Savannah Hwy, Ravenel.
Charleston to Charleston Literary Festival Goes Virtual
Nov 6-15
The Charleston to Charleston Literary Festival is going virtual this year and is free to the public. The festival brings together top-tiered, international authors in unexpected and inspiring ways. Guests can hear Maggie O'Farrell on Shakespeare's England, Nobel Prize winner Joseph Stiglitz discussing the truth about the economy and Monty Don discussing gardening and tips for the mind with psychologist Sue Stuart-Smith. There will be a full schedule of events over ten days with two sessions per day at 11 a.m. and 5 p.m., and sessions each Sunday at 2 p.m. and 5 p.m. Registration and the full schedule of events guests can choose from can be found at charlestontocharleston.com.
Chili 5K Trail Run/Walk at Laurel Hill County Park
Nov 7
The Charleston County Park and Recreation Commission is again hosting the Chili 5K trail run/walk at Laurel Hill County Park in Mt. Pleasant on Saturday, Nov. 7. Beginning at 9 a.m., runners and walkers will navigate the scenic trails throughout its 745 acres, including unpaved trails that traverse a moss-draped oak alley, large open meadows, a small lake and gorgeous scenery. Advance registration is required and is available at the CCPRC's official website for $32. Online registration ends at 11:59 p.m. on Oct. 28. On-site registration will not be available. There are several safe distancing guidelines in place. Visit CharlestonCountyParks.com for a full list.
Pickin' in the Park
Nov 7
Charleston County Parks is hosting a safe social distant event, a drive-in bluegrass concert called Pickin' in the Park. Guests are invited to the Johns Island County Park for a full afternoon of live bluegrass from from three local bands: Gravel Road, Southern Flavor Bluegrass Band and Pluff Mud String Band. Gates will open at 12 p.m. and music will be held from 1-4 p.m. Tickets are $40 per vehicle (of up to 4 people) and must be purchased in advance. Vehicles will be parked in a designated parking space upon arrival. Guests are encouraged to bring chairs, blankets and tables to be used at their parking space. Tents are not permitted. Food and craft vendors will be on site and alcohol will also be available for purchase. Leashed dogs are welcome. Masks are required during the event unless eating or drinking. 843-795-4386 or visit CharlestonCountyParks.com.
Starlight Yoga
Nov 9 & 10
Get your holiday spirit flowing at the Holiday Festival of Lights with spectacular lakeside views of the lights. There are two chances to experience the flow and glow with us at the holiday Starlight Yoga sessions. 6:30-7:30 p.m. Lakeside at James Island County Park. Advance registration: $8. Online registration ends at 2 p.m. on the day of the event. Onsite registration available for $10. Participants receive a special glow in the dark prize. 871 Riverland Drive. 843-795-4386.
Biscuiteer 101: A Biscuit-Making Class
Nov 11
Come learn the art of southern biscuit making with our team of biscuiteers at Callie's Hot Little Biscuit eateries. In this class, you'll get a tutorial from our bakers on how to make our classic Buttermilk Biscuit, plus hands-on experience making your own Buttermilk Biscuits right in our Callie's Hot Little Biscuit Charleston eatery on King Street. Each participant will receive our family recipe & certificate, Callie's Biscuits & Southern Traditions Cookbook, Callie's Buttermilk Biscuit Mix, baked biscuits to take home and baked biscuits to enjoy during the class. Class size is maximum of 8 students. Price per ticket: $125. Class times are from 4-5:30 pm. 476 1/2 King Street. 843-577-1198. Email www.calliesbiscuits.com.
Holiday Festival of Lights Fun Run and Walk
Nov 12
A special preview to the Holiday Festival of Lights at James Island County Park, join us for a two-mile non-competitive fun run and walk. After reaching the finish line, participants are invited to enjoy the shops and concessions. The park will close to traffic at 6:30 pm due to the event and all participants must be on the course by 6:45 p.m. Tickets are limited and must be purchased in advance. www.ccprc.com.
Lighthouse Inlet Bird Walk
Nov 13
This walk focuses on the incredibly diverse northeast end of Folly Island. Once the home of a Coast Guard station, this Heritage Preserve protects maritime forest, beach, dune, and marsh habitats for wildlife. This site is a leader in number of bird species seen in South Carolina. At this time of year, we hope to see seabirds, shorebirds, and migrant songbirds such as Black Skimmer, Piping Plover, Scarlet Tanager, and much more. Fee: $9. Ages: 12 and up. Lighthouse Inlet Heritage Preserve. Ccprc.com.
The 31st Annual Holiday Festival of Lights
Nov 13- Dec 31
For the 31st year, the Charleston County Park and Recreation Commission invites you to a magical evening at the Holiday Festival of Lights at James Island County Park. Enjoy renowned displays, featuring approximately two million dazzling lights and over 700 light displays. While the event has been modified for safe social distancing, the heart of the festival—its driving tour—remains unchanged. Drive through three miles of glimmering light displays from traditional holiday scenes to Lowcountry icons such as Rainbow Row and the Ravenel Bridge to themed sections like Sea Land, Dinosaur Land, Candy Land and Toy Land. A drive-through concessions area will sell hot chocolate and other treats. Santa's Attic gift shop will be open from 9 a.m. – 5 p.m. and photos with Santa will be offered with advance signup. The event will be held rain or shine, from Nov. 13 – Dec. 31, from 5:30 pm - 10 pm. HolidayFestivalofLights.com.
Return of the Mac Presents a Day at Magnolia
Nov 14 & Nov 28
Celebrate Fall weather with some live outdoor music and great food! Bring your blanket and beach chairs and join us for an afternoon with Return of the Mac at Magnolia Plantation. We invite you to spread out on our Carriage House Lawn on the Ashley River or get up and dance to live music. Food Trucks will be here both days! Beer and Wine will be available to purchase. November 14th: Gilligan's Food Truck. Nov. 28: Swing & Swine Food Truck. The concert is free with paid garden admission. Take advantage of the BOGO food drive! Everyone can receive a buy one get one admission with the donation of a canned food donation to the Lowcountry Food bank. 3550 Ashley River Rd. 843-571-1266
Living History Days at Middleton Place
Nov 14 and 15
Craft-workers demonstrate the skills practiced by enslaved people as they prepared the antebellum plantation for winter. Different aspects of 18th and 19th century plantation life will be explored including domestic skills, African American culture and Gullah storytelling. 10:00 am - 4:00 pm Programming is included with General Admission to Middleton Place, adults $26, students $14, children 6-13, $10, children five and under, free. Free for foundation members. 4300 Ashley River Road. www.middletonplace.org.
The Steeplechase of Charleston
Nov 15
The Steeplechase of Charleston will be held on November 15, 2020, at the Plantation at Stono Ferry in Hollywood, SC. Sanctioned by The National Steeplechase Association, the Steeplechase has become one of the premier sporting events in the Carolina Lowcountry offering spectators the opportunity to experience live horse racing at its finest. The event will be held from 8 am to 5 pm at The Stono Ferry Racetrack in Hollywood. Due to social distancing, each dedicated tailgate space will accommodate a group up to 5 guests - your "social pod" for the day. If friends are tailgating nearby, no worries; you can visit one another's space, as long as no more than 10 individuals gather at a time. No additional guest parking will be available on site, separate from the pre-assigned, single vehicle tailgate spots. Guests will pack their own food and beverages to be enjoyed on race day; special catering services are available for hire for individuals or groups purchasing hospitality tents. 5000 Old York Course Road, Hollywood, SC
Ukweli: Searching for Healing Truth series debuts at McLeod Plantation Historic Site
Nov 21
The Charleston County Park and Recreation Commission's McLeod Plantation Historic Site on James Island will hold a five-part poetry, lecture and dialogue series. Called Ukweli: Searching for Healing Truth, the events feature scholars who will contextualize Black perspectives of that history, and radio host Osei Chandler will moderate the discussions. On Nov. 21, the program "Establishing the Literary Link" will feature the poem "God's Pen in Their Hands." It presents Black women who applied the power of the pen to resist and oppose the oppression and unequal treatment of Black people. Yvette Murray will illustrate how black women were often the leading literary voices during many of the crucial periods of racial conflict and turmoil such as the lynching and civil rights eras. www.facebook.com/McLeodPlantation
Holiday Miracle Pop Up
Nov 23 – Dec 31
Handcraft Kitchen & Cocktails in Mt. Pleasant is sure to get you in the holiday spirit this year when they once again transform into the Christmas-themed Miracle pop up bar with over-the-top holiday décor. Beginning Nov. 23 through Dec. 31, Handcraft Kitchen & Cocktails will toast the season with a festive menu of signature cocktails, dinner and weekend brunch to celebrate the holiday season. Reservations are required. Call 843-972-8060 or visit handcraftMTP.com. 35 Coleman Blvd, Mt Pleasant.
43rd Annual Turkey Day Run and Gobble Wobble 5K - Virtual Edition
Nov 26
The 9th Largest 5K in the Country is going virtual this year. Virtually Join us on Nov. 26 to burn off your Thanksgiving calories before you've even consumed 'em! Join us in going virtual as we come together this Thanksgiving, stronger than ever. Participants are encouraged to run, walk, or roll on their own. All participants will receive a free T-shirt with registration! We are excited to offer participants the ability to track their race with the Runkeeper app. Join the community who's celebrating Thanksgiving separately, but together. Choose your own route for your turkey trot and run anytime on Thursday, November 26 and Monday, Nov. 30 at midnight and record your time. Upload your results to our event results page to be scored. Showcase your accomplishment with your printable finisher certificate. Registration is $28. www.turkeydayrun.com.
Intro to Archery
Nov 21
Maximize the "thrill of the hunt" by enhancing your archery skills on our six-target archery range and 3D course at Johns Island County Park from 1-3 p.m., featuring wild boar, deer, and turkey targets at Johns Island County Park. Bring the kids, enjoy basic instruction, and take time to explore both ranges. We'll provide the necessary equipment, but feel free to bring your own. Fee: $25. Ages: 8 and up. Ccprc.com
Live at Firefly: Holiday Swing
Dec 4
Maestro Robert Lewis and your Charleston Jazz Orchestra will swing you into the holiday spirit with big band arrangements of winter classics and holiday favorites. Add some jazz to your holiday cheer with this Charleston Jazz tradition featuring Special Guest Vocalist - Zandrina Dunning. The event will be live at Firefly Distillery's outdoor venue on December 4 at 6 pm. Doors at 5pm. A limited number of tickets are available for Holiday Swing Live at Firefly. Tickets are $30. Attendees who had previously purchased a ticket for the Holiday Swing performance originally scheduled for 12/5 at the Charleston Music Hall can use that for admission. All attendees will be required to bring your own chair/blanket, wear a mask while moving around Firefly grounds, sit at least six feet from each other (besides members from the same household). Food truck snacks, Firefly cocktails and other beverages will be available for sale. Optional $10 for a virtual ticket. www.charlestonjazz.com.
Holiday Parade at Magnolia
Dec 5
Magnolia Plantation & Gardens is hosting our first-ever Christmas Parade on Saturday, December 5 at 11 am. The Parade will start at our Children's Garden and will march down our iconic Oak Alley. Bring your chairs and blankets, grab a hot chocolate from the Peacock Cafe and enjoy some Christmas magic. Santa will be having a socially distanced meet and greet immediately following the parade in the Children's Garden, so make sure to stick around! We would love to have you participate in the parade! Businesses, dance groups, bands, floats and more are all welcome! We want to bring the community together and help spread the Christmas cheer. Please email Shirah at weddings@magnoliaplantation.com for an application and for further details about participating. The concert is free with paid garden admission and you can take part in our BOGO food drive! Everyone can receive a buy one get one admission with the donation of a canned food donation to the Lowcountry Food Bank! www.magnoliaplantation.com.

Boone Hall Plantation Christmas
Dec 7
Get into the holiday mood when the plantation home at Boone Hall Plantation in Mt. Pleasant will be decked out for the holidays for guests to walk through. beautifully decorated for the Christmas holidays for our guests starting the first week of December and running through New Year's Day. Boone Hall is also planning to present a new special nighttime Christmas event for a very limited number of attendees. For details, visit www.boonehallplantation.com/special_event/christmas-at-boone-hall-plantation/
39th Annual Charleston Harbor Parade
Dec 12
Charleston's premier on-the-water holiday event lets participants decorate their boats and sail the Charleston Harbor to delight thousands gathered along the shore. The 39th annual Charleston Harbor Parade of decorated holiday boats will be held Saturday December 12. The boats will proceed up-river along the Mount Pleasant side of the harbor, go under the Ravenel Bridge, then turn and come down the Charleston side of the harbor, before turning again and heading up the Ashley River. The Parade of Boats event can be seen all around Charleston Harbor. Visit holidayparadeofboats.com for locations and special events.
Holiday Market and Craft Show
Dec 12
The annual Holiday Market & Craft Show combines all the goodies from our traditional food market such as locally grown fresh produce, baked goods, hot food and homemade preserves with handcrafted gifts created by local artisans. Come see this year's wonderful assortment of Christmas ornaments, glass work, whimsical crafts, and a wide variety of original art by locally recognized potters, artists, craftsmen and photographers. 10 am – 3 pm. 645 Coleman Blvd. www.experiencemountpleasant.com
Yuletide on the Ashley Arts & Craft Fair
Dec 12 & 13
The second annual "Yuletide on the Ashley" Arts & Craft Fair at Magnolia Plantation & Gardens will be held over two days from 9 am to 4:30 pm. The fair will feature handcrafted wood carvings, paintings, textiles, pottery, soaps, jewelry, photographs and holiday decor from more than 30 local artisans. Santa will be at the fair on Saturday to receive children's wish lists for the holiday season. A professional photographer will take photos with Santa between 10 am and 2 pm for an additional charge. Attendance to the Craft Fair is included with basic garden admission to Magnolia Plantation & Gardens, $15 for adults and $10 for children 6-12. Children 5 and under are free. 3550 Ashley River Road. Magnoliaplantation.com
Summerville Christmas Parade
Dec 13 (rain date Dec 20)
The Town of Sumerville's 2020 Christmas Parade theme is "Snow Globe." The parade is a family friendly event that aims to bring the community together to celebrate the season while representing the local traditions and Summerville hospitality. The parade will begin at 2 p.m. and roll down North Main Street, West Richardson, Hickory Street and W. 4th North Street. Attendees are welcome to set up chairs and watch the fun! www.summervilledream.org. for more information or to register to walk in the parade.