Holidays at Home
06 Nov 2020
A turn towards tradition
By Shelby Simon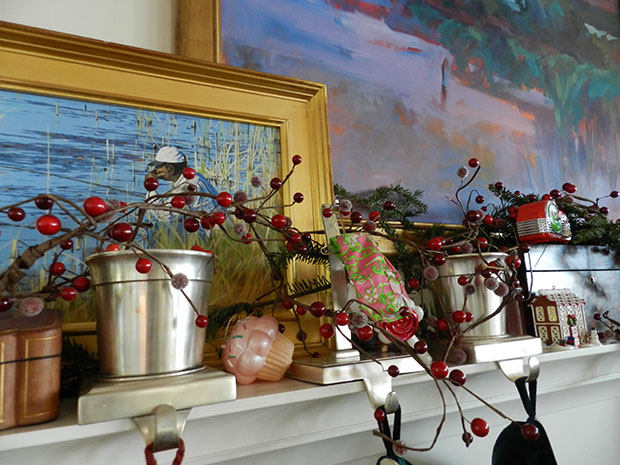 The holiday season may feel different this year, but that doesn't mean it has to look different.
With many searching for the comfort days of yore, nostalgia is playing heavily into holiday decor trends in 2020.
The turn towards tradition—as well as a need for delight and a touch of whimsy—makes sense in the context of such a serious year.
Joni Vanderslice, president at interior design firm J. Banks Design based in Hilton Head, has seen the trend developing in market shows this year.
"COVID-19 has changed our perspective, making family time and memories more important than ever. Likewise, this creates the need for stability and tradition as we bring family together and are more focused on time at home together,'" she said.
An expert in interior design for both residences and hospitality spaces for the Lowcountry environment, Vanderslice shares her expert recommendations on how to keep your home feeling festive.
Going back to the basics can be a great place to start.
A light up village, train tracks around a tree and a garland over a fireplace are timeless classics, and even more meaningful if they are tied to memories.
If you are creating a holiday look and just beginning to collect decor, Vanderslice recommends starting with something that you love and that makes you happy.
"For me, Christmas balls with feathers are a feature that I love, as well as anything tartan. You may prefer all gold and silver," which Vanderslice says works particularly well in a home that is contemporary or neutral.
Adding items collected from travels that hold sentimental value are great to add to the holiday collection, too.
This year especially, starting the decorating outside your home is a warm way to safely share the holiday spirit with your neighbors.
An outdoor tree, whimsical nutcrackers flanking a porch, a wreath and oyster garland on the door and small lights complete the magical feeling.
"This way, people are into the season before they walk in the door," says Vanderslice, who also suggests that sitting on the porch may make neighbors and friends enthusiastic about sharing holiday cheer this year.
Large nutcrackers are amongst her favorite nostalgic decor items. A collection of nutcrackers —of all sizes and styles—makes a statement as a holiday focal point, as do nativity scenes or creches. For a winter holiday season without religious implications, adding greenery, lights and flowers are beautiful ways to partake.
Adding Lowcountry flair to traditional holiday decor, such as garlands and wreaths, is a stylish way to add a personal touch, especially if the DIY project is shared with loved ones.
Magnolia wreaths are a favorite, as well as oyster wreaths, garlands and ornaments. Cutting palmetto leaves, dipping the edges in gold paint, and putting these on a mantle creates a South Carolina focal point. Pro tip: the gold paint hides the browning that may occur on the foliage throughout the holiday season.
Vanderslice says her family savors the season by singing Christmas songs as they decorate their home. They use Christmas plates and coffee cups as they bake and decorate holiday cookies together.
Throughout the holiday season, the J. Banks Design store in Hilton Head Island offers holiday décor for sale and designers are often asked to decorate clients' homes. The store also hosts an annual holiday party, which is spread out over a full day this year to accommodate safe social distancing.
"This is an event people look forward to each year. It is magical with the various trees, lights and decor," says Vanderslice. And guests walk away with ideas, gifts and decor for their own homes.
"There is security in traditions and memories and a sense of belonging," she said.