Cowboy Brazilian Steakhouse
06 Nov 2020
A unique restaurant experience with endless skewers of meat
By Sophia Rodriguez
Photos by James Stefiuk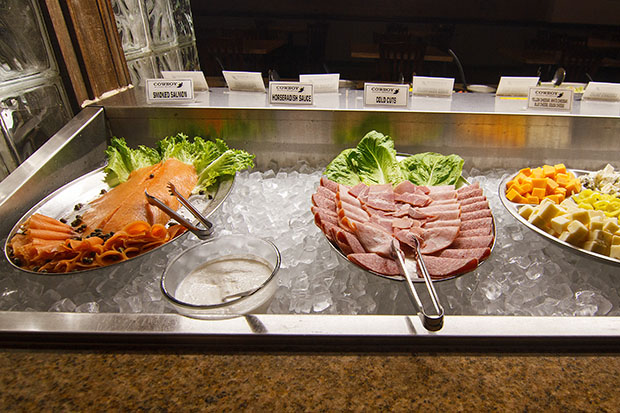 In a year of immense change and uncertainty, particularly in the restaurant industry, there's something soothing about the vibe of Cowboy Brazilian Steakhouse.
The unassuming structure, standing adjacent to North Charleston's city hall, has an inviting atmosphere. It's perfect for just about any occasion that calls for consuming a never-ending amount of food—be it a family get-together, a celebration dinner, a holiday party or if you're just in the mood for a culinary adventure. Come hungry; prices are all-you-can-eat.
The geometric light fixtures and neutral color scheme provide a comforting backdrop for the smorgasbord that awaits you. Pastel-colored inset murals featuring Lowcountry and Brazilian scenery face each other in the main dining room with the buffet bars in between. There's also a dessert menu, but you have to consciously save room for that. And that's easier said than done.
When we visited this carnivore's paradise, Cowboy Brazilian Steakhouse owner and São Paulo native Edson Munekata met us with a cheerful greeting shortly after we sat down but suggested we eat on our own before coming over to chat.
"You'll be busy with everything that's coming your way, trust me," he said, laughing behind his mask. He pointed out the plastic gloves we were required to don if we got anything from the buffet.
The best way to kick off this adventure? Brazil's signature cocktail: a caipirinha. A simple mix of sugar, lime and a distilled spirit called cachaça. It's an intoxicating mix of tart and sweet, a great palate cleanser as you try the new dishes.
At the start of the meal, you are given a badge that's green on one side and red on the other. Green means the roving gauchos can bring their meat fares to the table; red means not right now.
After you gather you buffet items, a seemingly endless parade of meat begins.
There are 16 different cuts of beef, chicken and lamb, each presented on long metal skewers. The premier cut offered is picanha, a filet from a cow's rump cap muscle. Other carnivorous specialties include a Brazilian pork sausage called linguica, bacon-wrapped filet mignon, racks of lamb, pork parmesan and top sirloin.
Meats chef Alveri Pinheiro, another native Brazilian, skewers all the meats on dedicated spits and cooks them over a churrasco rotisserie.
Pinheiro said that even though the chicken and lamb dishes are seasoned with a special blend of spices, the red meat is seasoned only with salt so as not to overpower their intrinsic flavors.
There's only one non-meat item that is presented on the metal skewers. That's the pão de queijo, a Brazilian tradition—small, soft bread rolls with cheese baked inside. The equivalent of comfort wrapped in…well, more comfort.
The buffet is comprehensive with flavors that work perfectly with the seasoned meats. Chef Deborah Silva is in charge of the salad bar, which features star items like fresh tabouli, apple salad, jumbo shrimp, smoked salmon and artichoke pasta salad.
The steamed kale was sauteed in garlic and cooked to crisp perfection. The soup of the day when we went was an enticing shrimp and pumpkin stew perfect for the holidays.
Munekata also keeps close tabs on the menu.
"Management is everything," he said. "I like to have as much of a hands-on approach as possible."
He is cautiously optimistic about the upcoming holiday season when, typically, the restaurant would be catering to larger groups. Customers can reserve either of the two private rooms for parties. The staff practices safe, socially distant measures.
"With the variety of foods we have, it's not like a standard restaurant," said Munekata. "It's an easier concept to run than other establishments between the buffet and bringing out the different types of meat. And if you don't like one type, there's another one coming along right behind it. That's the beauty of a Brazilian steakhouse."
Cowboy Brazilian Steakhouse
2411 Mall Dr.
North Charleston
www.cowboybraziliansteakhouse.com