Due to uncertainly surrounding COVID-19, events are subject to change, please check ahead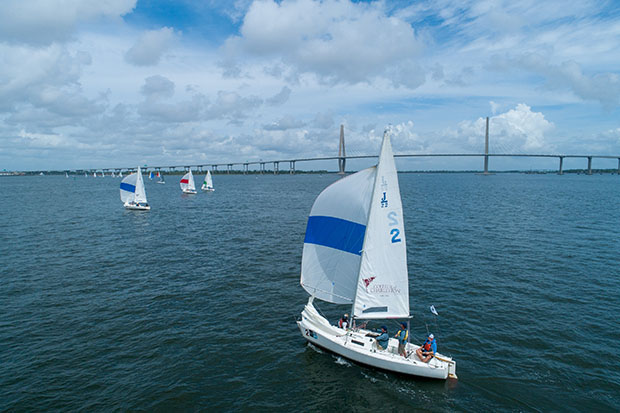 Charleston Race Week Regatta
April 8-11
This three-day event is one of the largest keelboat regattas in the Americas. There are several vantage points around Charleston Harbor that afford good views of the racing that will start approximately at 9:30 a.m. Friday, Saturday and Sunday, including White Point Gardens on the Charleston Peninsula at the Charleston Battery, Demetre Park on James Island and the Charleston Maritime Center near the South Carolina Aquarium. www.charlestonraceweek.com.
Holy City Farmers Market
Wednesdays
The Holy City Farmers Market is a pop-up event celebrating local producers and small businesses held every Wednesday from 4 – 7 p.m. on the lawn at Holy City Brewing. Vendors will be selling a range of products from specialty foods, home and body care to arts and crafts. Shoppers are asked to wear masks and practice appropriate social distancing. 1021 Aragon Ave., North Charleston. Follow @holycityfarmersmarket on social media for weekly updates.
Uptown Girl
March 4-27 (select dates)
34 West Theater brings to the stage a story about a Jersey girl who must choose between her hometown sweetheart and a rich but sensitive executive. It's Pretty in Pink meets Working Girl in this charming 80's musical-comedy. A menu of champagne cocktails, wine, craft beers, sodas and savory snacks will be available. 34 West Theater, 200 Meeting Street at the corner of Meeting and Pinckney Streets. www.34west.org.
Nola Funk
March 7
Enjoy the music of The Meters, Galactic and other New Orleans-bred artists when The Funk Revue presents Nola Funk, soul and improvisational music at the Pour House deck. $12 per seat and attendees much purchase entire tables as a group. 6:30 p.m. 1977 Maybank Hwy, Charleston. www.charlestonpourhouse.com
South Carolina Stingrays Hockey
March 9 -April 30 (various dates)
The South Carolina Stingrays are a professional minor league ice hockey team in North Charleston playing in the South Division of the ECHL's Eastern Conference. They play their home games at the North Charleston Coliseum. There have lots of promotional nights and fun for all ages. COVID guidelines are being followed for all games. Check out the schedule and ticket prices at www.stingrayshockey.com
Weigh Station Duo at Tattooed Moose
March 13
Rock group Weigh Station has created a unique rock and roll sound, best described as funk rock with a gritty Southern soul. Weigh Station duo is an acoustic version of the band and will take the stage at Tattooed Moose on Johns Island. Grab a beer and some duck fat fries and enjoy the sounds from many picnic tables on the sprawling yard. 3-6 p.m. Free admission. www.tattooedmoose.com
Art Fest
March 13
This annual festival at Mt. Pleasant Towne Centre showcases a diverse array of local and regional artistic talent. Local music, dance and visual arts studios offer stunning performances by some of the area's most talented individuals and groups and interactive exhibits for children to create their own masterpieces. All activities and performances are free of charge. Food and snacks will be available for purchase from New Dog Hot Dog Cart, The Holy City Cupcakes, The Ice Cream Team, Madrigals Tacos & Latin Cuisine, Holy City Homemade Italian Ice, T&T Kettle Korn and Kona Ice. Masks are required. 11 a.m. – 3 p.m. 1218 Belk Dr., Mt Pleasant.
Camp Jam featuring Stop Light Observation
March 13
Come join us for a socially-distant camp out and night of live music at the Woodlands Nature Reserve in West Ashley. Enjoy spacious (optional) camping, libations, and rock and roll under the stars. Enjoy live music in the woods with Stop Light Observation, Little Bird, Keon Masters and Aggie & The Wildflowers. In addition to food & beverage options provided, feel free to bring your own libations. Masks and social distancing are required. Ticket packages are on-sale now with several packages including primitive camping, glamping and RV options. www.woodlandsnaturereserve.com. 4279 Ashley River Road.
Brewery and Comedy Tour
March 17
Ghost Monkey Brewery in Mt. Pleasant is hosting a free New York-style comedy tour on Wednesday, March 17 from 7-8:30 p.m. Free admission. Enjoy Dashi food truck and many craft beers on tap during the performances. 522 Wando Ln., Mt Pleasant. www.ghostmonkeybrewery.com.
Wine Down Wednesday
Mar. 17 & Mar. 31
Come Wine Down your Wednesday and explore Old Towne Creek County Park, one of West Ashley's hidden gems. Guests will enjoy wine and live music from a local Charleston performer while experiencing the beauty of this natural site. A commemorative wine glass is included with your admission. Food truck fare will be available for purchase on-site. Fee: $15
Ages: 21 and up. 5:30-7:30 p.m. 1400 Old Towne Rd. Charleston.
Safe Sounds at Firefly Music Series
March 19
Safe Sounds at Firefly Distillery is back in 2021 with a third installment of Charleston's first socially-distanced concert series. The spring Safe Sounds concert series will kick off on March 19 and will feature national musicians and homegrown favorites. Attendees will enjoy live music, beer, wine and food truck fare from the sprawling fields of the new Firefly Distillery in Park Circle, 4201 Spruill Avenue. Up to four guests can enjoy live music in 10x10 Squares that allow for safe social distancing. DJ Natty Heavy will be spinning from 6-6:45m p.m. Doors open at 6 p.m., concerts begin at 7 p.m. 4201 Spruill Ave, North Charleston. www.fireflydistillery.com.
'Same As It Ever Was' Talking Heads Tribute
March 19
The Talking Heads Tribute Band, Same As It Ever Was, returns to the Charleston Pour House for two shows, an early show at 5 p.m. and late show at 9 p.m. Cost is $15 per seat and entire tables must be reserved per group. Micho taco truck will have food available for purchase. 1977 Maybank Hwy. www.charlestonpourhouse.com
The Reckoning at Palmetto Islands County Park
March 20
Grateful Dead fans, rejoice! Popular local tribute band, The Reckoning, is coming to Palmetto Islands County Park for The Reckoning in the Park. This concert event hosted by the Charleston County Park & Recreation Commission. Concert-goers must purchase tickets in advance, and tickets are $40 per 10' x 10' square area for up to 4 people. This event is expected to sell out. Gates open at 1 p.m. and music begins at 2 p.m. Food and alcohol will be available for purchase. Outside food, alcohol and coolers are not permitted. Dogs are welcome, but must be leashed at all times. Masks required. For more information, visit CharlestonCountyParks.com or call 843-795-4386.
Live at Firefly: Big Band Legacy - Evolution of the Jazz Orchestra
March 26
The Jazz Orchestra (aka Big Band) took shape during the 1920s then ushered in the swing era in the early 1930s with Duke Ellington and continued its legacy. Join your Charleston Jazz Orchestra as we present a musical timeline of the evolution of the Jazz Orchestra with Big Band Legacy. Doors at 5 p.m., show at 6 p.m. Tickets are $25 for seniors and military, $30 for adults and $10 for students. Each ticket includes access to the Virtual Performance. This is an outdoor event and guests are required to bring their own chairs. Seating will be spaced out between guests. Drinks and food will be available for purchase. No outside food or drink permitted. Masks are required to be worn at all times. Free parking available on site.843-641-0011. www.fireflydistillery.com. 4201 Spruill Ave, North Charleston.
Spring Native Plant Market at Charles Towne Landing
March 27
South Carolina Native Plant Society Lowcountry Chapter will have a farmer's-market-style native plant sale at Charles Towne Landing, 1500 Old Towne Road on Saturday, March 27 from 9 a.m. to noon with local vendors Bottle Tree Gardening, Flying Fig Farm, Milkweed Madness, Let It Grow and Roots and Shoots Nursery. Mask wearing will be required.
Big Band Legacy - Evolution of the Jazz Orchestra
March 27
Join your Charleston Jazz Orchestra as we present a musical timeline of the evolution of the Jazz Orchestra with Big Band Legacy (see show description in entry above) at the Charleston Music Hall. Two sets, 5 p.m. and 8 p.m. Tickets are $25-$62 with discounts for seniors, military and students. www.charlestonmusichall.com

36th Annual Juried Student Exhibition
March 27-April 23
Now in its 36th year, the Halsey Institute of Contemporary Art and the College of Charleston Studio Art Department are proud to present Young Contemporaries 2021. The annual exhibition is a celebration of talented artists at the College of Charleston. With works selected by a nationally renowned juror, the exhibition reflects the strength and diversity of practice in the School of the Arts' rigorous programs. Featuring a wide range of media, including paintings, sculpture, photography, and prints. 11 a.m. – 4 p.m. Free. 161 Calhoun St., Charleston.
Toast Under The Oaks
April 1 & April 15
Enjoy drinks and live music under the oaks of Johns Island County Park. Each event is held from 5:30-7:30 p.m. Admission is $15 and includes wine, beer, and live music. Food is available for purchase on-site. Advanced registration is required either online and over the phone until 2 p.m. the day of the event or until the event sells out. Masks are required. On April 1, music will be Davidson Fong and the food truck will be Oh Yah BBQ. On April 15, music will be Aisha Kenyetta Duo with The Lost Boys food truck. Must be 21. Register online or call 843-795-4386.
Volvo Car Open
April 3 – 11
The Volvo Car Open, the premier women's-only professional tennis tournament in North America, will celebrate its return to the WTA Tour on April 3 – 11. The event, hosted annually on Daniel Island, was canceled in 2020 due to the coronavirus pandemic. The highly-anticipated tournament typically features the best in women's professional tennis, bringing more than 100 of the world's top players to the Lowcountry. The tournament plans to follow all safety guidelines. Tickets for this year will be available via the Volvo Car Open website or by calling the Volvo Car Open Box Office at 843-856-7900. The box office is currently closed for in-person purchases. www.volvocaropen.com.
The Hat Ladies 19th Annual Easter Promenade
April 3
What better place to view a meaningful Easter tradition than in The Holy City? Grab your camera and a curbside seat to receive "HaTpy Easter" greetings from Ladies who combine the best of fashion and compassion all year long. Their Promenade Stroll begins at the corner of Meeting and Broad Streets. It heads east on Broad to East Bay, then does a U turn back to where they started. 11 am sharp at Washington Park next to City Hall on Broad Street. COVID guidelines will be in place. www.hatladies.org.
Prosecco on the Portico of Drayton Hall
April 3
You are invited to attend the most extraordinary outdoor Charleston food and wine event of 2021: Prosecco on the Portico of Drayton Hall. You will be welcomed to historic Drayton Hall, c.1738 and Conde Nast Traveler's Best Place to See In South Carolina to enjoy an audio tour of the main house then enjoy prosecco overlooking Charleston's most beautiful estate landscape. COVID-19 safety precautions will be in place. Prosecco will be served from 3 - 4:30 p.m. Guests will receive a glass of prosecco upon finishing the audio tour and exiting the house. 3380 Ashley River Road. $35 for non-members/$30 for members. www.draytonhall.com
Spring Park Circle Art Walk
April 10
Art shows have been re-imagined. Due to COVID 19, our creative minds got together to create a walking, biking, or car riding art show in our community. Each artist/musician displays/performs their works of art in their front yards throughout Park Circle in North Charleston. An interactive map will be provided closer to the event. 1:30 – 6:30 p.m. Free. www.facebook.com/ParkCircleArtWalk
Pig Roast Fundraiser at Bohemian Bull
Apr 10
Join us in the Bohemian Bull Tavern and Beer Garden for our House That Beer Built Pig Roast Fundraiser benefiting Sea Island Habitat for Humanity! We'll be slow cooking a pig while you enjoy some local brew from Lowtide Brewing and local music from Chris Dodson! Each ticket gets you a plate of BBQ with two sides. A portion of these tickets sold will be going to Sea Island Habitat for Humanity. The event will be held from 3- 9 p.m. with a silent auction and raffle for a custom built she-shed from 4-6 p.m. $25. 1531 Folly Rd, James Island.
Charleston Virtual Walk for Autism
April 10-11
Sign up to virtually walk in support of the annual Charleston Walk For Autism. Lace-up and walk for the cause at your leisure from anywhere. Share your posts and videos in support of the Charleston Walk for Autism. Tell us why you walk, who you walk for, how autism affects your life. Every dollar and step counts. General Registration - $25. Family Price - $50. Kids 5 and Under are free.Sign-up at https://runsignup.com/.../Charleston/WalkforAutismCharleston
Follow @CharlestonWalkForAutism on social media for updates.
Jean-Yves Thibaudet: An Evening of Debussy Preludes
April 11
For more than three decades, Jean-Yves Thibaudet has performed worldwide, recorded more than 50 albums, and built a reputation as one of today's finest pianists. From the very start of his career, he delighted in music beyond the standard repertoire, from jazz to opera, which he transcribed himself to play on the piano. Thibaudet's recording catalogue has received two Grammy nominations, the Preis der Deutschen Schallplattenkritik, the Diapason d'Or, the Choc du Monde de la Musique, the Edison Prize, and Gramophone awards. Charleston Gaillard Center, 95 Calhoun St. www.gaillardcenter.org
Jimmy Buffett & The Coral Reefer Band Slack Tide Tour 2020
April 15
Jimmy Buffett & the Coral Reefer Band will perform at the North Charleston Coliseum for one night only as part of Jimmy Buffett's Slack Tide Tour 2020. Local Parrotheads won't want to miss their chance to soak in the full Margaritaville experience. North Charleston Coliseum, 8 p.m. Doors at 7 p.m. $10 Parking Tickets starting at $51 plus fees. www.northcharlestonpac.com
Live at Firefly: World of Jazz - A Global Experience
April 16
Join your Charleston Jazz Orchestra for World of Jazz A Global Experience as we explore the International influence of jazz and the genre's ability to unite people and cultures from all corners of the globe. Doors 5 p.m., show 6 p.m. Tickets are $25 (seniors/military) and $30 (adult). Tickets include access to a virtual performance. For $10 student tickets, please call the box office at 843-641-0011. This is an outdoor event and guests are required to bring their own chairs. Seating will be spaced out between guests. Drinks and food will be available for purchase. No outside food or drink permitted. Masks are required to be worn at all times. Free parking available on site. 4201 Spruill Avenue, North Charleston.
Colin Hay
April 22
Singer-songwriter Colin Hay is beloved for his intimate, confessional live shows and celebrated frontman. His latest album, Fierce Mercy, explores themes of love and loss, mortality, and even the odd UFO sighting, but always with the singular perspective and insightful wit that define Hay's work. He has created a new classic in his impressive repertoire (this is his 13th solo release), using a palette of pop songcraft, Americana flourishes, and soundtrack-ready strings. 7 p.m., show: 8 p.m. $39.50 - $49.50. Charleston Music Hall, 37 John St., Charleston. www.charlestonmusichall.com
The Jazz at Lincoln Center Orchestra with Wynton Marsalis
April 23 & 24
The Jazz at Lincoln Center Orchestra with Wynton Marsalis will perform two socially-distanced performances on April 23 and 24 at 7:30 p.m. A livestream of the April 24 concert will also be available. Under Music Director Wynton Marsalis, the Jazz at Lincoln Center Orchestra performs a vast repertoire, from rare historic compositions to jazz at Lincoln Center's commissioned works, including compositions and arrangements by Duke Ellington, Count Basie, Fletcher Henderson, Thelonious Monk, Mary Lou Williams, Dizzy Gillespie, Benny Goodman, Charles Mingus, and many others. Charleston Gaillard Center. 95 Calhoun St., Charleston. Tickets start at $65. www.gaillardcenter.com
Francis Beidler Forest Hike
April 24
Audubon South Carolina staff will lead a morning hike in the newly opened and developing trail network through former agricultural fields now converted to native grasslands. Following a BYO lunch, options include participating in a 2-hour canoe tour through Four Holes Swamp or exploring the 1.75-mile boardwalk trail. Meet at the new parking area adjacent to the front entrance of Beidler. Space is limited to the first 12 members who register. There is a $15/person fee to participate. Please RSVP to Austin Trousdale: awt3rd@gmail.com. 9:30 am – 3 p.m. 336 Sanctuary Road, Harleyville.
Blessing of the Fleet
April 25
The 33rd Annual Blessing of the Fleet & Seafood Festival is one of the most highly anticipated events of the year! The festival pays tribute to Mount Pleasant's local shrimping and fishing industry, offering a boat parade, live music, craft show and lots of free activities with the picturesque Ravenel Bridge and Charleston Harbor for a backdrop!
Participants are treated to a boat parade and ceremonial blessing of the shrimp/fishing fleet, savory seafood samplings sold by some of Mount Pleasant's best restaurants, live music, a craft show, Mount Pleasant Artists Guild art exhibition, Shag and shrimp-eating contests, and family-friendly activities. Admission and activities are free! 11 a.m. – 5 p.m. Mount Pleasant Memorial Waterfront Park, 9 Harry M. Hallman Jr Blvd. www.experiencemountpleasant.com.
North Charleston Arts Fest
April 28 – May 2
The North Charleston Arts Fest features five days of events highlighting more than 100 national, regional and local artists and performers in dance, music, theatre, visual arts, crafts, photography, media arts and literature. Experience a variety of free and modestly priced performances, workshops, exhibitions, and activities in venues throughout the city, including libraries, businesses, community centers, and parks. The event has matured into one of the most comprehensive arts festivals in the state of South Carolina with a schedule that offers something for everyone, including concerts, theatre presentations, children's programs, workshops and demonstrations, exhibitions, public art installations, and much more. All festival events will be presented with COVID-19 safety measures in place and masks are required. www.northcharlestonartsfest.com.
74th Annual Festival of Houses and Gardens
April 30
The Historic Charleston Foundation's highly acclaimed Festival of Houses and Gardens looks a bit different this year. The 2021 Festival of houses and gardens will feature private gardens and exteriors only. The Glorious Gardens Tour will be held on April 30 from 2-5 p.m. These garden tours are designed for a leisurely stroll through some of Charleston's loveliest private gardens. Guides are stationed at each location to provide information about garden design, plant material and history. Colorful blooms are found in many of Charleston's spring gardens, while others feature the more traditional Charleston garden design display of elegant palettes of green and white. $75 per person. Various locations downtown. www.historiccharleston.org.