A Coastal Tavern in the Old Village
By Wendy Swat Snyder
Photos by James Stefiuk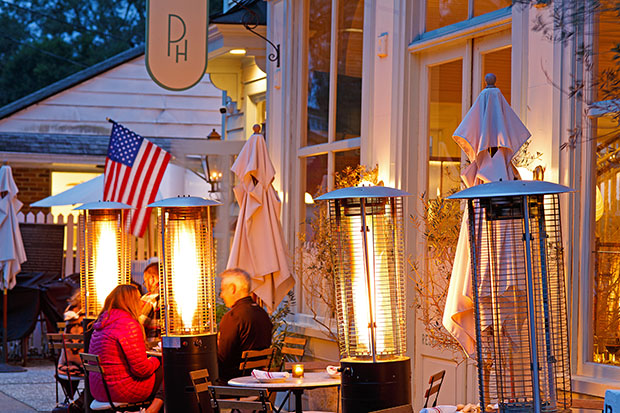 Post House owners Kate and Ben Towill have breathed new life into the landmark Old Village eatery that's anchored Pitt Street for more than two decades.
The husband/ wife duo behind downtown Charleston's Basic Kitchen bring their trademark point of view to the 19th century Mount Pleasant property with a stylish redo and a trim, eclectic menu focusing on seasonal tavern fare—with an English twist.
"Of all the restaurants I've been involved in, it's been the most enjoyable—even during a pandemic," notes Ben, a British-born restaurateur whose portfolio includes New York City restaurants The Fat Radish, The Leadbelly and The East Pole. "It has such a great history, everyone has memories of it—we've really enjoyed becoming a member of this community."
The Towills purchased the former Old Village Post House in 2019, drawn by the provenance of the Old Village location, just off Shem Creek and the lodging/ food model.
"In England there's a lot of pubs with rooms," explains Ben. "They're typically great restaurants, with five to ten rooms—I stay in one in Cornwall, where I grew up. It's a very unique feeling, to stay above a restaurant."
The couple share a fondness for this concept, and prior experience as well, having collaborated with Ben's brother and his wife in the renovation of The Ferry Boat Inn in Cornwall.
"We wanted to update the Post House with a major renovation to make it the focal point of what Ben and I consider one of the most charming towns in South Carolina," says Kate, a design professional who earned a bachelor of arts in communication design from Pratt Institute in New York. She worked in the film industry as a set designer before moving to Charleston and founding Basic Projects, a design development company, with Ben.
The design team's transformation of the Post House began with relocating the bar to the front of the restaurant, where light pours in through floor to ceiling windows, and people watching is possible on both sides of the panes. The former bar area in the back was expanded into a large, open dining room, with high ceilings and a clean, white color palette. Throughout the restaurant, seven guest rooms and private event room, contemporary furnishings and fixtures blend with old heart pine floors and other original elements. The restaurant showcases artwork the Towills acquired from local artist Mickey Williams and the Charleston Artists Collective.
The Post House menu also takes cues from the English tavern model, with a short, ingredient driven list showcasing a variety of cuisines, and influenced by dishes the Towills have tasted in their travels.
"The vision for the menu is to deliver dishes that are approachable," says executive chef Nathan Hood, "prepared with one great technique and the best local produce."
An Isle of Palms native, Hood got the first of many big breaks in hospitality when, as a teen, his neighbor, renowned chef and farm-to-table pioneer, Frank Lee, suggested that he "come down to Slightly North of Broad," if he wanted to learn to cook.
"It was like stepping into another world," says Hood of his experience working in the kitchen of one of the most respected restaurants in Charleston. "I was inspired by their food philosophy—how much they cared about ingredients."
Hood formalized his education at the Culinary Institute of America and went on to work his way up in the kitchen, interspersing stints in local eateries such as Red Drum and Coda del Pesce with ones in San Francisco such as triple Michelin Star winner Quince, and Jardinière. He helped open a French style bistro in Ireland and moved to Hawaii to work in the King Canoe as executive sous chef, before returning to the northeast.
Shut-downs due to the pandemic set him on a course back home to South Carolina, where he "heard the Post House had done a re-do."
"I went there to eat—they paid attention to every detail" says Hood, recalling a quote by lauded French chef Fernand Point, 'perfection is lots of little things done well.' "Ben Towill and I had a conversation about food philosophy, and I said I'm in!"
And that's how our dinner experience unfolded—from the just-right attentiveness of server Mallie Strickland through several courses of perfectly executed dishes, attention to detail was on full display.
My guest and I started with the lamb skewers: small bites of lamb sausage scented with cilantro, mint, and parsley, and a bit of fish sauce. Hood says the shareable dish is a top seller.
We also shared the crave-worthy crab toast—chunks of local lump crab lightly tossed in a sauce consisting of charred vegetables, Duke's mayonnaise, whole grain mustard and a big squeeze of lemon, served on a thick wedge of sourdough bread from Tiller Baking Co.
A Caesar salad composed of baby kale, escarole and kohlrabi from Spade and Clover was also craveable—its classic dressing tangy with anchovy and fresh lemon juice—served with garlicky sourdough croutons and a generous shaving of grana padano.
The bar steak—a thick, French bavette cut—was simply seasoned with salt and pepper, perfectly grilled, sauced with a jus gras enriched with duck fat, and loaded with over-the-top flavor.
Red grouper from Abundant Seafood and shrimp from Shem Creek blended into a massaman curry were tender to the bite and beautifully scented with spices like cinnamon and star anise. Coconut milk sweetened the luxurious dish and peanuts added salty crunch.
While not a big menu, Hood says every element is very intentional, and offers something for everyone, like the Post House veggie burger, charred on the grill, that our table went wild over.
"It's always been our goal to continue to be a part of the neighborhood," notes Towill. "A place you can go on a Tuesday for a $6 glass of wine and a cheeseburger, or on the weekend for a market fish special and a beautiful bottle of wine."
Post House
101 Pitt Street
Mt. Pleasant
843-203-7678
www.theposthouseinn.com