Healing and Strengthening Through Sailing
03 Mar 2021
Veterans to set sail at Charleston Race Week
by Denise K. James
Photos by Sam Greenfield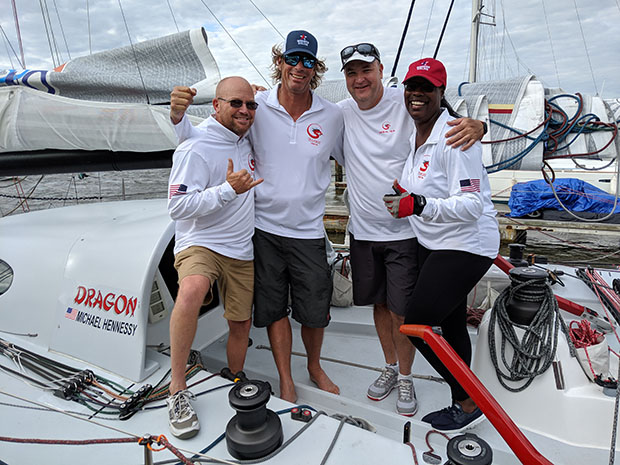 Back in 2013, Ben Poucher and a few other sailors ventured to St. Petersburg, Florida to coach a camp for disabled military veterans. There, they learned something very important — the veterans wanted to do more than just ride on the boat and feel the salty breeze against their faces; they wanted to learn how to sail themselves.
Inspired, Poucher sat down with the organizers to orchestrate three more days of camp, in hopes to teach the eager attendees the art of sailing. At that moment, the first iteration of Warrior Sailing was born.
Poucher, a Michigan native who attended The College of Charleston to become a professional sailor and captain, already knew quite a few sailors all over the country. After the three additional days of camp proved to be a success, Poucher decided to keep up the momentum and reach out to his network, with the goal to host other camps in other places.
"We decided to go to locations with lots of veterans and VA programs. We ended up at different yacht clubs that I had connections with, and we started doing camps around the country to teach the basic skills of sailing," he explained.
Warrior Sailing is popular among veterans for a handful of reasons. According to Poucher, many of these disabled veterans had been looking for a fun, engaging outlet that would challenge them to get out of their comfort zones and form new friendships. Warrior Sailing provides a new avenue — or waterway — for these things.
"Recreational therapy has a positive impact, whether people are kayaking, running or sailing — the social camaraderie benefits adults," he pointed out. "We all struggle with finding our tribe outside of usual avenues like family or college friends. Multiply that by 10 for someone who has a disability, either visible or invisible. It makes it much harder."
Because veterans enjoy their time with Warrior Sailing and want to enhance their skills beyond Basic Training 1, which is the initial camp for learning the nuts and bolts of sailing, Poucher and his team decided that continuing education would be necessary.
Camps beyond Basic Training 1 offer more complex opportunities and certifications, and new camps are still being added. Events such as Charleston Race Week, set for April 8-11, are a fun, rewarding part of being a Warrior for those who have "graduated" from the camp experiences.
"If they want to participate beyond camp experiences, we provide a couple of events throughout the country on an annual basis, and one is Charleston Race Week," Poucher noted. "With these events, we can step up the game, provide less hand-holding and put them more into the driver's seat. As time goes on, we integrate them more into the sailing community."
Poucher pointed out that when Warrior Sailing was a much younger organization, they struggled to get applicants for events like Charleston Race Week. Now, experienced veterans are teaching those new to the sport.
"We want leaders and newbies to learn from each other," Poucher said, adding that the enthusiasm for teaching displayed by longtime Warriors has prompted the organization to offer instruction certifications.
Of course, COVID-19 has presented its usual challenges, and Warrior Sailing looks forward to the Charleston Race Week event in a modified version.
"Charleston Race Week is a staple for racers on the way back up North as weather gets warmer," said Poucher. "It's the biggest regatta in North America. This year it will be modified quite a bit, but it will still have a huge turnout."
As for whether the Warriors themselves have missed out on in-person experiences during the pandemic, Poucher happily reports that virtual communication has kept the veterans in touch — which, he said, is the true point of Warrior Sailing.
"To sit back and see it from my position—to watch these people checking on each other and interacting with each other—that's what I'm here for; that's what we're here for—so people do not feel alone," he said. "I think our program has grown even with the pandemic, and we've realized that's why we are actually doing this—to connect people."
To learn more about Warrior Sailing, visit www.warriorsailing.org.