Every Body Welcome
23 Aug 2022
The Bridge Chiropractic gets you back to doing what you love
By Monica Kreber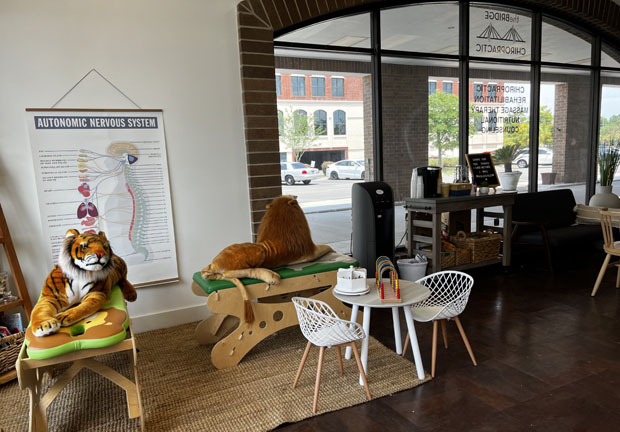 Dr. Brantley Meier knew even before he became a professional athlete that he wanted to become a doctor.
After seeing first-hand how the benefits of chiropractic health helped him, Dr. Meier said he wanted to bring that same level of care and attention to others.
In 2018, the Charleston native opened The Bridge Chiropractic in North Charleston, a family-oriented practice that treats all ages. He is hopeful to expand his practice and treat more patients.
As the owner and lead doctor of the practice, Dr. Meier said he wants to create an environment where everyone is treated as though their whole lives and careers depend on their body.
"I see no difference between an accountant and a professional football player, a stay-at-home parent and an Olympic athlete," he said. "I saw daily how people were treated whose bodies were their livelihood, and I wanted to offer that to every single person, even if it doesn't make anyone millions."
The Bridge Chiropractic provides a variety of therapy techniques: adjustments, first and foremost, to restore optimal joint mobility and joint health.
The practice uses a high-powered Class IV laser to directly target and accelerate the healing of soft tissue surrounding any dysfunctional area. Neuromuscular electrical stimulation increases microcirculation to an affected area to speed up the healing process. Intersegmental traction passively restores joint motion and fluidity. The practice also uses functional pattern programs to improve movement efficiency.
Beyond the techniques, Dr. Meier said the practice uses a comprehensive mindset and approach to working with patients.
"In the United States, we have some of the brightest minds in health, from orthopedic surgeons to physical therapists to chiropractic and everything in between," Dr. Meier said. "Each field has a role, and I feel that I have a very comprehensive approach to viewing a patient's condition but also the depth of treatment that a patient would receive."
Dr. Meier notes the biggest "rewards" come from seeing the work come to fruition: watching a mother or father play with their children; seeing a child be able to participate in extracurricular activities; helping an athlete be able to master their game again or getting a retired couple to a place where they can enjoy traveling and spending time together.
"Being in pain, or not being able to be the best you can, wears on people," Dr. Meier said. "It changes their mindset, their motivation, their emotions. It is always bigger than just the pain or dysfunction."
Dr. Meier added that his office is best known for how it treats its patients, even beyond the healthcare treatment aspect.
"Caring for someone is an active choice that involves conscious decision-making and intention," he said. "One of the first things we go over in staff training and office procedures is to truly understand what it means to serve, to be selfless and to raise up the person that is in front of you."
Dr. Meier said the biggest obstacle so far is the amount of people that want to get help from The Bridge but cannot because of their location or schedule. His goal is to open up more offices in Charleston in order to be accessible to more patients.
"I want every single person in this city to have access to the absolute best services and most comprehensive options for care," he said.
Outside his practice, Dr. Meier is an active board member of the Charleston Animal Society. He also serves as the president of Charleston City Futbol Club, a non-profit for youth soccer development.
The Bridge Chiropractic participates yearly in Operation Christmas Child, a charity where participants donate shoeboxes filled with toys, school supplies, personal items and small gifts to be delivered to children around the holidays. It is also active in helping to provide scholarships for high school students entering college, youth recreational programs and high school sports programs. In the past year, the practice has volunteered, donated and done work with Lowcountry Pregnancy Center, The Water Mission and many other charities.
Dr. Meier promises his office offers detailed and thorough examinations and that its treatment plans offer extensive options for any and all musculoskeletal conditions.
"Many times treatment is focused on the one singular issue, but I think, as we all see in every aspect of life, that these issues are multifactorial," he said. "We specialize in understanding every single aspect from the culprits most responsible to the least in order to correct every single variable."
The Bridge Chiropractic is located at 2409 Mall Dr. Suite C, North Charleston. For more information, call 843-297-4907 or visit www.thebridgechirosc.com