Surfaces with a Purpose
23 Aug 2022
GlassEco Surfaces makes beautiful countertops and more using local recycled glass
By Pamela Jouan
Photos by Patrick Brickman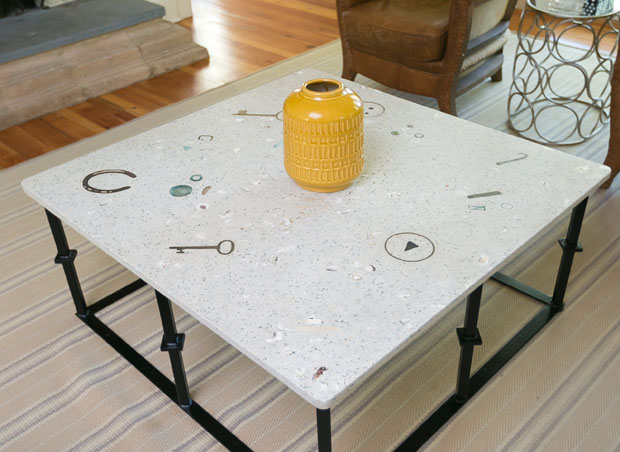 A family-owned business in the Charleston area is looking at local waste streams through rose-colored glass.
Elizabeth Fisher calls her husband Chris a "serial ecopreneur" and the label fits. He started Fisher Recycling, a service that hauls away glass recycling, in 1992, the year after the couple moved to Charleston from Virginia.
"He got into it because he saw there was a void to fill; I supported his endeavor because it was
saving the planet," she said.
Bringing the recycling loop full circle, they started GlassEco Surfaces in 2005 to reuse some of the glass they collect in a product line of countertops and other hard surfaces. Converting one person's trash literally into another person's treasure.
The average Charlestonian consumer dutifully recycles glass in their blue bins but despite that effort, glass still ends up in a county landfill. Hard to believe, but it's true.
Fisher explained that recyclables are taken to Material Recovery Facilities (MRFs) where they
are sorted into 'marketable' piles: namely aluminum cans, paper and cardboard, and steel.
Glass, however, is not a resalable material. Instead, it is scooped up with the rest of the trash
and used primarily as a landfill liner.
"Because glass is heavy, it keeps the trash in place and packs it in," she explains. "Heavy means it's cumbersome and expensive to transport, so unless you have a company like ours that collects glass and makes it available for companies who can reuse it, it sits in a landfill for a very, very long time."
To date, there is no other company like Fisher Recycling that recycles glass in the Lowcountry. The closest facility that takes glass waste is four hours away in North Carolina.
Right now, Fisher works with nine districts in South Carolina that are committed to removing glass from their waste stream. They are hoping Charleston County will be next.
About ten percent of the glass Fisher Recycling collects goes into their GlassEco Surfaces
business while the rest is sent to a glass recycling manufacturing plant in Beaufort, SC.
"A big part of our story is that 100 percent of our glass is recycled in-state. About 12 years into the business, we started looking at what we were hauling and how we could reuse it. Glass is pretty and so we researched ways that met the needs of our local market and came up with the idea for hard surfaces: countertops, fireplace and pool surrounds, shower walls, and so forth."
Every single aspect of the hard surface business is done on site in their North Charleston
warehouse.
"We separate the glass we need for the countertops, pulverize it, separate it by size
and color, pour the countertops and finish them. The finished products go to installers and
fabricators in the community that we collaborate with," she says.
The beauty of this product is that you can have as much control over the design process as you
want.
"Interior designers love this line because they can bring in their tile and match it to either
an existing design or create their own. We have about 100 samples that you can get inspiration
from. Additionally, you can add a selection of custom materials, from keys, bones, shark teeth
and marbles—anything that can withstand the grinding and polishing process."
Fisher is insistent on stressing their local angle and is involved with Lowcountry Local First.
Fisher Recycling's mission is to inform the public about what is really happening with
glass in the waste stream and educate consumers on what to do to fix that.
"Ideally, we want to remove glass at both the residential and commercial level. If you live in an apartment/condo style residence, contact your property manager and ask them to reach out to us for a glass recycling drop site on the property. If you are a homeowner, you can drop off your glass recyclables at Firefly Distillery or at our location in North Charleston. And if you are a business, we are always looking for corporate sponsorships of a drop site in your parking lot. You can also make your voice heard by petitioning your local government to remove glass from the local recycling stream."
She adds, "We offer a collection service for hotels and restaurants locally and a product for local merchants, builders and architects. We are a locally-owned small family business that recycles locally and works with local manufacturers. We thrive on having relationships with local partners and think it's important to keep the impact of what we do close to where we live."