Exceptional Senior Living
04 May 2020
The Lowcountry lifestyle awaits
By Barry Waldman
Whether you're seeking low-maintenance independent living with incredible
amenities or an environment that provides medical care in the
comfort of home, there's a retirement community in Charleston
to fit your needs.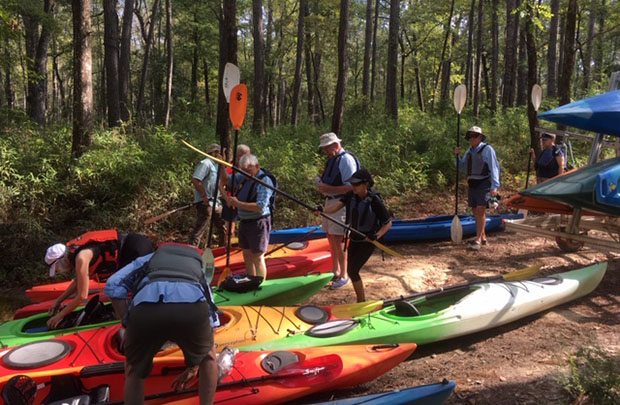 Bishop Gadsden
1 Bishop Gadsden Way, Charleston
843-762-3300
Bishop Gadsden is a 170-year-old life plan community on more than 100 acres of lush marshlands and majestic oaks of James Island. Nestled inside Charleston's city limits, it is a mere 10 minutes from downtown in one direction and Folly Beach in the other.
A non-profit, faith-based community affiliated with the Episcopal Church, Bishop Gadsden embraces God's call to ministry by affirming positive living for all who live and work there.
With 500 residents in independent living, assisted living, skilled nursing and memory care support, Bishop Gadsden boasts an on-site clinic affiliated with Roper St. Francis, a pharmacy, rehab and Bishop Gadsden's innovative Home Care Program, BG at Home.
The life plan benefit provides access to higher levels of care as needed, so residents never need to leave their community as their health care requirements increase. Understanding that Bishop Gadsden will be able to guide residents through the continuum of care is truly a life-changing benefit.
Soon, that benefit will extend to the greater Charleston community. In February, Bishop Gadsden broke ground on a new health and rehab center on the grounds to be completed in 2022. Designed in quintessential Lowcountry architecture that complements the luscious live oaks draped in Spanish Moss dotting the property, it adds 156,000 square feet of space for memory care, long-term skilled care and short-term rehab residences.
With a mission-driven focus to serve with integrity and reach out with a generous spirit, Bishop Gadsden's 400 team members offer exceptional care and service that provides the opportunity for residents to do, see, hear, touch and taste something extraordinary. Plant flowers in a community garden, nurture your inner artist at the art loft, discover history, learn to use Skype or Facetime with the family or gather for fine cuisine, Bishop Gadsden seeks to fuel members' passion and purpose.
Health and wellness amenities abound. State-of-the-art cardio and strength training equipment, an indoor salt-water pool and spa pool are open year-round. A full-service salon offers massages, facials, manicures and pedicures. The exquisite grounds give rise to outdoor enjoyment, like walking on the walking trails, bird watching and communing with nature in a certified Level 1 arboretum.
Beyond the award-winning campus, of course, is the exceptional city of Charleston, with all manner of cultural and culinary opportunities.
Since 2003, Bishop Gadsden has earned the highest accreditation from the Commission on Accreditation of Rehabilitation Facilities, which only about one of every six retirement communities has earned.
When they are done exercising their mind, body, spirit and connections, resident return to grand quarters. Spacious cottage floor plans combine traditional Georgian architecture with the "Charleston single house" design, creating a neighborhood of contemporary living at its best. Every cottage includes a gourmet kitchen, piazza, garage and large windows that bring the outside in.
The most upscale of the Charleston area's senior communities, Bishop Gadsden is best captured by the reactions of those who encounter it.
"The words 'assisted living' brought to mind many negative mental images of sad elderly people locked away in a building, forgotten by their family and friends," said the adult grandchild of a resident. "Almost three years later, I'm proud to say that I was completely wrong about the Bishop Gadsden assisted living facility. There are many daily activities so that all the residents can get to know each other, and my grandma has a pretty full social calendar! Coming to visit is always a pleasure too."
Franke At Seaside
1885 Rifle Range Rd., Mt. Pleasant
843-216-2222
Franke at Seaside is a very special place. Being the only faith-based, not-for-profit senior living community in Mt. Pleasant, the lovely 44-acre campus is nestled in the pedestrian-friendly Seaside Farms area.
As you turn off Rifle Range Road into Franke's main entrance, don't be surprised if you see a croquet or bocce ball tournament or a golfer practicing on the newly installed putting green. You might see a group heading out to kayak the Wambaw Creek. You might even come across a resident washing their new cherry red corvette! Yes, the face of Franke at Seaside defies many preconceived notions about what it's like to live in a continuing care retirement community.
While Franke at Seaside is home to over just over 360 residents, what many people may not know is that about three-quarters reside in Franke's independent living cottages and apartments. New residents of decreasing age are moving to Franke, with an age range of 59 to 97 years old. The next generation of Franke residents, the Baby Boomers, really "get" the benefits of living the Franke lifestyle. In a nutshell, the longer you live there, the more you will get out of both your financial and lifestyle investment in the community.
The family atmosphere of Franke at Seaside attracts many of the residents. There is no social distancing at Franke (except during pandemics) Residents and staff share the bonhomie of living and working in a paradise for seniors.
In fact, Franke is a place where staff are known as "TeamMates" and residents are called Priorities. Staff execute a strategy known as Five to Thrive, taking five minutes daily to help someone in need or put a smile on someone's face. The effects reverberate throughout the community. Residents…er, Priorities…have been seen singing its praises to visitors and waxing poetic about the experience.
"Staff know our residents by name and know their family members. We're designed to help people age and we're able to focus on residents' and families' needs," says Allison Macfie, the director of memory support.
It's more than needs: staff seek out residents' opinions. A Resident Council advises staff in several operational areas, including the Burges Community Center renovations to be completed Spring 2020. The new center expands health and wellness facilities, adds dining options, a marketplace buffet, bar and lounge, an art studio and generally spiffs up an already impressive facility.
Residents at Franke rest assured, but don't have to rest. Life at Franke at Seaside allows active older adults abundant activities for the mind and body, and the peace of mind that comes with continuing care. As residents age, the level of care scales up with their needs.
"Operating under the statewide umbrella of Lutheran Homes of South Carolina, Inc., Franke offers a wide variety of independent living options, including larger free-standing cottages and apartments as well as assisted living, memory support, skilled nursing, and short term rehabilitation," explains DeAnne Reed Vane, Director of Marketing for independent living at Franke at Seaside. Residents also have priority access to on-site physical, occupational, and speech therapy, a mini-clinic, and many other services and resources, including a full-time chaplain and Lutheran Hospice.
Ultimately the only way to know for sure whether Franke offers the lifestyle for you is to see it yourself. "Go ahead and take a tour to really appreciate what we offer," says Vane.
Wellmore
580 Robert Daniel Drive, Daniel Island
843-765-2807
What do you call a senior living community that serves a dinner of prime rib, lobster tails and crème brulee, boasts three fitness centers with daily group wellness activities organized by a professional with exercise science credentials, and offers two full-time drivers to transport residents hither and yon?
You call it Wellmore.
The retirement community adjacent to the Daniel Island Club and overlooking Beresford Creek offers its members peace of mind, restaurant-style fine dining and an award-winning wellness program in America's best city. With assisted living, memory care, skilled nursing and short-term rehab all available on an all-inclusive monthly price, members of the Wellmore community can rest easy that their needs will be taken care of in luxury and style as they age.
The retirement community model allows members in assisted living who need short-term rehab to receive those services in their own community and return home a building away when ready. Those whose needs escalate from assisted living to skilled nursing or memory care also remain within their community, with staff who already know them and families who don't have to find a new home for them.
Wellmore's gourmet dining is prepared by chefs from South Africa and Disney World, and compares to any restaurant in a town renowned for its culinary delights. Members enjoy a bevy of seafood, seasonal entrees, holiday specials and "even some courses I'm not familiar with myself," admits Jeff Barber, Wellmore's executive director. They take the food so seriously, the that they organize a committee of community members to suggest dishes to the chefs.
Adjacent to the restaurant sits a fully stocked bar with happy hour before dinner every evening. A bistro with wood fired pizza sates the palates of casual diners. One eatery nowhere to be found at Wellmore is the much-loathed cafeteria of many senior care communities.
Wellness is another staple of this community, featuring a heated indoor salt-water pool, a $3 million wellness center, a salon and a spa. The wellness director designs daily exercise programs, group activities and outings beyond Wellmore's live oak-enclosed boundaries, like trips to the driving range. Even in a pandemic scare, staff is visiting members one-on-one to help them maintain their exercise regimens.
Staff are crucial to the sense of community at Wellmore, living by guiding principles of putting people first and working to serve the members. Barber remembers the day a resident with a dog had to be transported to the hospital. Acting on their own initiative, staff created a schedule to walk the dog and care for it until "mom" could return.
Even living independently in assisted care, members never need lift a finger even to change a light bulb, thanks to 24/7 maintenance. Although not required by law, Wellmore keeps an RN and LPN on staff in assisted living, and doubles or triples the legally required number of staff in other areas, with all memory care staff nationally certified in dementia care.
Members of Wellmore's assisted living community live in studio, one-bedroom and two-bedroom units. Many of them include full kitchens and laundry within easy proximity of dining, wellness and social activities, of which there are many – holiday parties, College of Charleston lectures, and art classes to name just three.
Says Barber, "Living here means being active and engaged and having something fun and exciting to do every day."
Overture
45 Coburg Rd, Charleston
7770 Farr Street, Daniel Island
843-806-4837, 843-806-4822
The 55+ active adult community of Overture is located in two picturesque locations in the Charleston area – on a marsh surrounded by grand oaks in West Ashley, convenient to Downtown Charleston and Folly Beach, and on upscale Daniel Island, surrounded by lush parks, trails and golf courses.
Overture prides itself on "resort-inspired amenities services and activities" that include a gourmet kitchen in each apartment, a movie theater on-site and pickleball courts.
Live the life you've dreamed of in a tastefully appointed one- or two-bedroom apartment, with people who share a generation and lifestyle with you.
"When I first came to see the property, I was overcome with how young it was," said Pat Freeman, a retired school administrator. "I came here and met the staff and found out everything about it and thought, 'I'm moving. I'm moving!'"
Imagine living in a five-star hotel, with gourmet meals, exercise and art classes, and a heated pool with jacuzzi – except it's your home. You know your neighbors and the staff and feel like part of a community. Thoroughly modern one- and two-bedroom homes boast elegant features and upscale finishes that never require maintenance by residents – it's all taken care of by a full maintenance staff. It's a good thing, too, because with so many opportunities for learning, growing and recreating, Overture residents are never home.
An active lifestyle community is the opposite of a retirement community. It's a place for people to get busy—taking cooking classes, learning jewelry-making, joining group yoga sessions, or venturing out to all that the Charleston area has to offer. Overture offers so many activities for the mind, body and soul every day, year-round that you'll wonder why you didn't move in sooner.
Christine Vigil, a retired real estate agent and resident, sums up life at Overture this way: "It's like living in paradise."
Somerby Senior Living
3100 Tradition Circle
Mount Pleasant, SC
1-800-984-4096
www.somerbyseniorliving.com/community/mount-pleasant-sc/
Living at Somerby Senior Living community in Mt. Pleasant is a lot like being on a cruise ship, except the accommodations are better and there's peace of mind of knowing your needs will be met as you age. This gated continuum of care community offers independent living, assisted living, memory care, respite care and therapy services all on-site.
Somerby believes in helping residents "discover your spark," by engaging in activities that focus on five areas of personal growth: being physically and socially active, constantly learning, expressing one's faith and giving back to the larger Charleston community. To support this holistic approach to health and well-being, Somerby offers a wide array of activities, like wellness and exercise classes, movie nights, organized volunteer opportunities and a plethora of social activities. Are you ready for a wine tasting?
Residents live in spacious, open-concept homes surrounded by friends their age in a supportive community with manicured lawns and grounds. Fine and casual dining creations by chefs who locally source their ingredients are available right in the neighborhood at elegant Chateau Restaurant and the more informal Bistro. It's a great way to enjoy culinary delights while socializing with neighbors. The Sunday champagne Sunday brunches are a favorite.
Somerby is a place where residents continue lifelong passions and hobbies and even find new ones, whether in the pool, the fitness center, the classroom, the dance floor, or outside on the landscaped walking trails and courtyards. And just beyond the neighborhood is Mt. Pleasant and downtown Charleston, a worldwide destination.
Visitors and residents sing the praises of Somerby.
"It is extremely clean and very well maintained," says one reviewer on SeniorAdvisor.com. "The staff is very sincere and genuine and puts your mind at ease that they will do everything necessary to help your loved one adjust to the new environment."
South Bay at Mount Pleasant
1400 Liberty Midtown Drive, Mt. Pleasant
843-936-2800
www.southbayatmountpleasant.com
The South Bay active retirement community is a place where staff and residents develop a deep bond. As residents enjoy formal and casual dining, myriad social activities, a plethora of fitness options and a wide variety of daily events to keep them invigorated and growing personally, staff come to know their routines, inclinations and abilities.
The top administrators know the names not just of every resident in their facilities, but "their children's names, their dogs' names, their dogs' favorite treats, their favorite dinners and their favorite drink at the bar," says Lynne Furlough, the campus director and health administrator.
Living at South Bay is the ultimate in luxury. Maintenance-free apartments as large as 1,800 square feet feature high-end amenities like 10-foot ceilings, granite countertops, walk-in showers with European drains and a trio of dining choices from fine cuisine to lunch fare to upscale bar food. Smartphone connectivity software allows residents to control the operation of their homes remotely, so setting the thermostat or flipping on the lights doesn't even require getting up from the couch. Not that anyone at South Bay spends much time on their couch.
South Bay focuses on independent living like no other retirement community. Many of the activities are specifically designed only for residents on campus who are living independently. "We want to promote, encourage and support your independence, and when you realize you need assistance, we want to be there for you," says Furlough.
South Bay goes beyond a continuum of care community with assisted living, memory care, skilled nursing and short-term and long-term rehab. All occupational, physical and speech therapists are employed by the facility, not contracted out, and on campus seven-days-a-week. In communities where therapy is contracted, therapist hours are limited. At South Bay, improved information sharing among team members leads to greater cohesion of interdisciplinary care plans for residents.
A professor of gerontology at MUSC serves as medical director at South Bay, which houses an MUSC clinic, allowing residents to see a medical provider without leaving campus. Roper St. Francis provides lab services daily, with same-day diagnoses. In short, a panoply of health care services except for specialty care is available to South Bay residents just steps from their door.
Fitness is a hallmark of this active lifestyle community. Every new resident meets with the fitness director for a personal fitness assessment and individualized fitness plan. A full exercise studio with water aerobics in the saline pool, yoga and a host of classes makes getting and staying in good health easy. Plus, a full salon – including waxes! – keeps residents looking mahvelous.
Oh, and the food! With an executive chef familiar to Charleston Wine + Food attendees, Sullivan's Grill provides daily white-linen dinners made from fresh local ingredients, along with a full bar and specialty cocktails. Soups, salads and blue plate specials are the fare at Sweetgrass Market and the full service bar at Patriot's Pub is complemented by the kind of bar food you don't feel guilty eating.
The campus looks like a palatial estate, with Paradise Lake as its centerpiece. When you walk around South Bay, everything gleams, including the smiles on residents' faces. Like Sam Williams, known to many on Isle of Palms as the "mayor of 42nd Ave."
After living alone for years, he opted for the vibrant social life of South Bay and has become one of its biggest fans, telling staff the focus on fitness has actually increased his strength even in his mid-80s.