Spring, Sprang, Sprung!
04 May 2020
From pickled to savory to sweet, try this issue's recipes at the summer's first picnic.
Text, recipes, and photography by KAITLIN GOODING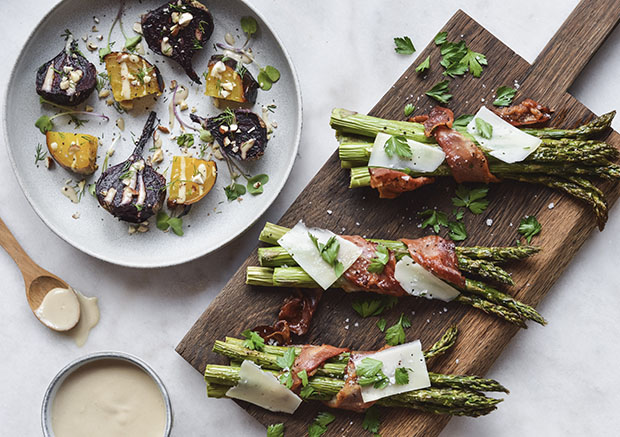 Spring, sprang, sprung, spring has finally come, and we are beginning to look ahead to the much warmer days of the Carolina summers. Finish your summer soiree with a rhubarb crisp desert paired with vanilla bean ice-cream or wake up and enjoy it with a cup of coffee. Sweet not your cup of tea in the morning? Try this edamame mash toast with shiitake mushrooms to satisfy that savory craving. There are no rules when it comes to summertime. Cool down with a chilled buttermilk pasta on a picnic, or nibble on these appetizers like roasted beets drizzled in tahini sauce or asparagus spears wrapped in prosciutto and gruyere. Maybe you've caught some shrimp on the coast. Looking for an easy way to prepare them for the family? Nothing is finer to the tastebuds than this crisp pickled shrimp that is excellently paired with a cold beer on a hot afternoon. There is a recipe for any special occasion you may attend this season.
Rhubarb Crisp
Ingredients:
• 3 cups rhubarb
• 1 cup strawberries
• 1/2 cup sugar
• 1/2 lemon (juice)
• 1 cup oats
• 1/4 cup brown sugar
• 1/2 cup butter (softened)
• 1/3 cup flour
• 1/4 cup almonds
• 1 tsp cinnamon
• dash of salt
Directions:
1. Preheat the oven to 350. Chop the rhubarb into 1-inch pieces then remove the tops of the strawberries and quarter them.
2. In a medium sized bowl combine the rhubarb, strawberries, sugar, and lemon juice. Use a spatula to mix well and set aside for 10 minutes.
3. In a separate bowl combine the oats, flour, brown sugar, butter, almonds, cinnamon, and a dash of salt. Mix until it has formed a crumbly texture.
4. Grease the bottom and sides a 9-inch pie plate or similar sized dish. Cover the bottom of the dish with the fruit blend. Top it off with the oats mixture.
5. Cook for 30-40 minutes or until the top is golden brown and the fruit is bubbling through.
6. Let the pie cool for 20 minutes and enjoy.
Edamame Mash Toast
Serves 2
Ingredients:
• 2 slices of sour dough bread
• 1 avocado
• 1/2 lime (juice)
• 1 tsp honey
• 1/4 cup feta
• 1 radish (thinly sliced)
• 1 cup frozen edamame
• 1/2 cup of shiitake mushrooms (halved if larger)
• 1 tsp butter or ghee
• 1 tsp sesame oil
• chives chopped for toppings
• sea salt
Directions:
1. Add frozen edamame to a bowl and cover with water. Microwave for one minute or until it is thawed completely.
2. Drain the beans and mash them thoroughly. Add the avocado, lime juice, and salt to the bowl. Mix well and set aside.
3. In a pan add the mushrooms, a dash of salt, sesame oil, and butter. Let this cook for about five minutes.
4. Toast the sough dough slices. Load the toast with a heaping pile of the edamame mash. Top it off with the mushrooms, radish slices, feta, sea salt, chives, and drizzle the honey over top.
Pickled Shrimp
Ingredients:
Need: 1 large mason jar
• 1 lb shrimp (deveined, tails removed)
• 1/2 tsp curry powder
• 1 shallot thinly sliced
• 1 garlic clove thinly sliced
• 1/2 cup apple cider vinegar
• juice & zest of 1 lemon
• 1/2 tsp celery seeds
• 1 tsp mustard seeds
• 2 tsp capers
• 1 fresno chile (diced with seeds removed)
• a few sprigs of thyme
• 1/2 cup olive oil
• 2 tbsp salt
• 1/2 bulb fennel (thinly sliced)
Directions:
1. Bring a pot of water to boil. Add the salt and celery seed and stir until dissolved.
2. Reduce heat to medium and add shrimp. Cook until shrimp turn pink and quickly remove them to cool.
3. In a medium sized bowl combine olive oil, curry powder, dash of salt, lemon juice, zest, and vinegar. Whisk until well mixed and set aside.
4. Stack ingredients in mason jar. Begin by adding one layer of shrimp, then layer in a sprig of thyme, fennel, a few chile pieces, shallots, mustard seeds, capers, garlic, and then another stack of shrimp. Continue this until you get to the top of the mason jar.
5. Pour your olive oil and apple cider vinegar mix over the ingredients until the mixture covers all the ingredients and reaches the top of the jar.
6. Put the lid on and turn the jar upside down and back over before placing in the refrigerator for at least one day.
7. Before serving turn it upside down once more. Serve as an appetizer or pair with a main dish.
Tahini Drizzled Beets Appetizer
Ingredients:
• 5-6 small beets
• 2 tbsp extra virgin olive oil
• salt/pepper
• 1/2 tsp garlic powder
• 1 tbsp hazelnuts (chopped)
• radish microgreens (for topping) *optional
Tahini Sauce
• 1/3 cup tahini
• 1/2 lemon
• 1 tsp maple syrup
• pinch of salt
Directions:
1. Preheat oven to 400 degrees.
2. Wash beets thoroughly and remove the leaves or unwanted strings. Slice the beets in half, or quarter them if they're too big, and place on a baking sheet open side up.
3. Drizzle olive oil over top. Sprinkle salt, pepper, and garlic powder over the beets. Add to the oven for 45 minutes.
4. Begin making your sauce by adding tahini to a small bowl. Mix in the lemon juice, salt, and maple syrup. Stir until well combined. Add water to thin it out if needed.
5. Once the beets are finished cooking remove them from the oven. Drizzle the tahini mix over top. Add micro greens, chopped hazelnuts, and a small pinch of salt to finish them off.
Prosciutto Wrapped Asparagus & Gruyere
Ingredients:
• 15 -20 asparagus spears
• 5-6 pieces of prosciutto
• extra virgin olive oil
• sea salt / pepper
• handful of parsley
• gruyere cheese (thinly sliced)
Directions:
1. Preheat oven to 350 degrees.
2. Rinse asparagus and cut the ends off, about 2 inches from the bottom.
3. Wrap a bundle of 4 asparagus spears in prosciutto.
4. Drizzle the olive oil over the bundles and sprinkle salt over top.
5. Cook for 20 minutes.
6. Remove bundles and add slices of gruyere on top while they're still hot to slightly melt the cheese. Add the parsley and sprinkle with pepper to serve.
Chilled Buttermilk Pasta
Serves 2-3
Ingredients:
• 1 package of toscani pasta (375 g) or pasta of choice
• 1/2 cup peas
• 1 radicchio (chopped)
• 1/2 cup arugula
• 1/2 cup pistachios (chopped)
• 1/2 lemon
• pink peppercorn
Dressing
• 1 tbsp unsalted butter
• 1 leek (thinly sliced)
• 1 garlic clove (minced)
• 3/4 buttermilk
• 2 oz parmesan
Directions:
1. Cook the pasta in a large pot of boiling salted water. Once the pasta is nearly ready add in the peas. Remove any lingering water left in the pot and set aside.
2. Heat the butter, garlic, and leeks in a pan. Let it warm through until the leeks and garlic become fragrant. Add the buttermilk and cook for 5-6 minutes. Mix in the poppyseed and parmesan. Pour mixture over pasta.
3. Add radicchio, arugula, pistachios, and toss.
4. Squeeze the lemon over top, sprinkle a little salt, and pink peppercorn to finish it off.
5. Serve warm or refrigerate for 30-45 minutes for a chilled pasta dish, which is nice on a hot summer day.