Eye on the Sky
03 Mar 2021
Local bird photographer's motto is to 'slow down and look up'
By Brian Sherman
Photo by Cacky Rivers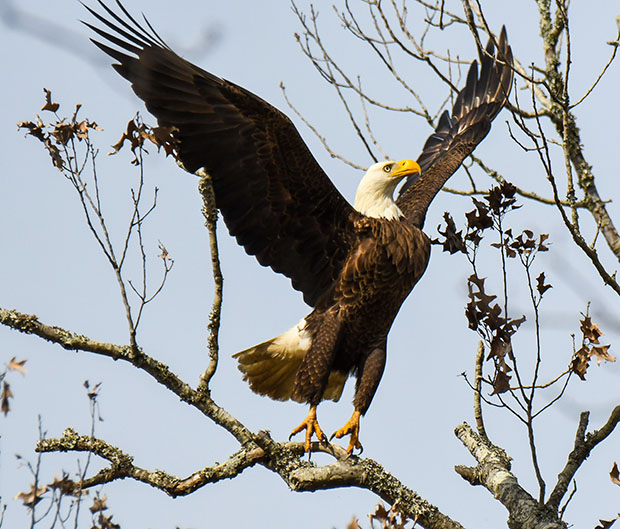 He passed on to her an undying affection for winged things. For her college graduation, the late Dr. Thomas Pinckney Rutledge Rivers proudly presented his daughter, Caroline "Cacky" Rivers, with a copy of the Peterson Field Guide to Birds and a pair of binoculars.
And when he passed away last year, he left her a legacy that has led to a profession that was always meant to be her passion and her life's work.
Cacky, born and raised in the Lowcountry, had been a bridal consultant for a dozen years, traveling throughout the United States and abroad, taking care of everything from "fashion emergencies to just being a calming, friendly force making sure your wedding day is just as you dreamed," according to her website. Now, inspired by the life and love of her late father, she's about to add photography to her resume.
A lifelong hunter and passionate birder, Cacky's dad taught her to "slow down and look up," and she took his advice to heart, especially after an illness four years ago kept him from spending time outdoors. She responded by bringing the outdoors to him.
She photographed birds, then father and daughter pored through the guide, identifying the feathered flyers. Before long, Cacky was hooked on capturing images of things that fly.
"It's my passion and my drive," she said. "I don't love still shots; my shots are birds in flight. That's the biggest challenge. For me, it's the thrill of the kill to actually get that shot. I love the idea of a challenge—working for what you get."
Cacky, who lived in Charleston and later Mount Pleasant growing up, said her favorite subjects are raptors—hawks, ospreys and eagles—mainly because they are the most difficult to photograph in the wild.
"The eagles fascinate me the most. They are so massive and so big. They have kind of a bad reputation because they tend to pick on ospreys and steal food, and some say they are scavengers," she said. "I love the way they raise their babies and partner with their mates for life. What they have works. They are special to me. They're pretty amazing."
Her admiration for eagles reached new heights when one showed up at her dad's funeral.
Eye on the Sky
There are at least three eagles Cacky has identified: one on Daniel Island and two in Mount Pleasant – on Founders Way, just off Rifle Range Road, and near the Legacy Apartments on the north side of town. Though she knows where the nests are located, she might spend nearly half her day waiting to get that perfect shot. The same is true when she shoots other types of birds.
"You can't photograph birds knowing you have to be somewhere else at that moment," she explained. "It's an investment. You might be there for 30 minutes or maybe four hours, waiting for a bird to choose a certain twig for its nest. You can sit there and learn so much. Dad taught me that patience is a virtue."
In addition to plying her trade in the Charleston area, Cacky enjoys shooting at Huntington Beach State Park in Murrells Inlet. Birds are her favorites, but, if the opportunity arises, she'll use her camera to capture the essence of other wildlife as well.
"If an alligator comes along and eats a bird right in front of me, I'm going to get that shot, too," she said.
Cacky, who uses a Nikon D500 with a 150-600mm Tamron G2 lens, is self-taught in taking wildlife photos, with a little help from a local photographer.
She said while she was learning her trade, she reached out to Charleston photographer Stan Foxworthy for help and advice and "to give me a few pointers." In the past four years, hard work, experience plus a passion for photography have added up to success.
"I just have an eye for it," she commented. "I love it so much that I don't think about it. I just go out and do it."
Cacky lives in Mount Pleasant with her husband, Angelo Vlcek, and children Rutledge, 17 and Caroline, 15. She said she would continue to work at two careers, though her bridal consulting business was temporarily devastated by COVID-19. No matter what, her true passion is to heed her father's words: Slow down and look up.
Follow Cacky Rivers on Instagram at @cackyriversphotography