Unexpected Luxury
03 Mar 2021
The Swag, a NC mountaintop inn, is a stress-free getaway
By Katie McElveen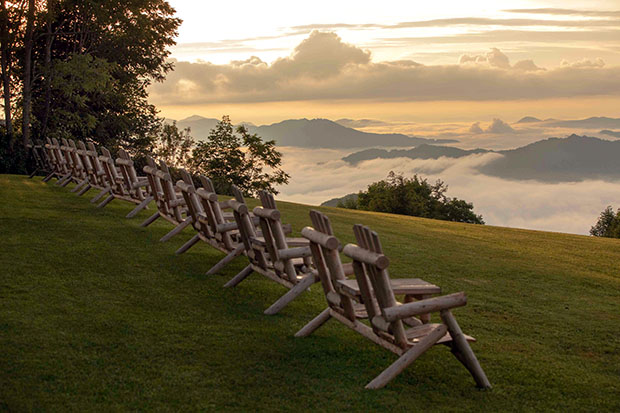 It's 9:30 pm on a Tuesday night and my husband Bill and I are staring into the fireplace in our cottage at The Swag, a 16-room Relais & Chateaux mountaintop inn located just outside Waynesville, North Carolina. We're feeling absurdly proud of our little fire – out of practice and impatient to create a roaring blaze, we'd watched attempt after attempt spark, catch…and die. Nearly out of kindling and starter fluid, we celebrated our triumph then promptly fell asleep.
Our first day at The Swag was just the antidote we needed after months quarantining at home. We'd spent the afternoon rambling around the overlooks, creeks, gardens and meadows that fill the 250-acre property before unpacking and getting ready for dinner. I'd hoped to linger on the porch but didn't want to miss the chance to mingle with the other guests at the nightly pre-dinner cocktail hour.
Dinner at The Swag is an elegant, multicourse affair that begins each evening at 7 p.m. Be sure to book a table on the breezy dining porch, which overlooks blooming gardens and, in the distance, tall mountain peaks. You place your dinner order early in the day and once you've chosen your wine, the rest of the meal is stress-free. The food is lovely – approachable and delicious, yet fancy enough to feel special—and much of it comes from local producers as well as the inn's own garden.
Couples—it was all couples during our stay—chat with each other and, occasionally, with guests at surrounding tables.
The Swag is owned by Annie and David Colquitt, who honeymooned at the property in 2011 and, seven years later, purchased it from the inn's original owners who were friends of Annie's grandparents.
Since then, the couple has made a number of changes, including the addition of small spa and a wine bar as well as new furnishings in each of the rooms.
"Our goal is to stay true the inn's authentic feel and sense of place, but with a fresher look," explains Annie. "We want guests to feel like they're staying in someone's mountain home."
They've succeeded. The décor in each room feels as if it was collected over the years—a portrait here, an interesting chair there, a collection of books ranging from Kipling to King lined up on a shelf. There are treasures to discover as well, like the enormous copper tub that graced our bathroom or a set of benches created by woodcrafter David Howard after he's spotted similar seating at a nearby schoolhouse.
Getting to The Swag is easy—most of the route is via interstate highways, about five hours drive from Charleston – but be prepared to spend about 20 minutes inching along the twisty drive that takes you from the road to the resort, which sits at 5,000 feet up. Luckily, once you've arrived, you'll have no reason—or desire—to leave. All meals are included in the room rate (alcohol is extra), and thoughtful extras like a cooler full of drinks, afternoon snacks, stocked in-room fridges and coffee setups with beans, grinders and brewers make provisioning trips unnecessary. The resort even provides hiking sticks, bug spray, water bottles, backpacks and small coolers so you can take your lunch with you to enjoy outside.
I would have been perfectly happy if the list of amenities had ended there, but here's my favorite offering: the resort shares a border with Great Smoky Mountains National Park. For outdoorsy types, that means incredible access to hundreds of miles of hiking trails through some of the most beautiful landscapes in the country. Even a stroll in the woods is transformed into a kaleidoscope of sights, smells and the near absence of sounds not found in nature.
I spent one morning on the path to Hemphill Bald, a boulder-strewn overlook I shared with half a dozen cows and just two other hikers. The trail cut through deep woods before opening onto a sunny ridge lined with wildflowers; along the way I ran into several flocks of wild turkeys, a few deer and a couple of cows gone walkabout.
Another day, I joined a small group hike led by naturalist Nancy East, who is one of just 680 people to have hiked all 900 miles of trails within Great Smoky Mountains National Park.
The hike is one of many organized by The Swag to encourage guests to explore the park more deeply than they might on their own. As we strode over the path, Nancy shared harrowing tales from her volunteer job as a member of the park's search and rescue team, pointed out rocks, boulders and plants that had stories to tell and passed along cool factoids about the park.
We returned in time for me to grab Bill and wander up to Gooseberry Knob, a lush meadow on the resort's property. A gazebo and Adirondack chairs make it impossible not to pause and take in the endless view of the mountains and fields below.
And that is the beauty of The Swag. Everything within the resort and its magnificent backyard are ready for you to take in and enjoy, at whatever level you need that day or that moment. It's an unexpected luxury that we could all use a bit more of right now.
www.theswag.com