Pluff Mud Mercantile creates one-of-a-kind Bloody Mary mix
By Cece Nunn
Photos by Aleece Sophia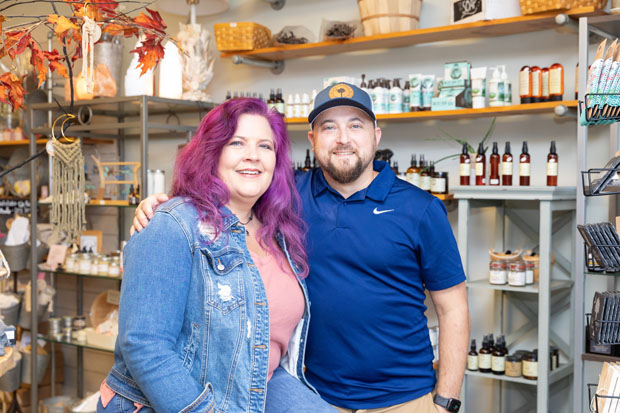 Gina Moore and Jon Lessans met at Pluff Mud Mercantile, Moore's Charleston store, in a moment that would eventually lead them to invent The Other Mary Bloody Mary Mix.
After working in real estate development and owning a store in Edisto Beach, Moore founded Pluff Mud in 2015 in West Ashley to sell the candles and soap she made, in addition to other handcrafted and local products.
"I've learned to embrace my creativity and allow it to express in more ways, and so you'll see it come out in things like The Other Mary Bloody Mary Mix, or whatever we dream up," Moore said. "We're kind of like the Willy Wonka Chocolate Factory, the Wizard of Oz of life and business."
Lessans and Moore describe the recipe for The Other Mary Bloody Mary Mix as a craft, small-batch, non-alcoholic blend of sea island spices and real wasabi.
Inspired by customers talking about the popularity of Bloody Mary mixes, Moore said the idea to create The Other Mary Bloody Mary Mix took on its own life, including the prospect of distribution at Total Wine & More. She also liked the idea of creating a non-alcoholic mix to appeal to people who don't drink or don't drink much.
"There's this larger trend of non-alcoholic cocktails and that was a lot of the inspiration, too— to give people an option for a Bloody Mary mix that really tasted good straight out of the bottle, that you could drink every day if you wanted to, or you could drink as a cocktail," she said.
One day, the manager from local spirits and beverage purveyor Total Wine & More came into Pluff Mud Mercantile to buy gifts for his employees.
"I asked him a question at the counter. 'If I had a local Bloody Mary mix, what would it take to get into Total Wine?' And he said, 'We'd get you in right now,'" Moore said. "That was kind of my cue to say, 'Alright, this is no longer an idea. I'm getting a lot of hints to take the next step and move it forward.'"
Moore and Lessans, who owns Indigo Ink Marketing, a design and branding company, as well as local apparel brand Shuckable, have a mutual admiration for each other's talents.
"The first time I talked to her about Shuckable, she had a ridiculous amount of advice, which was all amazingly helpful, so without even knowing if she was going to carry my items in her store, or even knowing anything about the brand yet, she instantly was trying to help me the best way possible with the experiences she had," Lessans said.
Of Lessans, Moore said, "He can take an idea, create beautiful art and branding, and bring it off the page into life."
The Other Mary Bloody Mary Mix logo espouses a spiritual theme. Mary Magdalene is shown in half light and half dark, with a touch of the Renaissance in its background and fonts.
The recipe came about as a result of Moore's upbringing.
"I'm from Charleston, born and raised here. Everything I do has that Lowcountry, pluff mud, coastal feel. It's kind of in my blood," Moore said, explaining why sea island spices appealed to her.
Lessans had the idea to add real wasabi.
"Ironically, the wasabi adds some heat, but it also adds more sweet," Moore said. "The profile of the wasabi changes the acidity of the tomatoes."
The mix also includes spinach for that "green flavor" Bloody Mary drinkers enjoy, she said.
"As we looked at the nutrition facts when it came back from testing, we found it's high in potassium and other minerals that I would say were purely by coincidence—but I don't believe in coincidence because there are no accidents," Moore said.
The Other Mary Bloody Mary Mix officially hit the market in September. Moore and Lessans use a co-packing facility in Charleston to create small batches to ensure quality.
"Every time we make a batch, one of us will be there to taste it and ensure it's exactly the way it's supposed to be. We take pride in that," Lessans said.
The first official tasting of The Other Bloody Mary Mix was held at Firefly Distillery in North Charleston.
"Our first big customer was Firefly Distillery, which stocks it in their gift shop and their tasting room," Moore said.
In addition to Pluff Mud Mercantile at 2408 Ashley River Rd. Unit R and Firefly distillery, The Other Bloody Mary Mix can be purchased at Burbage's Grocery, 157 Broad St.; the Historic Charleston Foundation, 40 E. Bay St.; and Local Love CHS, 1238 Camp Road, as well as Oyster Candle Co., 216 Scott St. in Mount Pleasant, and Marsh Hen Mill, 2995 SC-174, on Edisto Island. Stores in New York, Massachusetts, Arkansas, and Philadelphia also carry The Other Mary Bloody Mary Mix.
In early October, Lessans and Moore expect other distributors to carry the mix.
Recipe
The Other Mary Holy Water (A Southern twist to Ranch Water)
8oz. Seltzer (Regular or Lemon Lime)
1 shot of The Other Mary Bloody Mary Mix (additional to taste if desired)
Rim glass with with Tajin seasoning
Add a twist of Lemon & Lime
Lemon & Lime curl for garnish
Gently moisten the glass rim with lime and roll in Tajin seasoning to prep. Add ingredients to a shaker with ice, shake and pour into rimmed glass. Garnish with lemon and lime twist.